Someone Claiming to be Slain Vostok Commander Declares Vendetta against Kadyrov
Publication: North Caucasus Weekly Volume: 10 Issue: 19
By: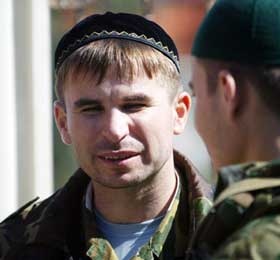 The murder of former Vostok battalion commander Sulim Yamadaev took what the Moscow Times on May 14 called an "odd twist" this past week when someone claiming to be Sulim Yamadaev, who was murdered in Dubai on March 28, telephoned a Muslim cleric based in Gudermes, Chechnya, Nurid-Khadzhi Kimaev, to declare a blood feud against Chechen President Ramzan Kadyrov and Adam Delimkhanov, the State Duma deputy and Kadyrov's cousin.
Kommersant on May 13 quoted Kimaev as saying he did not believe the caller's claim to be Sulim Yamadaev was true and therefore did not convey the announcement of the blood feud to Kadyrov. As the Moscow Times noted, under Chechen tradition, an offended party that wants to declare a blood feud must announce his intentions to a Muslim cleric, who then passes on the declaration to the offending party. Kimaev said the caller had accused Kadyrov and Delimkhanov of trying to kill him. Dubai police have accused Delimkhanov of organizing Yamadaev's March 28 assassination and have issued an international warrant for his arrest.
One of Sulim Yamadaev's brothers, Isa, continues to insist that Sulim survived the attack, and Kommersant on May 13 quoted him as saying that it was indeed Sulim who had called Kimaev to declare the blood feud. As the Moscow Times noted, Isa Yamadaev said that he would seek the punishment of those who had masterminded and carried out the attack "according to the law." Isa Yamadaev also told Kommersant that he is regularly in touch with Sulim via Internet telephone.
However, the following day – May 14 — Kommersant quoted Isa Yamadaev as saying that Sulim had sworn on the Koran not to do harm to Ramzan Kadyrov and was keeping his word.
Interfax reported on May 14 that the Chechen branch of the Investigative Committee had launched a probe "in relation to media reports about threats addressed to the President of the Chechen Republic." For its part, Izvestia reported on May 14 that Chechnya's Interior Ministry claimed to have evidence that Isa Yamadaev was involved in kidnapping people for ransom.
Meanwhile, a spokesman for Russia's Foreign Ministry said on May 14 that it has sent the United Arab Emirates a fresh request for official information about Sulim Yamadaev's murder. "After numerous and conflicting reports by the mass media we contacted the UAE embassy in Russia," Itar-Tass quoted Russian Foreign Ministry spokesman Andrei Nesterenko as saying. "Regrettably, we were offered no information other than verbal explanations. We are asking our counterparts in the UAE to supply us with exhaustive official information in written form concerning Sulim Yamadaev. We do hope that the reply will follow in the end."
In a related development, a Moscow military court held a preliminary hearing on May 14 in the case of Aslan Diliev, a former Vostok battalion member accused of murdering the reputed leader of the Lazanskaya criminal group, Mustafa Shidaev, in Moscow in May 2006.