Standoff Between Armenian Government and Former Regime Continues
Publication: Eurasia Daily Monitor Volume: 16 Issue: 128
By: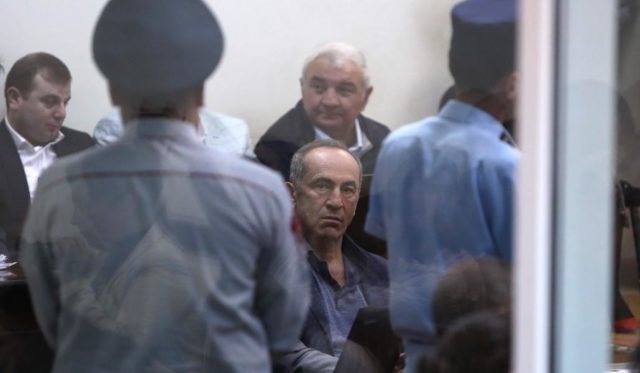 The long-awaited trial of former president of Armenia Robert Kocharyan (in office, 1998–2008) and other officials charged with violations of the constitutional order is finally about to begin, with hearings of witness testimonies underway. For more than a year since his indictment, Kacharyan's defense lawyers managed to postpone the case through endless motions to secure his release from pre-trial custody on the grounds that he acted within his presidential authority while deploying military units against demonstrators protesting a fraudulent election (see EDM, August 8, 2018; June 3, 2019).
Kocharyan and other leading figures of the old regime have sought to undermine Prime Minister Nikol Pashinyan's cabinet and gain support for possible direct street actions. In late July, Kocharyan announced plans to become an opposition leader (Golos Armenii, July 30). Soon afterward, Mikayel Minasyan (the son-in-law of another former president, Serzh Sargsyan) claimed that "a real revolution is yet to come" (Facebook.com, August 16). Both have been exploiting the significant media resources under their control for disinformation and influence campaigns.
Some of the disinformation techniques utilized by media associated with Kocharyan, Minasyan, former Republican Party officials, the Prosperous Armenia party and the Armenian Revolutionary Federation Dashnaktsutyun (ARF) are already familiar. One such method involves established media resources quoting social media, including fake Facebook accounts, as their "own sources," to be later requoted by other media outlets involved in the network (see EDM, August 8, 2018). Or a report may simply begin with "People are saying that…" (Irates.am, September 7, 2018). Armenian outlets identified in spreading rumors and disinformation include TV5, Kentron TV, Yerkir Media, and other TV companies, several printed media, and dozens of websites.
An increasingly applied propaganda technique involves supposedly independent activists and pseudo–civil society groups promoting anti-Western rhetoric, conspiracy theories, and pro-authoritarian messages on social media and in interviews with friendly media. Significant portions of their messages also appear related to Russian narratives.
One such activist is Narek Malyan—a former advisor to the previous chief of police, Vladimir Gasparyan—who repeatedly made use of these kinds of defamation techniques while employed by law enforcement. During the 2015 "Electric Yerevan" protests (see EDM, June 12, 2015; June 29, 2015), he claimed an ethnic-Russian protester was "a professional provocateur, anti-Putinist who hates her own country." Moreover, he seemingly approved of a senior police officer's apparent threats of collective sexual assault against the demonstrator in question (Azatutyun.am, July 3, 2015). After a public outcry, Malyan deleted that post, but several days later he slandered Hromadske TV reporter Nastya Stanko, writing that she was "a member of a Ukrainian ultra-right nationalist organization […] who participated in the Maydan protests and engaged in armed clashes" (Facebook.com/narek.malyan, June 30, 2015). Currently, Malyan leads a movement called Veto, focusing on campaigning against civil society groups opposed to the former regime and the foundations supporting them. Veto has been demanding adoption of legislation similar to Russia's "foreign agents" law (Kavkazsky Uzel, June 12, 2019).
Another related vocal group, Adekvad ("Adequate"), formed a non-governmental organization in May 2019, after a few months of online activity and some street actions, and then established an eponymous party (Aravot.am, September 7). The Atlantic Council's Digital Forensic Research Lab noted that Adekvad and their partners apply manipulation techniques, masquerade as impartial fact-checking organizations, and subsequently inject biased narratives and polarizing statements into the discourse (Medium.com/dfrlab, May 2).
A typical example is promotion of Soviet nostalgia and purported cultural and spiritual superiority of the Soviet system, targeting young people who do not remember life under Communism (Meduza, December 9, 2016). In a video address, Adekvad's leader, Arthur Danielyan, supplemented that approach by blaming the United States for "causing millions worldwide to die," implying that Armenia would be the next victim (YouTube, April 3). He also claimed that the involvement of Western-educated people in Armenia's state administration is tantamount to "the second stage of the genocide" (YouTube, March 7). More recently, Danielyan speculated that the ultimate goal of the protests that began in Georgia on June 20 (see EDM, June 24) was to isolate Armenia from Russia, and he alleged that Armenia's President Armen Sarkissian had been chosen in 2018 by foreign powers as a part of that conspiracy (Facebook.com/adanielian, June 22). Furthermore, he blamed Israel for the civil war in Syria, and based on that made a non sequitur conclusion that Pashinyan serves foreign interests (Facebook.com/adanielian, July 1). In an interview with Yerkir Media, Danielyan also speculated that "the government's shareholders—Western countries—prohibited Pashinyan from mentioning Azerbaijan as an enemy" (YouTube, July 8).
The Veto movement's head, Malyan, in turn, blamed billionaire US financier George Soros for the June protests in Georgia (Facebook.com/narek.malyan, June 21) and for a Georgian TV host's on-air criticism of Russian President Vladimir Putin (Facebook.com/narek.malyan, July 8). He also speculated that the Georgian protests were actually sparked by a roundtable discussion, "Armenian Velvet Revolution and Its Outcomes," organized in Tbilisi on June 18–21 (Facebook.com, August 6). Other members of the network have received wide coverage by Armenian friendly media for accusing "Western agents in the government" and "structures financed with American money" of allegedly intending to legalize same-sex marriage (YouTube, May 7, July 5). At the same time, they regularly declare that Russia, "having a true Christian leader," takes a principal stance on protecting and promoting traditional moral and family values (Livenews.am, July 2).
The anti-Pashinyan network has also been developing international ties. In an interview with a Swedish far-right website, Danielyan speculated that "European nations can cut the leash that the US has imposed on them… [and] must build a lasting alliance with Russia and strive to become an economic, political and moral leader for humanity" (Free West Media, August 2). The interview was arranged by Manuel Ochsenreiter (Facebook.com/adanielian, August 2), the editor of the German far-right magazine Zuerst!, who has been accused of ordering the firebombing of a Hungarian cultural center in Ukraine (Deutsche Welle, January 15).
As usual, the disinformation campaign was promoted by Russian propaganda outlets, such as Sputnik Armenia, EADaily, Press-Unity.com, TASS and others. A typical unattributed article in EADaily speculated about Soros-funded efforts to integrate Armenia closer with the Euro-Atlantic community (EADaily, February 6). Another warned of a Soros and Central Intelligence Agency (CIA) plot to carry out regime change in Yerevan; and it called for expelling "foreign agents" (EADaily, June 12). In recent weeks, paid Facebook ads have increasingly appeared, promoting the above-mentioned pseudo-civil society groups and friendly media outlets.
The months-long media onslaught (see EDM, April 26, June 3) is raising pressure on Pashinyan to speed up constitutional reforms and replace the old regime's associates before his popularity begins to wane. Postponing radical reforms could severely undermine the confidence of Pashinyan's voter base.