Successful International Security Gathering in Belarus Brings Together East and West
Publication: Eurasia Daily Monitor Volume: 15 Issue: 84
By: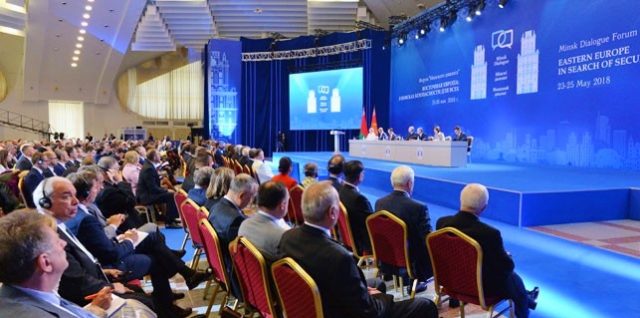 In his May 24 speech at the Minsk Dialogue forum, "Eastern Europe: In Search of Security for All," President Alyaksandr Lukashenka reminded that Belarus came forward with the initiative to launch a new large-scale international dialogue on security that should strive to overcome existing disagreements between the states in the Euro-Atlantic Region and in Eurasia. "It does not matter how you call it—a New Helsinki Process, Helsinki-2 or any other name," he suggested. Among other things, Lukashenka talked about the danger of "mutated challenges" to the system of international security in Europe and globally. Those challenges imply cyber methods of information wars. At one point, he referred to Russia as Belarus's ally and mentioned the enlargement of the North Atlantic Treaty Organization (NATO) as a factor that led to the current tension in Europe. However, he also suggested that Belarus is "neither with Russia against Europe, nor with Europe against Russia" (YouTube, Belta, May 24).
Lukashenka's rhetoric is arguably most lively and suggestive when he departs from the script. This time he only allowed himself to improvise after his formal speech, following the mutually confrontational pronouncements by Nikolai Bordyuzha, the former chairman of the Collective Security Treaty Organization (CSTO), and James Appathurai, NATO Deputy Assistant Secretary General for Political Affairs. Borduyzha sees the US's and NATO's triumphalism as the Cold War's self-proclaimed winners as the major reason behind today's confrontation. Appathurai, in turn, suggested that NATO has had cordial relations with each and every country of East Central Europe; it is rather the threat Russia poses to these countries' expressions of free will that the Alliance is reacting to.
In his only impromptu pronouncement at the forum, Lukashenka emphasized that both Borduyzha and Appathurai are right in their own way. If, however, we only insist on our own righteousness, we will never resolve any conflict whatsoever, he asserted. In that context, in a playful manner, Lukashenka expressed regret that in his own speech just minutes ago he in fact allowed himself to be partial by mentioning NATO enlargement: "I am somewhat of a sinner, myself having mentioned that."
One of the forum's refrains was the notion that small countries cannot wait until the major players resolve their disagreements and ought to offer reconciliation alternatives and venues for pursuing those. At times, confrontational attitudes were on full display at the forum itself, which was understandable when Donbas and Transnistria were debated but less foreseeable during the discussions of patterns of possible reconciliation. Yet, even then, passions were seething at times. Thus, Tinatin Khiasheli, the former defense minister of Georgia, was emotional when making a point that no security guarantees short of Georgia becoming a full-fledged NATO member would help Tbilisi in dealing with Moscow. Also, at the last plenary session, an unexpected duel between Jamestown Foundation Senior Fellow Vladimir Socor and Sergei Markedonov from Russian State University for Humanities, flared up. Socor expressed the opinion that whereas the Organization for Security and Cooperation in Europe (OSCE) is just a platform for discussions without authority to sustain any lasting agreement, NATO does have this authority. To that, Markedonov reacted with an emotional message that the organization seen with deep suspicion by one side of the international security debate cannot be relied upon as a guarantor of reconciliation.
In most cases, however, some soothing arguments were advanced to calm passions. Thus, during the session titled "Getting out From In-Between," that is, about making the voices of the countries that are the bones of contention between Russia and the West more discernible, the opinion of Alexander Iskandaryan, the director of the Caucasus Institute, in Yerevan, Armenia, calmed down passions generated by representatives of Georgia and Ukraine. Paraphrasing Joseph Stalin's legendary 1946 utterance "For you, I have no other writers"—directed at a Party-appointed manager of the Writers Union who complained how difficult it is to manage writers—Iskandaryan suggested that "for you, I have no other Russia," only the one that is there. Moreover, for Armenia, Turkey is in a way Russia; and ultimately you ought to learn to live with those neighbors that you have and take in stride the constraints emanating from that. Likewise, during the session devoted to a possible collaboration between the European and Eurasian Unions, Alexandra Dienes from Friedrich-Ebert-Stiftung's Regional Office for Cooperation and Peace in Europe shrugged off a profound pessimism with regard to the latter union revealed by Kamil Klysinski, from the Polish Center Eastern Studies. According to Dienes, the argument that you should not engage the Eurasian Union because it is Russia-centric only helps to boost the Russia-centrism of that union; likewise, criticizing that union for being immature at this early stage of its existence does not make much sense.
During one of the night-owl sessions, conducted under Chatham House rules (whereby citing is allowed but without attribution), a Belarusian military analyst calmed down the hysteria once associated with the September 2017 Zapad military exercises, when it was reported that 4,126 rail cars were reserved for Russia's military cargo to be transported to Belarus (Deutsche Welle—Russian service, December 8, 2016). He asserted that the average weight of ammunition and accessories per one soldier participating in those games was about 30 tons. If this had been taken into account, then the projected number of Russian military personnel on the Belarusian soil would not have fed alarmism. At the same time, Russia apparently uses all sorts of uncertainties to "troll" the West.
At the forum, Belarus's foreign policy was commended on multiple occasions. In particular, this author suggested that Minsk has made a successful effort to denounce a zero-sum game approach to its relations with the outside world and that the realism theory of John Mearsheimer seems to encapsulate Belarus's efforts most accurately.
Finally, much well deserved praise was heaped on Yauheny Preiherman, the head of the Minsk Dialogue Expert Platform, the non-governmental organization (NGO) that organized the entire forum with crucial help from Konrad Adenauer Stiftung. As one attempt to pursue and achieve a new détente advanced from Europe's East (one of the epicenters of the current international confrontation), the forum was arguably a success.