Suez Closure Brightens the Future of China's New Silk Road
Publication: China Brief Volume: 21 Issue: 11
By: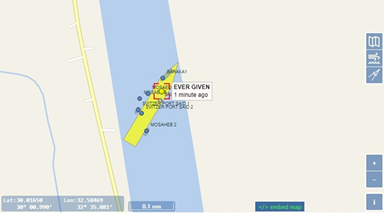 Introduction
On March 23, the 240,000-ton, 1,312 feet long (399 meters) Panama-flagged MV container ship Ever Given, drawing 47 ft 7 in (14.5 meters) and carrying 20,000 containers from China's Yantian International Container Terminal in Shenzhen, Guangdong Province bound for Rotterdam, accidentally grounded its bow on the Suez Canal's eastern bank while transiting northwards from the Red Sea. It completely blocked the passage in both directions for six days, stranding hundreds of waiting vessels and paralyzing the global shipping industry.
The Ever Given had been chartered by Taiwan-based Evergreen Line and was under the control of a local pilot for its passage through the canal when it grounded. Japan's Shoei Kisen Kaisha Ltd., owner of the Ever Given, now faces legal action over the accident, and an Egyptian court has sustained a Suez Canal Authority request for the ship to be detained until its owners pay more than $900 million—later lowered to $550 million—in compensation for the costs of the salvage operations, stalled canal traffic and lost transit fees (Hellenic Shipping News, May 24).
The grounding had a ripple effect through the global economy. Typically, more than 50 ships transit the canal each day, transporting roughly 12 percent of world trade and 8 percent of its liquefied natural gas (LNG), along with one million barrels of oil (Caixin, April 5, 2021.) The Suez Canal is the most important trade corridor linking Asia with Europe and the U.S. East Coast and disruptions can affect the economies of these regions. While hundreds of vessels idled in situ for the canal to be cleared, some ships with time-sensitive cargoes were forced to take the longer route around South Africa's Cape of Good Hope, requiring additional fuel and added costs.
The Suez Canal's Significance to China
The Suez Canal opened in 1869 and is the shortest maritime route linking Asia and Europe, cutting travel time between the two continents by as much as 10 days and 6,200 miles (10,000 kilometers) compared with circumnavigating Africa. But with an average width of 672 feet (205 meters), the canal faces increasing challenges to accommodate gigantic vessels like the Ever Given as container ships grow bigger and bigger, with the largest already capable of carrying 24,000 containers.
In addition to the Suez Canal, the Middle East also hosts three additional strategic maritime channels for Chinese maritime trade—the Bosporus and Dardanelles (the Turkish Straits), the Bab el-Mandeb that unites the Red and Arabian seas and the Hormuz Strait, connecting the Persian Gulf with the Indian Ocean, through which much Chinese seaborne trade passes. Over 60 percent of Chinese goods shipped to Europe pass through the Suez Canal, and Chinese ships account for around 10 percent of the Suez's annual traffic volume (Global Times, March 24). According to Suez Canal Authority data, in 2019 more than one billion tons of cargo worth $9.6 billion passed through the Egyptian waterway every day, or roughly four times the tonnage transiting through the Panama Canal (Arab News, March 26).
The Suez Canal also has military significance for China. Building upon earlier bilateral Russian-Chinese naval maneuvers undertaken in the Yellow Sea in 2012, the East China Sea in 2014, and the Sea of ​​Japan in 2014, in May 2015 the Chinese Linyi (臨沂) and Weifang (潍坊) Type 054A missile frigates transited the Suez Canal and entered first the Black Sea before shifting to the Mediterranean to deploy with Russian warships in the Sea Cooperation-2015 maritime exercise (Aif.ru, May 17, 2015; Military Reporter, May 11, 2015).
As China's maritime commerce in the volatile Middle East has grown, a more permanent regional naval presence has been instituted to provide security. In 2017, China opened its first overseas military base in Djibouti on the Red Sea at a cost of $590 million to participate in international antipiracy operations off Somalia. Regarding the base on Djibouti, the Chinese Ministry of Defense has said, "It mainly provides effective guarantee for China's participation in escort, peacekeeping, humanitarian rescue and other missions in Africa and West Asia. It is also conducive to China's better implementation of military cooperation, joint exercises and training, and evacuation of overseas Chinese" (PRC Ministry of Defense, July 11, 2017). Chinese military authors have discussed the value of overseas "strategic strong points," and the ability to protect China's overseas interests are an intrinsic element of Chinese Communist Party (CCP) General Secretary and Chairman of the Central Military Commission (CMC) Xi Jinping's call for the PLA to become a "world class military" by the mid-century (China Brief, October 19, 2020; January 12).
Given both rising U.S. skepticism about Chinese intentions and the fact that ports are inherently "dual use" facilities that can be used for both military and civilian purposes, questions have been raised about the true motivations behind recent upgrades of the Chinese military's Djibouti facilities. On April 20, U.S. Africa Commander Army General Stephen Townsend told the House Armed Services Committee that the People's Liberation Army was expanding its existing naval installation adjacent to a Chinese-owned commercial deep-water port, remarking, "Their first overseas military base, their only one, is in Africa, and they have just expanded that by adding a significant pier that can even support their aircraft carriers in the future. Around the continent they are looking for other basing opportunities" (U.S. Africom, April 20, 2021). In his testimony, Townsend downplayed the significance of the U.S. Naval Expeditionary Force base (which also houses British military personnel) next to Djibouti-Ambury International Airport and also did not mention that Djibouti hosts several other foreign military bases, including the French Air Force Base, the Italian Support Base and the Japanese Self-Defense Force Army Base.
Implications for the New Silk Road
While the Suez blockage underlined the potential vulnerability of global maritime transport it also highlighted the value of China's multi-vector transport export approach, first outlined in its 2013 "One Belt, One Road" (now renamed the Belt and Road Initiative) strategy, and particularly its reliance on a burgeoning Eurasian rail network (i.e., the Belt).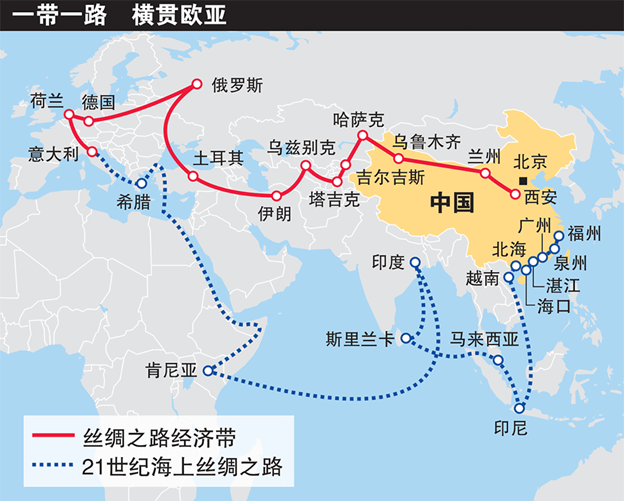 Trading concerns in Europe, the Middle East and Asia quickly understood how potentially disruptive the closure of the Suez Canal for an indeterminate period could be, resulting in a search for alternatives as soon as the extent of the problem was identified. For time-critical delivery and price-sensitive goods, rail transport by any of the New Silk Road routes became the most feasible alternative solution, ahead of air and road freight.
Although the transportation cost of China-Europe Express rail transport is 50 percent higher than maritime cargo, it is still much lower than comparable air freight costs (Sina, March 31). The volume of Eurasian rail transport has consistently risen, and last year China surpassed the U.S. to become the European Union's largest trading partner. In the past eight years, the volume of rail exports from China surged, with 12,400 trains sent last year—50 percent higher than in 2019 and seven times the number dispatched in 2016, according to Chinese authorities (PRC Foreign Ministry, May 20).
In the first quarter of 2021, the number of China-Europe freight trains increased by 15 percent year-on-year, following 2020's 50 percent year-on-year growth over 2019 levels (Sina, May 31). European-bound trains with Chinese exports now depart a Chinese city every hour on average, while China-bound European trains head eastwards every two hours. Around half utilize the Trans-Siberian Railway route, and the other half transit through post-Soviet Central Asia (China Daily, June 1, 2021). Unlike maritime exports, the goods transported along Eurasian "interior lines" are immune from any potential hostile maritime action in increasingly contested regions such as the South China Sea, Arabian Sea or Persian Gulf.
According to the Hong Kong-based U-Freight CEO Simon Wong, the Ever Given incident increased demand for both "less than container load" (LCL) and "full container load" (FCL) cargo and made rail shipping look "all the more attractive. …Clearly, supply chain planners are reappraising the once-dominant Suez Canal route from China to Europe, with intermodal rail continuing a sharp upward trajectory following a strong 2020. The Covid pandemic and capacity problems in the air and ocean sectors have pushed the route to much heavier usage—the recent blockage of the Suez Canal leading to additional traffic" (The Loadstar, May 5, 2021).
The Suez Canal blockage has combined with the economic effects of the Covid-19 pandemic and a shortage of 40-foot TEU (Twenty-foot Equivalent Unit) shipping containers to push their rental to the highest rate in a decade. According to the British international logistics consulting company Drewry Supply Chain Advisers, the current Shanghai-Rotterdam 40-foot container freight rate has risen above $10,000 for the first time and is now $10,174, an increase of 3.1 percent from the previous week and a year-on-year increase of 485 percent, while the global World Container Freight Index (WCI) has risen to $6,257, an increase of 293 percent from 2020 (Yicai, May 31).
Given maritime shipping's lower cost differential and greater efficiency compared to other transport modes, the vast majority of Chinese exports will likely continue to be transshipped by sea. The largest container ships can carry the equivalent of over one hundred train loads. But although the recent incident in the Suez Canal illustrates that navigating the seas may have challenges, impediments to rail transport, such as national borders, gauge differences and border congestions are not among them.
Conclusion
While global oceanic trade is flowing again, China's economy will continue in the short term to be impacted by events unrelated to maritime commerce. Rising concerns about forced labor in Xinjang and the deterioration of democracy in Hong Kong, allied with growing suspicions about technology transfers and Chinese protectionism could result in severe economic consequences beyond possible sanctions in the year that the CCP celebrates its centenary. Amid such "changes unseen in a century" (百年未有之大变化, bainian weiyou zhi da bianhua), President Xi Jinping has decided that China needs to redefine its international image; on May 31 Xi told senior CCP Politburo officials it was important to present an image of a "credible, loveable and respectable China" and that it was important for China to tell its story in a "positive" manner (CCTV, May 31).  The Ever Given's Chinese cargo represents China's growing role in the global economy, even as criticism mounts over its domestic and foreign policies. As to the question of whether President Xi will succeed in his efforts to build China into "strong, democratic, civilized, harmonious and modern socialist country" and global superpower by 2049, the only certainty is that it will be more difficult than clearing a container ship from the Egyptian sands.
Dr. John C. K. Daly is a Eurasian foreign affairs and defense policy expert for The Jamestown Foundation and a non-resident fellow at the Central Asia-Caucasus Institute in Washington DC.