'Surgical Strikes' Mark Change in India's Stance on Cross-Border Attacks
Publication: Terrorism Monitor Volume: 14 Issue: 21
By: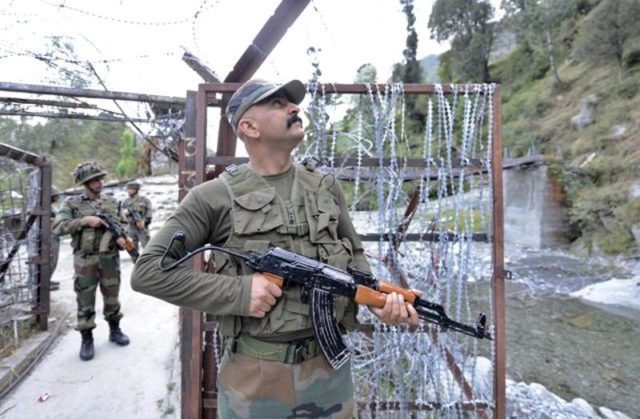 On September 29, India announced it had carried out "surgical strikes" on terrorist "launch pads" in Pakistan occupied Kashmir (POK), in an operation aimed at "neutralizing terrorists" and preempting their infiltration beyond the Line of Control (LoC).
According to Lt. Gen. Ranbir Singh, India's director general of military operations, "significant casualties" were inflicted on the "terrorists and those who are trying to support them" (Hindustan Times, September 29). Islamabad, however, played down the incident, with the Pakistani military claiming it was simply an "episode of cross-LoC fire" (Dawn, September 30).
Pakistan is partially correct, as the Indian attack on the night of September 28-29 cannot be described as "surgical." It was not "an aerial attack with precision-guided weapons, launched aircraft or UAVs," but more in the nature of "a commando raid" or a "quick and shallow insertion" of Indian forces that involved "assault and return" (Observer Research Foundation, October 5). Still, a well-targeted assault on terrorist staging posts did take place, according to a report in Indian Express, which drew on classified intelligence documents and accounts of eyewitnesses in POK (Indian Express, October 7).
Of key concern now is whether these strikes, which could herald a new robustness in India's response to cross-border terrorism, will deter attacks emanating from Pakistan.
'Pre-Emptive' Strikes
India has termed the strikes pre-emptive, but they are also a response to recent attacks by Pakistan-backed terrorist groups, the immediate trigger being the attack on the Indian Army camp at Uri, near the LoC, on September 18. The Uri attack, which left 18 soldiers dead, was the deadliest on an Indian military facility in over a decade. It triggered immense outrage across the country, prompting Indian Prime Minister Narendra Modi to vow some form of retaliation (The Hindu, September 18). For over a decade, Modi has promised strong action against Pakistan's backing of terrorist attacks in India. Though since his government took power in May 2014, there has been little in the way of a robust response, despite several major attacks, including that on an Indian air force base in Pathankot in January.
The army's assault on terror camps in POK has been widely welcomed in India. Political parties across the spectrum have backed military action, despite also criticizing the Hindu nationalist Bharatiya Janata Party (BJP)-led government's chest-thumping nationalism in the wake of the strikes (The Hindu, September 30; Hindustan Times, October 9).
The strikes have been praised as an "operational necessity" and a "fitting reply" to "Islamabad's unrestrained [and] unrepentant use of proxies to strike on Indian soil" (Times of India, September 29; Hindustan Times, September 29). Abroad too, the attacks drew little criticism. The United States and Russia appeared to sympathize with the Indian position and acknowledged the strikes in terms of India's right to defend itself (The Quint, September 30; Times of India, October 14). Even China, a long-standing ally of Pakistan, did not condemn Indian military action, instead simply calling on both India and Pakistan to "exercise restraint" (India Today, September 30).
Possible Strategic Shift
In the past, India has opted for strategic restraint in response to attacks (Scroll, October 1). Attacks from Pakistan-backed groups would draw angry condemnation from India, dialogue with Islamabad would be suspended and in some instances Pakistan's role would be raised at international forums. Before long, however, talks would resume. India, it seemed, was averse to military action, perhaps keen to avoid an escalation of conflict with its unstable, nuclear-armed neighbor.
With the recent strikes, that appears to have changed. Delhi has signaled instead that it has the "political will to face up to the risks of escalating the confrontation with the Pakistan army" in order to deal with cross-border terrorism (Indian Express, October 3).
However, the change in India's response to terrorism emanating from Pakistan may not be as dramatic as the Modi government would have India believe. In recent weeks, it has emerged that – on at least three occasions between 2009 and 2014 – the previous government carried out similar strikes (Times of India, October 4). As India's Foreign Secretary Subrahmanyam Jaishankar confirmed before a parliamentary panel, the army had carried out "limited-caliber, target-specific, counter-terrorist operations" across the LoC on several occasions in the past. The difference was that this time, the Modi government publicized its actions (Indian Express, October 19).
Public Messaging
While the Modi government's decision to make public its assault on militant bases in POK was partially motivated by domestic concerns – it wanted to be seen to be taking visible action on terrorism – the announcement was "intended, equally, to communicate to Islamabad and to the world's capitals that India will use all instrumentalities, political, economic, social, diplomatic, and if necessary, military, to confront and counter Pakistan backed terrorism" (Scroll, October 1).
Through the strikes, India has sent a message to Pakistan that terrorist attacks, which were hitherto viewed by Islamabad as a low-risk and low-cost strategy to "bleed India," will carry a high cost for Pakistan (Indian Express, October 9). Analysts have called for cross-border military attacks to become "a regular [Indian] response to terror attacks from across the LoC," indicating that robustness in dealing with Pakistan-backed terrorism would be the new norm (Indian Express, October 3).
There remains a question over just how successful such strikes will be in deterring Pakistan-based terrorism. It would seem unlikely that Pakistan will allow the strikes to go without a response. Retaliation should therefore be expected.
Pakistan's generals could back terror attacks on Indian civilian and military targets in India and elsewhere, intensify instability in Kashmir and escalate tensions along the LoC and the International Border (Indian Express, October 3). Already the Jamaat-ud Dawa, a front for Lashkar-e-Taiba (LeT), which is close to the Pakistan military establishment, has warned of a "befitting response" (Hindustan Times, September 30). The warning is perhaps unsurprising as it was LeT that suffered the worst losses in the Indian action in POK (India Today, October 9).
Since the assault in POK, Indian army camps in Baramullah and Kupwara, a police post in Shopian, and a government building in Pampore (all in Kashmir) have all come under terrorist fire. Cross-LoC firing and shelling has also surged over the last fortnight (Indian Express, October 18).
Dangers of Escalation
A breakdown of the 2003 ceasefire would undermine India's security. Not only would it facilitate the Pakistan military's infiltration of terrorists into India under the cover of cross-LoC artillery fire, as has been the case in the past, it also would hamper India's construction of a fence along the LoC. The fence has played an important role in controlling infiltration. Should the ceasefire collapse, however, it would enable Pakistan to target and destroy it (The Wire, September 29).
Some have argued that one-time strikes are unlikely to bring about a change in Pakistan's outlook and that such actions should become a "routine affair," with India targeting terrorist camps in POK every time Pakistan-backed terrorists carry out attacks in India (Indian Express, October 3).
That would put India on a slippery slope. While there has been international acquiescence to India's recent "surgical strikes," there is always a danger that such strikes could go wrong and risk injuring or killing civilians. That would turn global opinion against India and contribute to a surge in anti-India sentiment in Pakistan. It would enhance support for the military in Pakistan, and the possibility of an Indian strike in POK at some point eliciting a Pakistani nuclear response cannot be ruled out.
Surgical strikes and targeted attacks on terrorist launch pads and camps are useful primarily to destroy infrastructure or eliminate terrorists. But they will not change the mindset of the militants or their sponsors. When used frequently, such strikes have had the opposite effect.
India's targeted military action on terrorist staging posts in POK can be expected to escalate the conflict, at least in the short term. The Pakistani military is likely to deploy its affiliates to carry out attacks in India and/or breathe fresh life into militancy in Kashmir. An unraveling of the nearly 13-year-long ceasefire looms – a boon for Pakistan-based terrorist groups, but of little benefit to either country.