Surgut's Exit From Hungary Is a Success for Europe
Publication: Eurasia Daily Monitor Volume: 8 Issue: 104
By: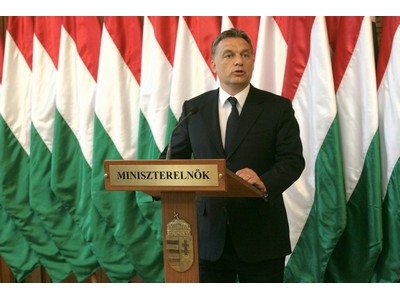 Hungary's government has successfully completed negotiations with the Russian government and Surgutneftegaz about the latter's exit from Hungary. The government is purchasing Surgut's 21.2 percent stake in the oil and gas company MOL, Hungary's largest business entity and Central European oil-refining leader. Surgut, a Kremlin-connected company with undisclosed ownership, had acquired that stake surreptitiously in 2009 from the colluding Austrian OMV. The Russian company thus became MOL's largest shareholder, clearly aiming for a hostile takeover. Hungary's successful defense has now compelled Surgut to give up that intention and sell its stake, acquired in the hostile takeover attempt, back into Hungarian hands.
This outcome interrupts a series of Russian takeovers of oil-refining capacities and fuel retailing networks in Western Europe. The Hungarian government and MOL are providing a counter-example to this trend.
On May 24 – 25, the Hungarian government announced the completion of negotiations, which involved Prime Minister Viktor Orban and Surgut CEO Vladimir Bogdanov in the final decision-making phase. The government will pay $2.65 billion (Euro 1.9 billion) to acquire Surgut's stake in MOL. The Russian company had acquired that stake in March – April 2009 from Austrian OMV for $1.9 billion (Euro 1.4 billion). Thus, Surgut is realizing an unearned profit of approximately $750 million (ca. Euro 500 million) simply as unwanted custodian of those shares, and their appreciation in value—to which Surgut contributed nothing. The transaction is to be completed by August. Approval by the Hungarian Parliament is required and not in doubt (parliamentary approval is not required in Russia) (MTI-Eco, Kommersant, Vedomosti, May 25, 26).
Moscow had attempted to turn Surgut's targeting of MOL into a test case of European acceptance of Russian takeovers in the energy sector. It invoked EU law on the free circulation of investment capital to justify this predatory attempt in Hungary. The Russian government repeatedly complained that Surgut was being subjected to discriminatory treatment as a Russian investor. Prime Minister Vladimir Putin, Deputy Prime Minister Igor Sechin and other Russian officials took the case personally to the European Commission, warning of legal action against MOL and Hungary in international courts.
The law, however, was on the Hungarian side. Disclosure of the ownership structure and of the ultimate beneficiary owners is mandatory in Hungary (as throughout the EU). The secretive Surgut failed to answer Hungarian authorities' requests for information on this and related issues. The energy regulatory agency, Hungarian Energy Office, therefore did not authorize Surgut to operate in Hungary. By the same token, MOL did not enter Surgut into the shareholders' register, meaning that Surgut could not participate and vote in the shareholders' annual general meetings from 2009 to date, let alone obtain seats on the board.
While Surgut was pressing for acceptance as a strategic investor, MOL treated it as an unwanted financial investor. With MOL shareholders' approval, the company did not distribute dividends to its shareholders during the economic crisis from 2009 to date. For Surgut, this meant no revenue from MOL during this period. Surgut brought suit in the Budapest metropolitan court, seeking legal registration of its stake in MOL; but it could not prevail against the law.
Hungary's Fidesz (conservative) government, which took office in the spring of 2010, soon initiated negotiations with the Russian government about ways to return Surgut's stake in MOL into Hungarian hands. The government turned down the option of asset swaps, whereby Surgut or some other Kremlin-favored company would have gained Hungarian assets elsewhere in return for Surgut's stake in MOL. According to Foreign Affairs Minister Janos Martonyi, strengthening MOL's regional role would improve the company's position in negotiating supplies and prices with Russia and diversifying energy supplies on a region-wide basis (Heti Vilaggazdasag, May 27).
The Russian side wanted MOL to hand over its 47 percent stake in the Croatian oil and gas company, INA, to Russian hands, in return for Surgut's stake in MOL. The Russians proposed this swap repeatedly in the course of negotiations, but the Hungarian side ruled it out. Croatian media commentaries frequently surmised that Moscow was pressing Budapest for such a swap. Moscow encouraged these media rumors to confuse Croatian public opinion. However, the Hungarian side held firm, considering Croatia's importance to regional cooperation for energy security.
Delivery of seaborne energy supplies from Croatia's Adriatic coast to Central Europe is an EU-backed goal, as well as an aspect of Croatia's integration with the European Union. The European Commission proposes to start joint planning with the Croatian government in this regard (Vjesnik [Zagreb], May 30). A Russian company's entry into INA would have defeated those goals. Thus, Hungary's successful defense marks a success for EU policy and for Croatia's own national interests.
MOL itself did not participate in the government's negotiations with the Russian side. Indeed, MOL declined to have any official relations with Surgut while the Hungarian regulatory agencies and courts did not legalize Surgut's ownership stake in MOL. During these two years, MOL did not accept Surgut as strategic investor, viewing it instead as the source of hostile takeover threats. By contrast, MOL regards the Hungarian state as a friendly strategic investor, and its share purchase as reassuring for all of MOL's shareholders (MTI-Eco, May 24, 25).
The Hungarian government will finance the purchase through unused loans from the bailout package of Euro 20 billion, approved by the International Monetary Fund and the European Union for Hungary to use during 2008 – 2010. That lending program expired at the end of 2010 without being used to its full extent. The IMF takes the position that Hungary may spend from the unused funds at its discretion. Thus, the purchase of MOL shares from Surgut does not impact on Hungary's current budget deficit, though it increases Hungary's indebtedness in the medium term. Although Hungary's financial position remains tight, the country is recovering from crisis under the Fidesz government and no longer needs international financing (Platts, Dow Jones, May 24 – 26).
Announcing the share purchase, Prime Minister Orban noted that "No country can be safe if its energy supply is at risk. From a national strategic standpoint, we have managed to place one of the most important corporations into safe hands." According to National Economic Development Minister, Tamas Fellegi, the state as a minority shareholder will continue supporting MOL's strategy, as the government had done before becoming a shareholder (MTI-Eco, May 25, 27).
Under MOL's articles of association, the voting rights of any shareholder or group of shareholders are limited to 10 percent, regardless of the size of the ownership stake. This voting cap remains valid and applies also to the state as shareholder. The government has announced that it would abide by the voting cap. It will probably raise the state-owned stake to 23 or 24 percent by adding the MOL shares held by etatized pension funds. The resulting, state-owned minority stake will be entrusted to a state company, possibly the MVM electrical power company, following an assessment of the potential synergies.
As a Hungarian unnamed "senior official" averred on this occasion, the government was determined "not to let a company linked to Putin into a strategic Hungarian company" (Heti Vilaggazdasag, May 27). While some in Western Europe seem to have transcended such scruples, Hungary and other Central-East European countries act in the European as well as national interest by preventing Russia from acquiring energy assets in EU territory.