Surkov-Nuland Talks on Ukraine: A Nontransparent Channel (Part Two)
Publication: Eurasia Daily Monitor Volume: 13 Issue: 103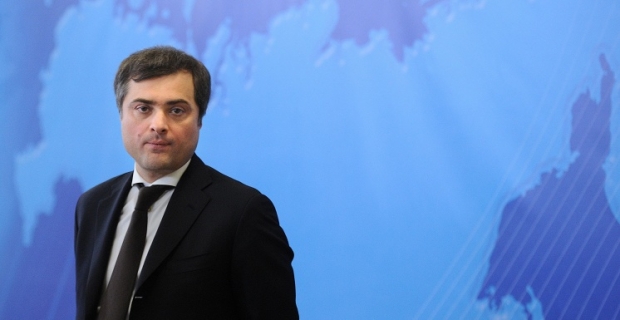 US Assistant Secretary of State Victoria Nuland held talks, in Moscow, with Russian presidential advisor Vladislav Surkov, on May 17–18 (see Part One). According to the United States government's official account of the meeting, the talks focused on improving security "in the Donbas" (sic) as well as increasing access to this region for the Organization for Security and Cooperation in Europe (OSCE) access, preparatory to elections there (The Moscow Times, May 19). Nuland evidenced a sense of urgency about "elections" to be staged in Donbas under the Minsk armistice (reached in February 2015): "We want to see Minsk implemented as soon as possible. It is now time to really step on the gas and see this implemented." Nuland referenced those elections (as she regularly does) as a Ukrainian "obligation"; but this time she did not mention the withdrawal of Russian forces or the handover of control along the border as a Russian quid-pro-quo (if not obligation). She appealed to "Donbas" authorities not to stage elections unilaterally, outside the Minsk framework; instead, "we would respectfully [sic] encourage them to focus on Minsk-compliant elections" (i.e., elections that could be validated to "implement Minsk"). Nuland characterized her talks with Surkov as "very thorough" and "very constructive" (US Embassy–Moscow press release, May 18).
Kremlin spokesman Dmitry Peskov, however, poured cold water on Nuland's account of the meeting with Surkov: "This was not supposed to produce any results, it was only a brief exchange of views" (Interfax, May 19).
In Washington, US Secretary of State John Kerry marked the release of Ukrainian pilot Nadia Savchenko from Russian captivity (she had been abducted in 2014 from Ukrainian territory) with a statement that lowered the bar for "elections" to be held in Russian-controlled Donetsk and Luhansk "people's republics" (DPR-LPR). Kerry set minimal prerequisites to staging those elections, to wit: a durable ceasefire, full access by the OSCE to the entire territory, and election observation by the OSCE's Office for Democratic Institutions and Human Rights (ODIHR) to determine compatibility with its standards (State Department press release, May 25).
Kerry's assent to elections being held "under Ukrainian electoral law" is a coded phrase. "Ukrainian law" in this case means a new, "hybridized" law that Kyiv is supposed to negotiate with the leaders of the Donetsk and Luhansk "people's republics," as the Minsk armistice prescribes. Staging elections under such a law would disqualify such elections a priori. Once those elections have been held with Ukraine's assent, Kerry promised, the withdrawal of "foreign [sic] forces" could follow; but no one can guarantee or enforce this (hence he euphemism "foreign") even at the cost of Ukraine's legalizing the DPR-LPR through elections. The "return to Ukraine of full control over its international border [with Russia]" is another coded phrase. Under the Minsk armistice, Kyiv is supposed to negotiate with the DPR-LPR authorities about sharing control of that border. Kerry's sequence of steps reproduces that in the Minsk armistice (from which Kyiv is trying hard to extricate itself) and ignores Ukraine's multiple legal and democratic safeguards in place against sham DPR-LPR elections (see EDM, April 20, May 20).
The Kremlin may calculate that certain figures in the Obama administration are preoccupied with legacy issues, striving to show at least some interim result in implementing the Minsk armistice before the administration's time in office runs out. Seasoned commentators in the Russian press speculate on that legacy factor, probably reflecting what they hear from Russian officials on that account (Rossiiskaya Gazeta, Nezavisimaya Gazeta, May 19). A similar logic may soon apply to the Normandy format, all of whose Western protagonists will face elections along with legacy issues next year. The OSCE's 2016 year-end conference is also a deadline for the German chairmanship to claim some achievement, which is only possible with Russia's cooperation in this organization.
In that context, Russia will likely aim for some interim agreements under the guise of "implementing Minsk," ideally through the proposed "elections," but also through smaller steps attainable during the months ahead. The goal would be to elicit de facto acceptance of the DPR-LPR as participants in multilateral negotiations and signatories to interim agreements. This could elevate the DPR-LPR to the same level of de facto acceptance as Transnistria for example, with or without valid local elections. For now, Moscow seems to string along its German and US interlocutors in order to increase its own leverage. Hence it downplays its talks on Ukraine with Washington at this stage as inconsequential, which Peskov did in contradicting Nuland's upbeat account. Apparently, the Kremlin would want its Western interlocutors to try again, and harder, to come to terms with it on Ukraine.