Sword out of Sheath?: Assessing the Strategic Implications of the PLA's April Exercises Around Taiwan
Publication: China Brief Volume: 23 Issue: 8
By: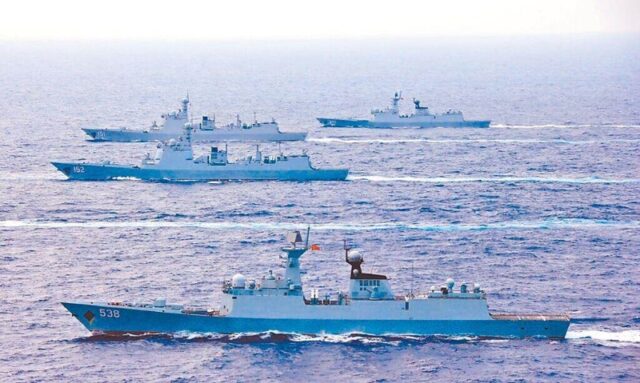 Introduction
Thus far in 2023, People's Republic of China (PRC) President Xi Jinping has consolidated his power base after securing his third term as General Secretary at the 20th National Congress of the Chinese Communist Party (CCP) last October. Despite the fact that the COVID-19 pandemic dealt a heavy blow to China's economy, Beijing has still shown signs of actively preparing for war, as seen in its defense budget allocation and the implementation of the new Reservists Law (PRC Ministry of National Defense [PRC MND],  March 6).
The People's Liberation Army (PLA) undertaking of another round of large-scale military exercises around Taiwan in early April following President Tsai Ing-wen's transit visit to the U.S. provides further evidence of the PRC's intent towards Taiwan. Another key takeaway from the turnover at the 20th Party Congress was the new line-up of the Central Military Commission (CMC). What caught the attention of outside observers was that three members of the seven-person CMC, chaired by Xi, are from the ground force component of the PLA. They include Zhang Youxia, who got his second term as vice chairman; He Weidong, who serves as the other vice chairman of the CMC; and Liu Zhenli, the new Chief of the General Staff (Gov.cn, March 10). Expectations for the new CMC include accomplishing the challenging task of effectively integrating PLA services and branches in order to facilitate joint deployment of air and naval forces and enable effective command and control in joint operations. The goal is for the PLA to acquire not only the capability to be able to conduct joint operations to take big islands like Taiwan, but also to be able to execute an anti-access and area denial campaign against potential intervention by foreign forces.
Combat Readiness Patrols and the "Joint Sword" Exercise
Shortly after President Tsai concluded her transit through America by meeting U.S. House Speaker Kevin McCarthy in California, China announced a series of maritime law enforcement and military activities near and around Taiwan: a "Joint Maritime Patrol and Inspection in Central and Northern Parts of the Taiwan Strait" from April 5 to 7 and a "Combat Readiness Patrol and "Joint Sword" exercises from April 8 to 10 (Huanqiu, April 5; Xinhuanet, April 8). In addition to intimidating Taiwan by carrying out military maneuvers freighted with warning messages, the PRC also took advantage of the media coverage to maximize its propaganda effects (PLA Daily, April 9). However, whether the patrols and Joint Sword exercises achieved Beijing's desired aims remains in question. Moreover, a comparison of the April 2023 and the August 2022 exercises is not particularly justifiable due to several factors. The two rounds of drills are distinct from each other in terms of their objectives, purposes and simulated scenarios.
The August exercises were meant to remonstrate U.S. House Speaker Nancy Pelosi's visit to Taiwan, a move that made much sense politically when deepening interaction between Taiwan and the U.S. threatened to become a destabilizing factor to Xi's bid to win his third term as CCP General Secretary and CMC Chairman at the upcoming 20th Party Congress in the fall. Large-scale military exercises were thus launched around Taiwan not only to demonstrate the strength of the post-reform PLA but also to highlight the purported achievements of Xi's Taiwan policy. They could also serve as a prelude to Xi's third term in office, ushering in a new chapter U.S.- China competition. These motives might have driven the August 2022 exercises around Taiwan (China Brief, October 4, 2022).
The April 2023 exercises, however, did not involve the firing of Dongfeng-series ballistic missiles near Taiwan. The PLA Rocket Force played a part in the "Joint Sword" exercise but did not fire a single missile in the process. The most likely explanation for this relative restraint is the fallout from the PLA launching a total of five Dongfeng-series missiles into the waters of Japan's Exclusive Economic Zone (EEZ) in the exercises around Taiwan last August, a move that caused Tokyo to protest and express serious concerns about the situation in the Taiwan Straits (Kyodo News, August 5, 2022). In response, Japan sought greater cooperation with the U.S. in order to defend its southwestern islands. In a rare image available in the public domain, a Japan Self-Defense Maritime Force ship is seen near a Taiwan warship and a Chinese one, with the three ships within visual range of each other (UDN, August 14, 2022).
Given that it is harder to predict ballistic missiles' impact points and that their firing is more likely to trigger a strong reaction from the international community, naval surface ships and air force planes were used as more flexible and precision options for the PLA in its maneuvers against Taiwan early last month. Meanwhile, the exercises last August were focused on simulating a maritime blockade of Taiwan and on intimidating the Taiwanese population. This year's exercises, however, simulated other scenarios, including launching strikes on multiple targets in Taiwan from air and naval platforms and finding out in the process to what extent the PLA has integrated its command, control and communication systems and coordinated campaign activities across different platforms.
Diplomatic Considerations and Military Lessons
In an attempt to avoid provoking international concern, the PRC primarily deployed its air and naval forces in the recent April exercises around Taiwan, which achieved the goal of intimidating Taiwan without arousing a strong international reaction. The end result was to minimize the ripple effect of the now much-quoted words of the late Japanese Prime Minister Abe Shinzo, who said that "if Taiwan has a problem, then Japan also has a problem" (Nikkei Asia, August 21, 2022). Although the exercises were meant to be a response to the meeting between President Tsai and U.S. House Speaker McCarthy, Beijing did not start the second phase of the drills, or the more important part, until Tsai returned to Taiwan. The timing was based on a political judgment that was oriented toward preventing Taiwan from having a chance to cooperate with the U.S., to the disadvantage of Beijing. Meanwhile, the timing of the PLA exercises also factored in diplomatic considerations. Beijing had to wait for visiting French President Emmanuel Macron and President of the European Commission Ursula von der Leyen to depart so as to launch a large-scale military exercise targeted at Taiwan (China Brief, April 25). This indicates that China still wants to keep an armed conflict in the Taiwan Strait as a matter between the two sides of the strait so as to deny intervention from other countries. In other words, China's anti-access and area denial campaign will be executed not only through military means but also through diplomacy and grand strategy.
In order to practice its available military means, the PLA, which is still developing the capacity to deploy forces beyond the first island chain, nevertheless, still took advantage of the April exercises around Taiwan to simulate maneuvers of naval ships crossing the first island chain. The maneuvers involved naval ships tasked with different missions sailing to their respective tactical positions, where they coordinated with fighter jets, early warning aircraft, bombers, electronic warfare aircraft and unmanned aerial vehicles to simulate launching joint strikes on Taiwan and gain control of the airspace over Taiwan. Although the PLA did not fire any ballistic missiles during the exercises, it concentrated instead on testing composing services' and branches' communication and joint operations capabilities in a joint campaign against big islands like Taiwan in hopes of reaching goals such as "joint seizure of power," "precision strikes" and "blockade of the island" (Xinhua, April 10). Notably, the PLA has started deploying several warships in the Western Pacific Ocean on a regular basis, a practice that has been ongoing for some time. As a result, if war breaks out in the Taiwan Strait, China will have an immediate naval presence east of Taiwan. These ever-present ships can launch strikes on Taiwan's eastern coast in coordination with attacks on the western parts of the island. Such coordination depends on a common operational picture that effectively integrates platforms across services. China's BeiDou-3 navigation satellite system became operational at the end of 2018 (Xinhua, July 29, 2018). This development has likely contributed considerably to the PLA's integration of joint operations systems, the achievements of which are observable in the recent drills.
Conclusion

After military exercises concluded on April 10, the PRC announced the implementation of a no fly zone north of Taiwan for 27 minutes on April 16 for what it said were safety concerns over an aerospace activity (Focus Taiwan, April 13). The duration of the No-Fly Zone has been changed several times amid concerns from all sectors. Analysis on the part of Taiwan shows that the prohibition of flights in the area announced may have been due to the PRC's launch of a satellite from Jiuquan Satellite Launch Center in Gansu Province, the trajectory of which was projected to pass over the no fly zone (Taipei Times, April 14). This generated fears that some rocket debris might, per warnings from the PRC, fall into the waters north of Taiwan. Although the satellite launch did constitute direct military intimidation against Taiwan, its occurrence right after the military exercises and the accompanying announcement of a no-fly zone were enough for the outside world to associate it with the drills.
Put another way, China has means other than military instruments to intimidate Taiwan, if Beijing is intent on doing so one way or another. It can opt for non-military means, such as leveraging media coverage to launch a propaganda campaign that is supportive of military action. In doing so, China can engage Taiwan with a combination of real and fake moves. In 2020, for instance, a UNI Air flight chartered by the Taiwanese military was asked by Hong Kong air traffic controllers to return to Taiwan for what they said were "dangerous activities" as it was on its way to the Pratas Islands in the South China Sea (RFI, October 17, 2020). This kind of non-military means may be used more frequently by China to exert pressure in the future. In short, Taiwan needs to be vigilant in this increasingly difficult security environment.
Dr. Ying Yu Lin is an Assistant Professor at Graduate Institute of International Affairs and Strategic Studies Tamkang University in New Taipei City, Taiwan and a Research Fellow at Association of Strategic Foresight. He received his Ph.D in the Graduate Institute of International Affairs and Strategic Studies, Tamkang University. His research interest includes PLA studies and Cyber security.