Syrian War and the Return of Zero-Sum Thinking in Russian-US Relations
Publication: Eurasia Daily Monitor Volume: 14 Issue: 120
By: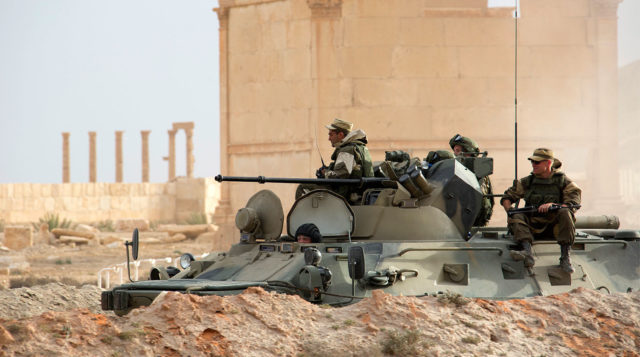 Tensions flared between the United States and Russia, with Moscow's top generals and diplomats insisting that Washington is siding with terrorist groups in Syria to attack Russian soldiers and their allies. Russia's defense minister, Army General Sergei Shoigu, reportedly canceled a visit to Belarus last week (September 20), on the last day of the Zapad 2017 military exercise, because of the acute crisis in Syria (Kommersant, September 21).
The main goals of Russia's air bombing campaign over Syria, which began on September 30, 2015, have been to defeat and force into submission the Syrian opposition, restore land corridors between different provinces, and allow Bashar al-Assad's government to retake control of major cities, like Aleppo in the north. In recent months, Syrian opposition forces were forced to sign ceasefire agreements and were corralled into four designated "de-confliction zones," the major one in Idlib province in northwestern Syria. In the summer of 2017, the Islamic State (IS) began to visibly collapse under relentless pressure from US-led coalition forces, losing most of the territories it controlled in Iraq. At the same time, its official capital, Raqqa, in northern Syria, has come under sustained attack by the Syrian Democratic Forces (SDF), a militia alliance including Arab and Kurdish fighters. Responding to the changing situation, Russian generals shifted their emphasis to the east, organizing a major push deep into IS-controlled territory by pro-al-Assad forces, supported by relentless Russian aerial bombardments and the deployment of additional Russian forces and advisors (Regnum, August 27).
The aim of the advance through the Syrian desert was to relieve the garrison of Deir el-Zour on the banks of the Euphrates, besieged by the Islamic State for some three years, with part of the city controlled by the radical group and part by pro-al-Assad forces. The oil- and natural gas–rich province of Deir el-Zour, which borders Iraq, is a prime prize: Oil and gas revenue could prop up al-Assad's government and somewhat ease the financial burden on Moscow and Tehran, which have been sustaining the regime in Damascus with money, troops and a constant flow of supplies. Clearing out the IS and taking over the entire province of Deir el-Zour is seen in Moscow as an essential step on the way to full victory—restoring President al-Assad's rule over the entire country. On September 5, Shoigu personally briefed President Vladimir Putin in the Kremlin that the siege of Deir el-Zour had been broken. The Kremlin press service described it as "a very important strategic victory" (Militarynews.ru, September 5). The chief of staff of the Russian forces in Syria, Lieutenant General Alexander Lapin, claimed, "Illegal armed formations have been cleared out of 85 percent of Syrian territory," and operations against "terrorists" will continue until total victory (RIA Novosti, September 12).
After the initial breakthrough, pro-al-Assad forces fought to expand their control and fully oust IS fighters. At the same time, US-backed SDF militias moved into parts of Deir el-Zour city and province, on the northern banks of the Euphrates. Apparently, the Russian generals were infuriated by what they presumed was Washington trying to steal their hard-won victory. On September 7, a "military-diplomatic source" told RIA Novosti, "The US and the coalition it leads are actively supporting [the Islamic State] in Deir el-Zour and other parts of Syria." The US-led coalition rejected the charge (RIA Novosti, September 7).
A high-ranking US diplomat told this author (on condition of anonymity) that US and Russian military authorities apparently reached a tentative understanding regarding the separation of zones of responsibilities in fighting the Islamic State in northern Syria to avoid clashes. The US and its allies will operate north of the Euphrates River, while Russia and its allies—to the south. But on September 18, pro-al-Assad forces crossed the Euphrates at Deir el-Zour. An extended bridgehead was established and a pontoon crossing established, apparently violating the de-confliction understanding with Washington (Interfax, September 18). The Russian military later disclosed that the 210-meter floating bridge over the Euphrates was built by Russian sappers who were rushed into Syria by air, together with the newest PP-2005 pontoon-bridge complex equipment, using heavy-load An-124 transport jets (Militarynews.ru, September 24, 26).
It seems, the scramble to cross the Euphrates did not fully pay off. The SDF fighters, together with US Special Forces, were already there. Washington and Moscow and their proxies in Syria were on a collision course.
On September 21, the deputy chief of the General Staff and chief of the Main Operational Directorate, Colonel General Sergei Rudskoy, accused "the US intelligence services" of organizing an attack by former al-Nusra "terrorists" near Hama, in central Syria, on pro-al-Assad forces and a Russian military police company that was policing a newly established "de-escalation" zone. According to Rudskoy, the main aim of this US-organized attack was to undermine the successful offensive in Deir el-Zour. The Pentagon rejected the accusation (Kommersant, September 21).
The same day, defense ministry spokesman Major General Igor Konashenkov accused the SDF and its US Special Forces companions of firing on pro-al-Assad forces in Deir el-Zour. He threatened the Russian military may "wipe out" the SDF and US commandos if such attacks continue. The US-led coalition, meanwhile, accused the Russians of bombing the SDF. Both sides  denied the other's charges (RIA Novosti, September 21). The Russian defense ministry published drone photos allegedly proving the SDF and US Special Forces had joined up with the Islamic State in Deir el-Zour (RIA Novosti, September 25). On September 23, a top Russian military advisor, Lieutenant General Valery Asapov, was reported killed in Deir el-Zour by mortar fire, together with two Russian colonels (Kommersant, September 25). Deputy Foreign Minister Sergei Ryabkov blamed "American double-dealing" for Asapov's death and also predicted the US would finance anti-government protests in Russia in the run up to presidential elections next March (RIA Novosti, Interfax, September 25).
Washington and Moscow seemed on the verge of a direct military clash, but apparently took a step back following contacts through military channels. On September 27, strategic Tu-95MS bombers hit Deir el-Zour and Idlib provinces with long-range cruise missiles. The Tu-95MSs were escorted by Su-30 and Su-35 jet fighters, based in Syria. Evidently, the Russian military believed US jets could try to intercept the slow-flying bombers, assuming they may be targeting US Special Forces units. But this worst-case scenario did not happen, and Konashenkov assured journalists, "Not a single American was harmed" (Militarynews.ru, September 27). Still tensions continue to simmer. Washington and Moscow are becoming ever more deeply engaged in a worldwide zero-sum game, with no letup in sight.