TAJIKISTAN AND UZBEKISTAN LOOK BEYOND U.S. SECURITY ASSISTANCE
Publication: Eurasia Daily Monitor Volume: 2 Issue: 4
By: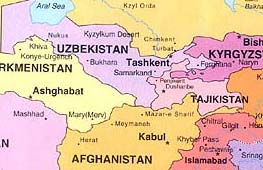 Despite growing levels of post-9/11 U.S. security assistance aimed at strengthening the weak militaries and security structures in Tajikistan and Uzbekistan, both countries show clear signs of diversifying their security interests, reflecting a resurgent Russia and burgeoning Chinese interests in Central Asia. Tajikistan has prioritized the improvement and independence of its own border security regime, traditionally heavily dependent upon Russian help and this has opened a window of opportunity for further Western assistance. Dushanbe, in contrast, referred to Moscow for practical advice and also examined issues concerning future help for its border service from China. Meanwhile, according to opposition groups in Uzbekistan, the parliamentary elections held on December 26 may stimulate anti-American sentiment, among a populace frustrated by Washington's unambiguous support for the Karimov regime.
Russian influence is once again discernable in Tajikistan, although Dushanbe has assumed responsibility for patrolling stretches of its border once carried out by the Russian Federal Border Guard Service. Russia handed back around 881 km of the Pamir section of the Tajik-Afghan border, which has witnessed many seizures of illegal narcotics smuggled across the border from sources inside Afghanistan. On January 4 the first group of advisors from the Russian FSB Border Department arrived in Tajikistan, offering practical help on increasing the security of the border areas now under direct Tajik control. Extensive consultations are being held between the Russian border service and their Tajik counterparts particularly in matters relating to the Pamir section of the border (Itar-Tass, January 4).
Moreover, in addition to looking to Moscow for vital assistance in this key area, Dushanbe has also opened dialogue with China aimed at bringing Chinese expertise to bear on their border security problems. A senior delegation from the Chinese People's Liberation Army visited Tajikistan in late December, holding meetings with Sherali Khayrulloyev, Tajikistan's Defense Minister, and senior personnel from the National Guard and Border Service. The three-day working visit explored deepening bilateral military cooperation as well as ways of developing cooperation within the Shanghai Cooperation Organization (SCO) (Avesta, December 27). Such contacts are likely to increase, and they signal Dushanbe's intention to avoid relying too heavily on aid from Western countries.
Qodir Gulomov, Uzbekistan's Defense Minister, has heralded the Uzbek model for the army's reserve service as unique within the region. In practice a young Uzbek pays a fee equivalent to 25 times the minimum wage in Uzbekistan in return for exemption from military service. He follows this by serving in a unit for one month. After completing this short training period, he is issued a card confirming completion of service. The process follows the national law on military duty and military service and is the brainchild of President Islam Karimov. Gulomov believes that the system of training courses has proven successful and effectively inculcates a sense of higher moral standards and patriotism among those completing the one-month course (Vatanparvar, December 25). Such apparent Uzbek success in developing a military system that suits its specific needs, although military reform itself proceeds at a slow pace, supplies the backdrop to repeated statements from Uzbek government officials as to the healthy nature of the Uzbek-U.S. strategic partnership.
Uzbekistan Foreign Minister Sodiq Safoyev recently restated his government's intention to continue its support for U.S. and coalition operations in Afghanistan and to place its base at Kharshi-Khanabad at the disposal of Western military personnel: "Uzbekistan will continue this cooperation until the U.S. mission in Afghanistan is over." Nevertheless, on December 29 Russian President Vladimir Putin, as widely expected, signed into law the ratification of the treaty of strategic partnership between Russian and Uzbekistan, which will stimulate closer bilateral military and security cooperation (Interfax, December 28, 29).
Perhaps more troubling, as a potential harbinger of future trouble for U.S. foreign policy in the region, are reports of Uzbek opposition figures suggesting that America's lack of interest in the parliamentary elections held in Uzbekistan on December 26, coinciding with the closely watched rerun presidential election in Ukraine, might inadvertently trigger anti-American feelings among ordinary Uzbeks. Otanazar Oripov, from the unregistered opposition party Erk, was dismayed that the OSCE sent only 20 election observers to Uzbekistan, which he suggested was a betrayal of democracy within the country. He said that Uzbeks may come to regard the U.S. military presence in the country as a sign of Washington's support for Karimov, rather than considering its wider role in promoting regional stability (Ferghana.ru, December 27). Planners in Washington accurately evaluate the Uzbek opposition as weak and disorganized, but they will ignore any evidence of a shift in popular Uzbek perception of the U.S. presence in their country at their peril.
In calculating its military assistance packages for Uzbekistan and Tajikistan, the United States must remember that both countries are increasingly dealing with a resurgent Russia and are to a lesser extent seeking security ties with China. Their activities may or may not help secure greater regional stability, facilitate U.S. strategic interests in the region, and deny international terrorists the relative safety of failing states, Neither of these security partners will promote internal democratic reform, and thus the already well-established Soviet style leaders in Dushanbe and Tashkent have little to fear from limited contact with the United States. Unfortunately, American involvement in Central Asia raises expectations among many pro-democracy campaigners that political change will follow strategic ties — the disappointment factor itself may have unforeseen consequences.