TAJIKISTAN BRANDS "BAYAT" A TERRORIST, RELIGIOUS, EXTREMIST, ORGANIZATION
Publication: Eurasia Daily Monitor Volume: 2 Issue: 204
By: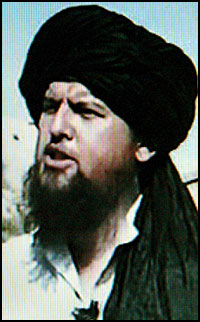 Tajik Interior Minister Khumiddin Sharipov has declared that the extremist religious organization "Bayat" remains active in Tajikistan. "We have once again received reports that Bayat remains active. Not all of its members have been tracked down," the minister told a news conference in Dushanbe on October 19. "Last year we detained 12 Bayat members, all of whom were convicted," Sharipov added. "Sixteen members of this organization remain on the wanted list."
Sharipov described Bayat as a terrorist religious-extremist organization whose goals and tasks are similar to those proclaimed by Hizb-ut-Tahrir, another Islamic organization banned in Tajikistan (Interfax, October 19).
According to Tajik authorities, Bayat is active in Isfarinsky district in the Tajik section of the Fergana Valley. Isfarinsky district is a unique area, with a population much more religious than in other regions of Tajikistan. The sale of alcohol is prohibited, and women wear hijabs (headscarves) in many local villages. According to fergana.ru. Bayat initially planned to maintain order in the district in accordance with the norms of Sharia and to create a local version of Iran's Revolutionary Guards.
The current leader of the Islamic Movement of Uzbekistan, Tahir Yuldashev, created similar Islamic militia in Namangan, an Uzbek part of the Fergana Valley. Bayat likely maintains close links with the IMU. Indeed, the mayor of Isfar told Jamestown, "We first learned about Bayat in our district in 1997 when law enforcement agencies arrested an Uzbek citizen, who was a close relative of one of the leaders of the IMU, for a murder. The suspected murderer was soon found to have ties to an underground organization known as 'Bayat'."
According to Dushanbe, Bayat activists drawn from the Tajik population fought on the side of the Taliban in Afghanistan, and some of them are now detained at the U.S. military base in Guantanamo Bay. According to Tajik authorities, in January 12, 2004, Bayat members killed a Baptist minister, Sergei Bessaraba, who was actively involved in missionary work in Isfarinsky district. Members of the organization also reportedly torched mosques whose imams were, in their opinion, dependent upon the government of Tajikistan. In April 2004, 12 Bayat members were convicted and sentenced to 25 years in jail for the murder and arson. However, relatives of the convicted believed the trial was a farce and staged protest demonstrations (Avesta, June 1; also see EDM, May 3, 2004).
Despite these reports, analysts still do not agree on the existence of Bayat. Muhiddin Kabiri, deputy chairman of the Islamic Renaissance Party told Jamestown, "The organization Bayat is nothing more than a myth of the Tajik Secret Services, which benefits from stirring up a hysteria about an Islamic threat." Even if Bayat is indeed a myth, the presence of Islamic radicalism is nevertheless quite evident in Tajikistan today. The murder of a protestant pastor — even if the subsequent trial of Bayat members was a farce — is indirect proof that Tajik Muslims are offended by the presence of Christian missionaries in their country. In addition, no one denies that the people accused of being members of Bayat mounted an armed resistance to police who tried to arrest them. In his conversation with Jamestown, Kabiri admitted that Hizb-ut-Tahrir, which calls for the establishment of an Islamic Caliphate, is active in the Fergana Valley of Tajikistan. It may well be that their activities compel the authorities to suppress popular religious activities by rather odious means.
The Tajik Education Ministry has banned female students from wearing Islamic headscarves at secular schools. Wearing the hijab and or displaying other religious symbols "is unacceptable in secular schools and violates the constitution and a new law on education," Education Minister Abdudjabor Rakhmonovsaid declared. He also expressed a concern that students spend so much time in mosques that their secular education suffers (al-Jazeera, October 22).
The Fergana Valley is known to be a hub of Islamic activism across its Tajik, Uzbek, and Kyrgyz sectors. The majority of the Tajik, Uzbek, and Kyrgyz members of Hizb-ut-Tahrir hail from this region. The Islamic Movement of Uzbekistan emerged in the Uzbek part of the Fergana Valley, and it was here that in May 2005 that Uzbek authorities brutally put down an uprising of the members of the Akramiya movement in Andijan.
The region's ethnic distribution is another factor undermining stability. One ethno-cultural zone is divided today between three states: Tajikistan, Uzbekistan, and Kyrgyzstan. For example, Isfar, where Dushanbe insists Bayat members are active, is only 10 kilometers from the Uzbek border.
Although politically divided, the Fergana Valley still forms a large, interconnected ethno-cultural system. Any change in the political situation in one part of the Valley inevitably affects the situation in neighboring parts of the Fergana Valley. For example, Kyrgyz members of Akramiya took part in the uprising in Andijan. When Uzbek authorities crushed the protests, refugees fled to the Kyrgyz side of the Fergana Valley. Similarly, if the Tajik government cracks down on Bayat (if, of course, there is such an organization) then its followers may transfer their activities to neighboring Uzbekistan. In order to really influence the situation in the region, authorities will have to implement a common policy, which remains a very remote prospect (see also EDM, October 27).