Tajikistan Hosts Leaders of Afghanistan, Iran and Pakistan in Dushanbe for RECCA-V
Publication: Eurasia Daily Monitor Volume: 9 Issue: 67
By: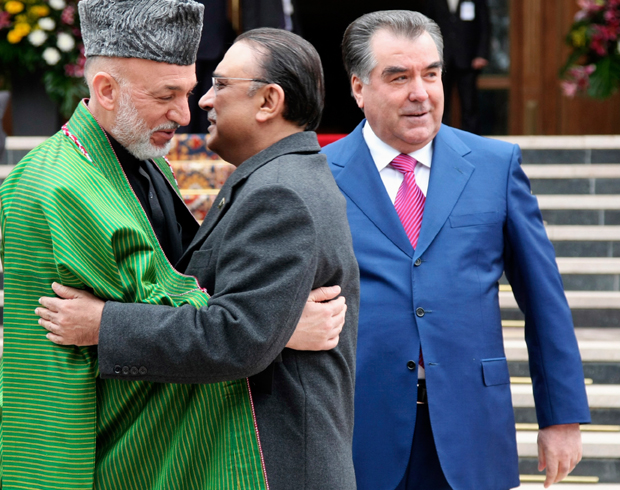 On March 26-27, the Fifth Regional Economic Cooperation Conference on Afghanistan met in Dushanbe, Tajikistan to discuss regional cooperation and efforts to contribute to the stability of Afghanistan. President Emomali Rahmon of Tajikistan hosted counterparts Mahmoud Ahmadinejad (Iran), Hamid Karzai (Afghanistan), and Asif Ali Zardari (Pakistan), as well as delegates representing 50 countries and international organizations. The conference came on the heels of a March 24-25 Navruz (Persian New Year) celebration attended by the Iranian, Tajik, Afghan and Pakistani presidents and was held concurrently with a business forum and exhibition called "Afghanistan: The Potential for Regional Economic Cooperation" (Ozodi.org, March 20).
Among the initiatives discussed were the CASA-1000 Power Transmission Project and the Turkmenistan-Afghanistan-Pakistan-India gas pipeline project (TAPI). The immediate goal of CASA-1000 is to export 1,000 to 1,300 MW of electricity from the Kyrgyz Republic and Tajikistan to Pakistan and Afghanistan. The project is intended to be the "anchor project for establishing the Central Asia-South Asia Regional Electricity Market" (CASAREM) whose purpose to is to invest in hydroelectric power stations in Central Asia such as Sangtuda I & II, the Rogun dam, and transmission networks to enable the export of electricity to Afghanistan and Pakistan (https://casa-1000.com). Likewise the issue of financing the proposed TAPI pipeline was raised and a time frame for the beginning of construction in 2014 was also announced (for background on both the CASA-1000 and TAPI projects see EDM, February 16, 2011). The completion of the Afghanistan Regional Electric Grid and construction of the 345-kilometer Afghanistan-Tajikistan Gas Pipeline (ATGP) from the Djarquduk, and Yatimtaq gas fields in Sheberghan, Afghanistan to Kolkhozobod, Tajikistan were also discussed (https://www.embassyofafghanistan.org).
Transportation was also on the agenda. Developments in the proposed Kyrgyzstan-Tajikistan-Afghanistan-Iran railway network including the completion of 638 kilometers of newly built rail were revealed. Most of the newly completed rail is in Afghanistan, but a 50-kilometer section connecting Tajikistan to Kunduz and a 90-kilometer section joining Turkmenistan and Shiberghan have also been constructed (https://www.embassyofafghanistan.org). In spite of progress, however, skeptics point out that poor rail infrastructure in eastern Iran and the deteriorating condition of railways in Tajikistan and Kyrgyzstan (to say nothing of the financial and security challenges of building new lines in Afghanistan) cast doubt on the long term feasibility of the project (https://en.trend.az, March 29).
The RECCA-V conference built upon earlier frameworks agreed upon in 2010 at RECCA-IV in Istanbul and other bilateral agreements reached earlier this year. In February, Tajikistan's ambassador to Pakistan, Zubaydullo N. Zubaydov, signed an agreement with President Zardari to allow Tajikistan access to its Gwadar deep water port in Baluchistan and encouraged both parties to consider entering into a "Preferential Trade Arrangement" (Daily Baluchistan Express, February 10). Two weeks later at a press conference in the Tehran Dolat Ali Hatamov, the Tajik ambassador to Iran, announced Tajikistan's willingness to buy crude oil from the Islamic Republic (PressTV, February 23). Tajikistan's pursuit of new regional partners reflects its desire to ease its dependence on Russia and Uzbekistan. For several years, Uzbekistan's dispute with Tajikistan over the construction of the Rogun hydroelectric dam has led to retaliatory acts including: the regular suspension of rail services and energy transfers to Tajikistan (including to the Talco aluminum plant, which represents a significant portion of Tajikistan's export revenue), violent border incidents, increasingly bellicose rhetoric concerning disputed Tajik territories in Samarqand and Bokhara, and allegations of sabotage of rail networks (Ozodi.org, January 1, 7, March 30).
In the same vein, Tajikistan's willingness to import oil from Iran reflects its desire to wean itself off of its dependence on Russia, which supplies up to 93 percent of Tajikistan's imported oil and presents Moscow with commanding political influence that it has leveraged in the past (https://www.cacianalyst.org/?q=node/5556). However, Tajikistan's bid to diversify its oil and gas imports is complicated by diplomatic pressure from the US and Europe, which are trying to persuade Tajikistan to participate in sanctions against Iran.
This dilemma was highlighted at the RECCA-V when controversial comments made by Mahmoud Ahmadinejad about the US presence in Afghanistan sparked a walk out by the US delegation. Ahmadinejad called for a withdrawal of US and NATO troops and the payment of reparations to the Afghan people (BBC Tajiki, March 27). In response, Robert Blake, US Assistant Secretary for South and Central Asia and head of the US delegation to RECCA-V, urged Tajikistan to embrace alternative partners in Central Asia, Afghanistan and Pakistan, and called for the countries of the region to refrain from all manner of trade and deals with Iran (BBC Tajiki, March 27). The senate of Afghanistan also criticized Ahmadinejad's comments. In a statement made the same day, Afghan senator Nisar Ahmad Haris said, "Have Iran and Pakistan forgotten the many years of war in Afghanistan and how they have targeted and destroyed us ruthlessly? Now Iran once again wants to incite war in Afghanistan and destroy this country." (BBC Persian, March 27).
While Ambassador Blake praised cooperation with Pakistan and Afghanistan, these projects do present certain challenges. One potential complication for Tajikistan's participation in CASA-1000 and CASAREM is the widespread suspicion that an increased capacity to export Tajikistan's hydroelectric energy would come at the expense of providing adequate energy domestically. Since the fall of the Soviet Union, Tajikistan has not been able to supply sufficient electricity even to major cities like Dushanbe and Khujand, and over the past four years the situation has been deteriorating. President Rahmon's decision to partly finance the massive Rogun hydroelectric project by mandating Tajik families and businesses to buy shares in the project exacerbates resentment and anger against the government. Additionally, particularly cold winters in recent years (2008 and 2012), a price hike in electricity, rationing regimes, and allegations of widespread corruption and mismanagement have turned Tajikistan's energy sector into a sensitive domestic issue, which needs to be addressed before focusing on developing export strategies. Furthermore, much of the foreign investment in Tajikistan's hydroelectric sector comes with the implicit expectation that the resulting electricity will be exported, leaving the Tajik domestic market subject to unwelcome price hikes as it competes with Pakistan and Afghanistan. The latter of which may likely be able to afford to pay artificially high prices subsidized by the billions of dollars of foreign aid it receives each year.