THE BUSH-PUTIN MEETING: SOFTLY, SOFTLY
Publication: Eurasia Daily Monitor Volume: 2 Issue: 37
By: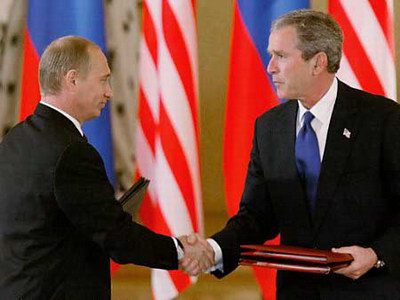 As President George W. Bush heads to Bratislava for tomorrow's meeting with Russian President Vladimir Putin, the rhetoric among commentators in both Moscow and Washington has led to some speculation about a radical shift in U.S.-Russian relations. However, all the signs over the past week suggest that the meeting, the twelfth between the two men, will be anti-climatic.
On the American side, those encouraging Bush to press Putin to respect democratic rights were emboldened by President Bush's invocation of liberty in his State of the Union address. At a Senate Foreign Relations Committee hearing last week, Senator Joseph Biden (D-DE), asked, "When are we going to get tough with Russia?" while Senators John McCain (R-AZ) and Joseph Lieberman (D-CT) called for Russia to be suspended from the G8 group of leading industrial states (Reuters, February 20, EDM February 11)
Meanwhile, the Russian policy elite is still reeling from November's "Orange Revolution" in Ukraine. They assume that the United States will seek to capitalize on its success by triggering similar transitions in Moldova, Belarus, and Kyrgyzstan. Xenophobes took to the streets in Moscow on Monday (February 21), warning that the next step in arms control may be the placing of American monitors at Russian nuclear sites in a bid to disable its nuclear deterrent.
However, it is precisely the sweeping success of the Orange Revolution that is an important factor in understanding Washington's caution. In a recent paper for the UK Defense Academy, Graeme Herd analyzed the prospects for the spread of Orange Revolutions across the former Soviet Union. (We are told to expect birch, elm, apricot, plane tree, and other cleverly named revolutions.) Herd argues that the chances of the "orange virus" spreading are in fact slim, since a "blowback" effect is likely. Incumbent elites in Moscow and other capitals were so traumatized by the Ukrainian experience that they will abandon any thoughts of playing the game of "managed democracy," which so spectacularly failed (from their point of view) in Kyiv. It was not just that Moscow's policy failed, but also the manner of its demise that revealed the marginalization of the foreign ministry and the breakdown of a coherent policy process (da.mod.uk/CSRC/).
The Kyiv denouement was followed by a wave of popular protest in Russia over the social benefits reform, leading to a slump in Putin's popularity and profound doubts about the viability of Putin's political model surviving the "Y2008 problem" — the expiration of his second and final term as president.
In this context of internal and external crises, the most serious in Russia since 1993, it would be rash indeed for the U.S. administration to play games with its Russia policy. It is hard to imagine a scenario in which a tough stance by the United States would produce a softening of Putin's policy, and not at all difficult to envisage worst-case scenarios where Russia really does "go bad."
The idea of democratizing Russia through carrots and sticks only makes sense if one assumes some chance of success in the foreseeable future. The Europeans, for their part, have now concluded that the game is no longer worth the effort. Olli Rehn, the European Commissioner for Enlargement, wrote in the Financial Times on January 4, "These European values [of democracy and rule of law] differ from the mindset of spheres of influence currently prevailing in Russia." However, some American and Russian analysts persist in arguing that the problem is not a "values gap" but "flawed perceptions" of the two sides' common interests (Carnegie Endowment/Politika Fund statement, January 5).
While confrontation would be counter-productive, containment is unnecessary, since Russia is a receding and not an expanding power. That leaves coexistence as the most sensible strategy, which has the added advantage of leaving President Bush free to deal with the items where Russia can perhaps be of some help — nuclear proliferation in Iran and North Korea, the pursuit of peace in Iraq and Palestine, and the war on terror.
The tone of U.S. policy was set earlier this month by Condoleezza Rice during her visit to Europe. The Secretary of State avoided ideological language and stressed the laundry list of areas of agreement. En route to Ankara on February 6 she told reporters, "I don't really think that the isolation of Russia from the broad trends that are developing worldwide is the answer."
On Sunday February 20, President Bush gave an interview to Russia's Channel One television, in which he told Russian viewers, "I cannot wait to meet my friend Vladimir Putin." Bush said, "Vladimir has made some decisions that I look forward to hearing — in a very private way, you know — why he made the decisions he did." Bush called him "Vladimir" several times, which may have struck Russian viewers as a shade disrespectful (Itar-Tass, February 20; Washington Post, February 21; Izvestiya, February 22).
The closest President Bush has come to the freedom agenda occurred in his speech in Brussels on February 21, when he said, "The United States and all European countries should place democratic reform at the heart of their dialogue with Russia." But this sounds more like a call for dialogue between equals than a summons to the barricades.