The Economic Aspect of Russia's War in Ukraine: Sanctions, Implications, Complications (Part Three)
Publication: Eurasia Daily Monitor Volume: 19 Issue: 65
By: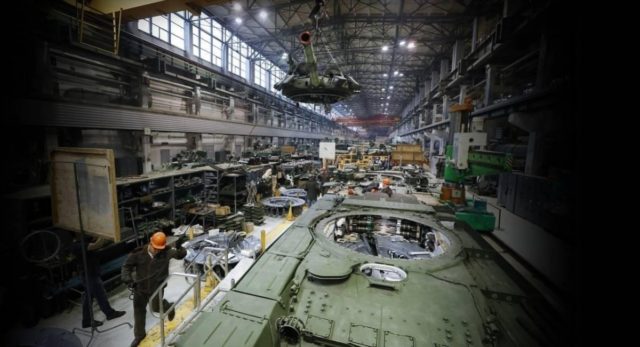 Russia's aggression against Ukraine pushed the world's largest, most advanced economies to introduce several rounds of economic sanctions against the Russian Federation (Meduza, March 8). Russia's energy sector (a key pillar of the national economy) and fertilizers/agriculture (an essential, rapidly developing non–raw material sector) feature varying degrees of exposure to Western sanctions pressure; but in either case, a tightening of such punitive financial measures would greatly damage the Russian economy (see Parts One and Two in EDM, April 11, 20). A third key sector worth discussing in depth is Russia's military-industrial complex (MIC), the central pillar of Russia's war machine. The potential impact of international sanctions on the MIC, as analyzed by Russian sources, has tended to be misleading and is frequently deliberately distorted.
On April 20, Russian officials announced the successful testing of the RS-28 Sarmat super-heavy intercontinental ballistic missile (ICBM), which they described as "invincible to all known types of PVO/PRO [air and missile defense] systems" (TASS, April 20). And yet, over the past 70 days, Russia's Armed Forces in Ukraine have continued to startlingly underperform. Despite official rhetoric out of Moscow about advanced military modernization plans, much of the fighting by Russian units is done using largely outdated equipment, raising stubborn questions about the genuine capabilities of Russia's (domestically) much-praised MIC. Moreover, a new round of US sanctions is being leveled against Russian arms producers, as announced by the United States Deputy Secretary of the Treasury Adewale Adeyemo. The US official noted that the main goal of this package of sanctions will be to disrupt Russia's MIC supply chains. He also specified that critical materials and supplies, space-related technologies, and electronics will all be targeted (RIA Novosti, April 18). But to assess the extent to which these other international sanctions targeting the MIC can hinder Russia's ability to wage war on Ukraine, it is important to first scrutinize the three main pillars of the Russian war machine.
First is the production and modernization of battle tanks and heavy armament/equipment. Russia possesses the world's largest number of main battle tanks. Yet reportedly high losses in Ukraine (over 800 pieces as of late April, according to the Ukrainian General Staff's upper-range figures—Pravda.com.ua, April 25) and scant information about the actual condition of the rest of the arsenal, leave questions about the true formidability of the Russian armored force. According to Ukrainian intelligence, Russia's largest producer of main battle tanks—as well as radiolocation systems and key elements of the Buk, Kub and Tunguska mobile surface-to-air missile systems—has "virtually stopped working." Allegedly, this happened due to the lack of foreign (mainly German) components used by the Russian enterprises at various stages of the production cycle (Epravda.com.ua, April 1).
Speaking about the potential/prospective consequences of sanctions on Russian armored formations, at least two vital aspects should be underscored. In terms of infrared cameras, Western restrictions are likely to disrupt supplies Russia used to receive from the French companies Thales (since 2007) and Safran (since 2013). Ultimately, the T-72, T-90 and T-80BVM tanks as well as Su-30 fighters and the Ka-52 Alligator attack helicopters could end up being cut off from critical (and not produced in Russia) up-to-date components (Epravda.com.ua, April 1). Another essential element is electronics and microprocessors. In this realm, Russia's capabilities are also quite weak: even Kremlin-linked propaganda admits a large technological gap exists between Russia and the world's leading producers, though simultaneously claiming that the partnership with China could offer a way out (RIA Novosti, April 21). That said, leading Russian economists and subject-matter experts argue that substituting foreign technologies with Chinese imports is not an option, since Chinese capabilities are also finite (Rosbalt, March 31). Moreover, given the evasive posture of Beijing since the outbreak of war (see EDM, March 21), there is no guarantee that China will assist Russia in supplying its war machine.
Second is the naval shipbuilding sector. Despite its (unsurprising) dominance over Ukraine in the Black Sea, Russia has suffered some critical losses in this theater as well. More troubling for Moscow, however, is the prospect of a (partial) paralysis of its shipbuilding capabilities due to Western sanctions. According to Ukrainian sources, some of Russia's key shipyards are unable to meet their production goals due to a lack of components (including, among others, steering columns, navigation complexes and radio stations). Those critical constituent parts cannot be substituted by domestic or Asian (apparently, Chinese) analogues, which has led to production halts and even some workforce layoffs (Espreso.tv, April 9).
Third is precision-guided stand-off weaponry—an area where Russia has so far held substantial supremacy over Ukraine. The use of this class of weaponry by Russia inflicted notable damage on the Ukrainian Armed Forces, supply chain networks, and critical physical infrastructure. However, experts doubt that the Russian military can continue to rely significantly on these formidable arms. For instance, Alexander Musienko, who heads the Ukrainian Center for Military and Legal Research, has argued that Russia is almost incapable of producing and modernizing its most-up-to-date weapons systems, including hypersonic missiles, again primarily due to a lack of foreign components (Glavred.info, April 14). This thesis was de facto confirmed by one of Russia's most insightful military experts, Mikhail Khodarenok, who, even before the outbreak of the 2022 Russo-Ukrainian war, warned that Russia had neither enough of the latest hypersonic missiles (such as the Kh-47M2 Kinzhal) in its stockpiles nor the means to deliver them to their target (Gazeta.ru, August 31, 2021). He predicted that it would be problematic for Russian forces to rely on such systems in a war that stretched for too long.
It is highly likely that Russian forces in Ukraine will continue experiencing the above-mentioned difficulties when confronting Ukrainian defenders, especially after Kyiv's Western partners further increase the tempo of arms transfers. This means that Moscow will be under even greater pressure to achieve at least some sort of a victory in the Donbas region to justify its broader war. If this does not work, Russia may try to fortify its positions in already occupied territories to hinder Ukraine's counter-offensive operations. In the meantime, Moscow will ostensibly seek a diplomatic solution (including through covert ties), since Russia's economic and military weaknesses make prolonged war exceedingly difficult to sustain. But the Russian military-industrial sector—a cumbersome, extremely corrupt and economically unsustainable structure (Aif.ru, October 9, 2019; see EDM April 13, 2021; May 4, 2021)—will still remain a huge burden on the state budget due to the mounting domestic influence of the military and "power apparatus."