The French Jihadist 'Foreign Legion' in Syria and Iraq
Publication: Terrorism Monitor Volume: 13 Issue: 15
By: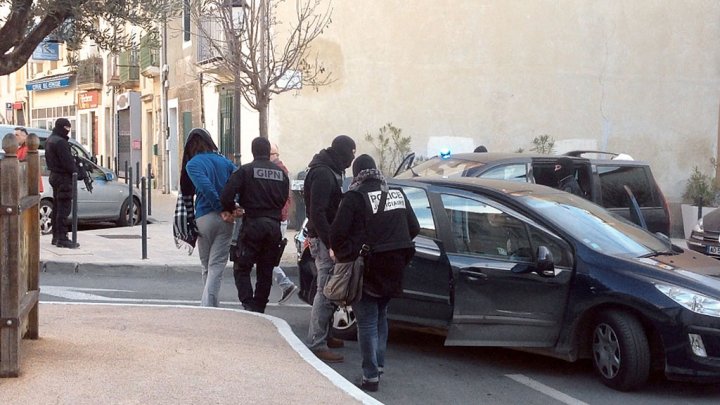 It is probable that before the end of 2015, more than 1,000 French residents or nationals will have traveled to Syria and Iraq to join one of the various armed groups active in the two countries. This mobilization dwarfs all prior French jihadist travel to other conflict theaters, which is estimated at approximately 500 individuals (Europe 1, June 28). In response to this unprecedented mobilization, in June 2015, a French parliamentary commission produced its final report on jihadist networks in France. [1] The 500-page report provides an overview of the French foreign fighter mobilization for Syria and Iraq, observations on the resulting terrorist threat to France, recommendations on how the government can mitigate the threat and also provides the following figures:
The French foreign fighter contingent is the largest from Western Europe, with an estimated 843 French jihadist fighters or supporters having been in either Syria or Iraq since 2012;

The contingent increased rapidly from 20 persons in Syria in February 2013 to 843 by May 2015;

The French volunteers are predominantly male (75 percent), although among minors, females are the majority;

Approximately 20 percent are converts to Islam;

More than half of the travelers were unknown to the French intelligence services prior to their departures;

Six regions in France have provided the majority of the foreign fighters: Ile-de-France, Rhone-Alpes, Provence-Alpes-Cote d'Azur, Languedoc-Roussillon, Nord Pas De Calais and the Midi-Pyrenees;

French jihadists are believed to be mainly joining the Islamic State and to a lesser extent, Jabhat al-Nusra.
The French authorities have separately said that by June 2015, an estimated 119 French residents or nationals were believed to have died in either Syria or Iraq (Europe 1, June 28). This means that over the course of the conflict, the total casualty rate has climbed from five percent to 12 percent of the in-country contingent. In other words, a French foreign fighter currently dies on average approximately every three days, compared to every 10 days between September 2013 and September 2014. The coalition airstrikes on the Islamic State since mid-2014 may also have led to an increase in jihadist returnees from Iraq and Syria—from 150 by August 2014 to 278 by May 2015, of whom 217 have returned to France. However, the number of persons reported to be in transit to Iraq and Syria now stands at some 300 with another 600 individuals interested in leaving France (Europe 1, June 28).
The National Assembly report also found that there was no general profile for a French foreign fighter, and that they came from a mix of religious and cultural origins, including recent converts. This finding is similar to French journalist David Thomson's in-depth account of his interaction with a number of French foreign fighters, arguably the most comprehensive study so far. [2] For instance, some have had educational difficulties, while others had attended university. Many appear to have come from difficult social circumstances, experiencing unemployment and financial problems. Others, however, appear to have held good jobs and been financially stable. In a number of cases, there are prior histories of criminal activity, although these are predominately minor offenses. Some have additionally come from complex family environments with separated parents or absent parents. An example of this diversity is Raphael Amer, a Jewish convert to Islam and reportedly a brilliant student; Amer was a member of the Lunel jihadist cluster and, within the same cluster, had friends with notably lower levels of educational achievement from single parent families (Libération, November 18, 2014; Libération, February 26).
The motivations of the fighters also appear to depend on the personal circumstances of the fighter, and, to some extent, the point at which they travelled to Syria or Iraq. Motivations and reasons for travel include a mix of political engagement, humanitarian concerns, religious obligations, peer group solidarity, a desire for adventure and finally, some who simply want to fight. A French investigative magistrate has also gone so far as to claim that 90 percent of the foreign fighters are going for reasons linked to wanting to fight, or for adventure, and only a small number are travelling due to adherence to coherent religious beliefs (Le Telegramme, June 27).
In terms of reaching the battlefield, French fighters seem to have organized their entry into the conflict zones of Syria and Iraq in a number of ways. An early channel of entry for the French foreign fighters at the beginning of the conflict was through Tunisia, where they were connected to Tunisian militant networks providing fighters to Iraq. [3] Meanwhile, Iraq war-era networks dating to the mid-2000s were also active; an example of Tunisian nationals who traveled via this path are the al-Harzi brothers, both of whom were killed in Iraq and Syria in June 2015 by U.S. military operations (Mediapart, June 27). Tariq al-Harzi (a.k.a. Abu Umar al-Tunisi) may have been the Abu Umar named in Sinjar documents as previously facilitating Egyptian, Libyan and Tunisian foreign fighters through Damascus in 2006 and 2007. [4]
Once the first French volunteers had established themselves in-country, likely by sometime in early 2013, they then organized themselves on social media to facilitate the travel of other interested individuals still in France. An example of an individual involved in this activity is Mourad Fares, a French national who first joined the Islamic State of Iraq and Syria (the previous incarnation of the Islamic State) and then moved to Jabhat al-Nusra in Syria. He was later linked to many of the late 2013 and early 2014 departures which including the two minors from Toulouse, a female minor from Avignon, a cluster from Strasbourg and a group from Lyon and Switzerland (Le Monde, September 12, 2014; FranceInfo, September 12, 2014; VICE News, February 12, 2014). Fares eventually handed himself over to Turkish authorities and was deported to France (Le Monde, September 15, 2014). Despite the efforts of the French authorities to disrupt such loose clusters and micro-networks that are facilitating travel, their decentralized nature and use of social media platforms has meant that the ability for would-be fighters, recruits and volunteers to exchange information and create opportunities for travel remains largely intact (Le Monde, April 23, 2014).
Representative of the localized and personalized nature of French jihadist mobilization and travel is the case of Lunel, a small town in southern France with approximately 25,000 inhabitants. From here, a cluster of approximately 20-30 persons, mostly male, but including wives, single females and children, have travelled to Syria and Iraq during the last two years (Libération, December 10, 2014). They originally joined Jaysh Muhammad, a small hardline jihadist group based around Aleppo in Syria, before moving across to the Islamic State (Libération, July 2). The earliest travelers from Lunel left in late 2013 and were joined by others in the summer of 2014. The last traveler may have left as late as mid-2015 (Midi Libre, June 5). The first travelers used Facebook contacts with an individual in contact with Mourad Fares to enter Syria (Libération, July 2). The cluster is comprised of a core group of friends who met in high school, as well as family members, including brothers and wives (Libération, February 1). The group financed their own trips through taking out loans and leasing a BMW, which was sold in Syria (Paris Match, October 29, 2014). Accounts of the group suggest no prior engagement in political violence or militant activity, although a number of the cluster participated in an informal religious study group run by an individual who was later arrested in January 2015 (Libération, July 2). The group's members range in age from 18- to 44-years-old and include a mix of converts; some had jobs, businesses or were in tertiary education, while others were unemployed (Le Parisien, October 25, 2014). The Lunel micro-network has so far seen seven or eight of its volunteers killed, one while conducting a suicide attack, and at least two return to France, where they were arrested (Midi Libre, May 21). In January 2015, the French police arrested five persons alleged to have been involved in aiding the group; two of those arrested were recently returned from Syria, and a third was the brother of two others, who had travelled to Syria and are believed dead (Libération, February 1, Libération, July 2).
The Lunel cluster remains the subject of debate as to how the individuals came to travel to Syria and Iraq, the role of the local mosque and religion, the impact of unemployment and debates about integration (France24, March 3). This debate reflects broader national discussions about the causes of the large-scale French mobilization, and what, if any, of the solutions recommended in the parliamentary report will actually aid in stemming the growth of would-be travelers to Syria and Iraq.
Timothy Holman is a Ph.D. candidate at the S. Rajaratnam School of International Studies in Singapore.
Notes
1. "La commission d'enquête sur la surveillance des filières et des individus djihadistes, Rapport fait au nom de la commission d'enquête sur la surveillance des filières et des individus djihadistes," (Paris: Assemblée Nationale, June 2, 2015).
2. David Thomson, Les Français Jihadistes, (Paris: Les Arenes, 2014).
3. Ibid, pg. 167-168.
4. See: https://www.rewardsforjustice.net/english/tariq_al_harzi.html and Felter, Joseph, and Brian Fishman. 2007, "Al‐Qa'ida's Foreign Fighters in Iraq: a First Look at the Sinjar Records," Harmony Project, Combating Terrorism Center (US), pg. 23.