The Pulwama Suicide Bombing and Youth Radicalization in India-Administered Kashmir
Publication: Terrorism Monitor Volume: 19 Issue: 8
By: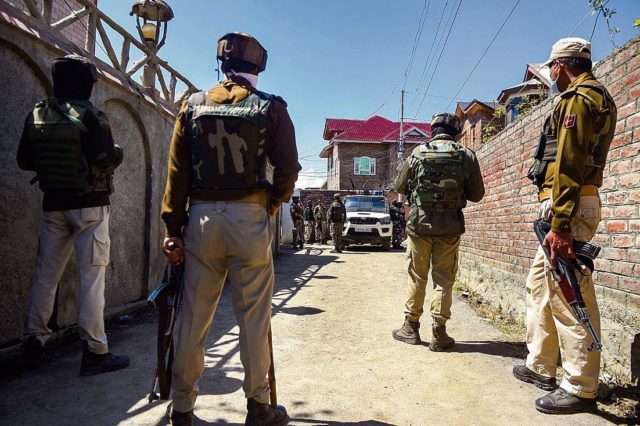 Introduction 
On April 2, Indian forces launched a counter-terrorism operation in a village in the Pulwama district of India-administered Kashmir, killing three people. They were allegedly involved in the murder of a policeman guarding the home of a local politician from India's ruling party in the region. The house of the slain locals was also destroyed with explosives by the Indian troops (Dawn, April 2). Amid a large-scale crackdown in Kashmir, youths are increasingly responding and begetting new forms of terrorism.
What's Radicalizing Kashmiris?
In 2016, the 17-year-old Adil Ahmad Dar was returning home from school when he was stopped, beaten up, and harassed by Indian troops in Kashmir. Three years later, in February 2019, Dar, who by then joined the suicide bombing squad of Jaish-e-Mohammed (JeM), killed 40 Indian paramilitary troops in Pulwama, Kashmir in February 2019 (indiatoday.in, February 15, 2019). Dar had not come from across the border, but was a local Kashmiri who apparently had developed grievances against India's counter-terrorism tactics. Dar was representative of a generation of Kashmiri youth, who are ready to engage in 'martyrdom operations' to seek Kashmiri separation from India (southasianvoices.org, March 28, 2019).
India, however, justifies its counter-terrorism tactics by placing blame on Pakistani-based groups, particularly JeM, for terrorist attacks in Kashmir. For example, Indian authorities filed a charge sheet against JeM leader, Maulana Masood Azhar, for planning Dar's Pulwama suicide attack, while accusing the Pakistani security establishment of supporting the terrorist group (The Hindu, August 28, 2020). At the same time, Pakistan has itself been fighting a complex war against separate terrorist groups since 2014 (Pakistan Today, June 17, 2020). Furthermore, last year, Pakistan announced the seizure of all movable and immovable properties of terrorist groups, including Jamaat-ud-Dawa (JuD) and JeM and their leaders, Hafiz Saeed Ahmad and Maulana Masood Azhar, respectively (The News, August 22, 2020).
Abolition of Kashmir Autonomy
In August 2019, India's Hindu nationalist government, led by Prime Minister Narendra Modi, abolished the autonomous status of Kashmir by scrapping Article 370 of the Indian Constitution (Dawn, August 5, 2019). Under Article 370, no non-Kashmiri citizen could permanently settle, buy land, hold local government jobs, and secure education scholarships in Kashmir. Indian authorities have abolished these special residence rules dating back to 1927 and, under new rules, people from across India can now apply for domicile certificates (The News, August 30, 2020).
In anticipation of a backlash against the removal of autonomy, Indian authorities deployed extra troops into the highly militarized region and launched a security clampdown that cut off phone and internet access, shuttered schools, and left hundreds of thousands without jobs. Many of the restrictions have since been eased. However, India's security presence in the region remains high (Dawn, August 13, 2020). India potentially plans to resettle Kashmiri Hindus or Pandits in India-administered Kashmir. Tens of thousands of Kashmiri Hindus left Kashmir in 1989 when an armed rebellion against Indian rule started in the Himalayan region.
Kashmir's Attraction for Militancy 
Immediately after revoking the special constitutional status of Kashmir in 2019, New Delhi put Kashmiri leaders under house arrest and deployed thousands of more troops in the area that already had a heavy military presence (India Today, August 5, 2019). Former chief minister of India-administered Jammu and Kashmir, Mehbooba Mufti, who was placed under house arrest, declared that by scrapping Article 370, Indian forces would be considered occupational forces. The unilateral change of Kashmir's constitutional status likely resulted in the radicalization of a large number of young Kashmiris (The News, August 5, 2019).
The insurgency in Kashmir is likely to escalate as India's move has united the Kashmiri political leadership on one point: to end Indian rule in Kashmir. With scrapping of Article 370, the Modi government has possibly increased the likelihood for jihadists to establish new cells in Kashmir. This could convert the region into a conflict zone that also attracts Islamic militants from throughout the region, including from Afghanistan, Pakistan, and China's Xinjiang province.
Conclusion
The abolition of special autonomy in Kashmir has escalated tensions between India and Pakistan. Internally, the move has also fueled unrest in the insurgency-hit Kashmir, which has a Muslim majority. The disputed territory is poised to witness more radicalization of Kashmiri youths like Adil Ahmad Dar. India has thus far been blaming militancy on JeM group and its leader, Masood Azhar, and the Pakistani government for cross-border terrorism. However, its treatment of the Kashmiri population could also lead to the creation of new militant groups. This could result in more Pulwama-like attacks.