The Russian-Backed Ground Offensive by al-Assad's Forces Falters
Publication: Eurasia Daily Monitor Volume: 12 Issue: 186
By: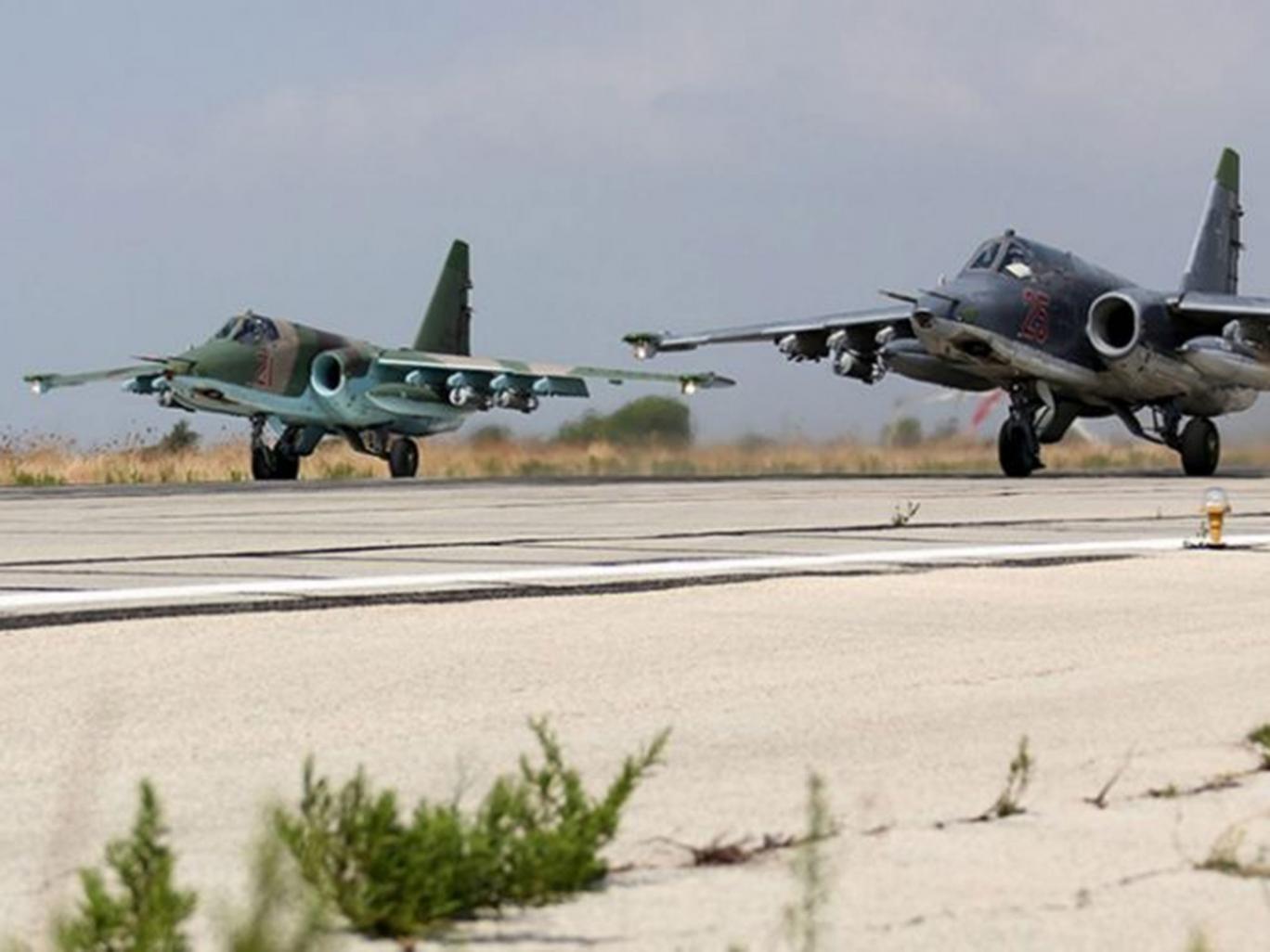 The Russian air bombing campaign in Syria began on September 30, with about 20 sorties a day. The bombing drastically increased on October 8, to over 60 sorties and reached 88 on October 13. The Russian mixed air task force deployed last month at a newly established airbase near Latakia has, according to the Russian Ministry of Defense (MoD), over 50 jets and helicopters, but most of them are relatively short range, designed primarily for battlefield close air support. The Russian jets in Syria went into action in earnest only when the forces loyal to President Bashar al-Assad began an offensive in northern Syria, primarily in the Hama and Idlib provinces (Vedomosti, October13).
In Russia, midair refueling is performed on a regular basis only by Tu-95 and Tu-160 strategic long-range bombers. Russian helicopters and most fixed-wining jets have no air refueling capability. The backbone of the Russian forces in Syria—the 12 Su-24M bombers and the 12 Su-25SM attack jets—are not designed to refuel in midair. The new Su-30CM fighter-bombers and multipurpose Su-34 bombers have the capacity, but their pilots are most likely not well trained to refuel in mid-air. Russia has only a handful of Il-78 air tankers, and none have been deployed in the Middle East. The effective combat range of the Su-25SM jets with a full payload is 230 kilometers; they cannot reach Rakka—the main Islamic State (IS) base in Syria. The Su-24M has a 560-km combat range and the capacity to cover most of the territory of northern Syria up to the Iraqi border. The Su-34 has a bigger range with a full payload—some 1,000 km. The Su-30SMs are being used as air superiority fighters (Kommersant, October 1).
From Latakia, on the Mediterranean coast, Russian jets cannot perform effective air operations in northern Iraq against IS targets—only the six Su-34s can reach this area, but for them this could be a high-risk deployment. Some 14 attack and transport helicopters are also based in Latakia and a special forces (Spetsnaz) team stands ready to perform search-and-rescue operations if any Russian aircraft goes down in action, but they also cannot reach northern Iraq. If the Kremlin decides to extend its air operations in the region to cover Iraq, an additional base would need to be established, possibly close to Baghdad. This would take time and effort to establish, and additional assets would have to be deployed in the region. It is unclear whether Moscow is ready to do that, even if the Shia-dominated Iraqi leadership requests Russian military assistance (Newsru.com, October 5).
In an interview aired on October 11, on the state TV channel Rossya-1, President Vladimir Putin insisted Russia will not become involved in ground combat in Syria and "will not take on additional obligations." But Russia will act in close coordination with the "Syrian authorities" for "as long as the Syrian army continues its offensive operations." The main Russian objective in Syria, according to Putin, is to support al-Assad's forces, to push back the opposition and "terrorists," as well as to "stabilize the lawful authorities to create the conditions for a political compromise." Putin insisted it is impossible to negotiate a political compromise "while the Syrian authorities [al-Assad] are besieged in their capital." According to the Russian president, the "stabilization" of the al-Assad regime may be "surely achieved by military means." To achieve that goal, continued Putin, "We massed supplies, munitions and forces in a designated location [Latakia]" and created a coordination center in Baghdad, uniting Iran, Shia-dominated Iraq, al-Assad's Syria and Russia. "What is happening in the air and on the ground [in Syria] was preplanned," insisted Putin, "These are not spontaneous actions" (Kremlin.ru, October 11).
During daily press briefings in Moscow, MoD officials boast about the effectiveness of the Russian bombing campaign. Footage of air munitions hitting designated targets is displayed, and Russian generals insist the Syrian opposition forces, jihadists and apparently non-jihadists (all "terrorists," according to the MoD) are in disarray; their command structures, heavy weapons and munitions dumps are destroyed by Russian air attacks (Syria.mil.ru, October 12). The Russian press and TV channels are lauding the successful advance of al-Assad's forces; but some Russian defense ministry–connected experts warn that al-Assad's troops are pushing their advance too slowly, not following the Russian air strikes with immediate aggressive action (Mk.ru, October 11). Al-Assad's forces' successes are seen as marginal: They are advancing only 2–3 km a day. A decisive thrust north to smash the Syrian opposition and reach the Turkish border is not happening. If, in the coming two to three weeks, al-Assad's forces and their allies fail to achieve a significant breakthrough, Moscow may be forced to reconsider its military commitment in Syria and possibly contemplate a gradual termination of engagement (Vedomosti, October12).
According to a recent poll by the independent pollster Levada-Tsentr, the Kremlin-promoted anti-American propaganda campaign is effective: The United States is hated or otherwise seen negatively by a vast majority (71 percent) of Russians, and this number is growing as the Syrian crisis develops. Only 4 percent see the US positively. Some 75 percent of Russians believe the United States, Germany, Japan and the United Kingdom are Russia's enemies "that strive to fix their problems to Russia's detriment and harm Russian interests anytime they can." Only 17 percent believe Russia and Western powers have common interests in fighting terrorism, addressing ecological disasters and developing science (Rbc.ru, October 14).
Despite this massive public anti-Americanism and Putin's bravado, the prospect of becoming involved in a costly Cold War–style proxy war with the US in the Middle East seems frightening. Putin apparently lacks a clear exit strategy in Syria, if al-Assad's ground offensive continues to falter. Speaking at an investment conference in Moscow this week, Putin delivered another anti-US broadside, but then offered to work in Syria together: "We are ready to send to Washington a high-level delegation headed by Prime Minister Dmitry Medvedev to discuss Syria, to work together and find solutions" (Kremlin.ru, October 13). A day later, Foreign Minister Sergei Lavrov complained in the State Duma: "The Americans refused to send a top delegation to Moscow to discuss Syria and declined to receive a delegation led by Medvedev." According to Lavrov, Washington agrees to discuss only purely military measures to avoid midair clashes between US and Russian aircraft (Interfax, October 14).
Russia's big Middle East power play notwithstanding, ultimately the fighters on the Syrian battlefields will decide the outcome. From the beginning, the Syrian crisis has had its own momentum, which outside powers could influence, but not control.