The Strategic Implications of Chinese UAVs: Insights from the Libyan Conflict
Publication: China Brief Volume: 20 Issue: 15
By: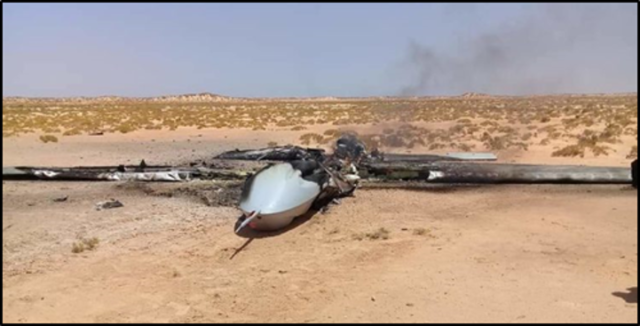 Introduction
In recent years, the People's Republic of China (PRC) has emerged as a leading producer of unmanned aerial vehicle (UAV) platforms for both commercial and military use, and its technologies are being used in unprecedented ways. For example, as the COVID-19 pandemic began to unfold in the early months of this year (China Brief, January 17; China Brief, January 29), UAVs started to appear in the skies across China. Public officials employed these UAVs to monitor the population, and to enforce restrictions (such as mandatory wearing of masks) intended to slow the spread of COVID-19 (Global Times, January 31). UAVs have also been used to monitor water levels and property damage amid the severe flooding that China has experienced this summer (China Brief, July 29; CGTN, August 15). Such innovative—if sometimes controversial—practices reflect China's growing capabilities in the field of UAV technology.
Beyond its domestic employment of commercial UAVs, the PRC has also made rapid progress in the development and sale of military UAVs, which are increasingly prevalent in contemporary conflicts. China's growth in this field reflects comments made by President Xi Jinping in 2016, when he emphasized that UAVs are a critical element of combat on the modern battlefield (PRC Defense Ministry, March 14, 2016). Chinese UAVs, such as the CH-5 Rainbow (彩虹-5, Cai Hong-5), reportedly operate at relatively low altitudes with more modest payloads than comparable U.S. systems. Newer UAVs in development, such as the forthcoming Wind Shadow (风影, Feng Ying), aim to expand the capabilities of China's indigenous systems (Janes, August 4).
Chinese military UAVs have spread across the world: as of March 2019, the PRC had already become the world's leading exporter of combat UAVs (SIPRI, August 21; South China Morning Post, March 12, 2019). This has included capturing markets in which the United States might have previously enjoyed near-exclusive access; as well as arming countries and factions to which the United States has denied sales of UAVs.  At an arms conference in 2018, China's customer list for the CH-5 included Algeria, Nigeria, Jordan, Zambia, Iraq, Saudi Arabia, Ethiopia, Turkmenistan, Pakistan, and Myanmar (Foreign Policy, May 10, 2018). More recently, in July 2020 the PRC sold six CH92-A UAVs to Serbia, a NATO ally and the first European country to deploy Chinese military drones (Bloomberg, August 4). Furthermore, outside the list of China's direct customers are those who receive Chinese UAVs through intermediary purchasers—as one side in the Libyan civil war has done through the United Arab Emirates (UAE).
The State of Libya's Civil War—and the Role of Chinese UAV Systems
The ongoing conflict in Libya presents an opportunity to review the operational and strategic impact of Chinese UAVs in contemporary conflict. Two landmark events have shaped recent history and ultimately led to Libya's current predicament: the downfall of Muammar Gaddafi in 2011, and the subsequent failure of the Libyan Political Agreement since 2015 (UNSMIL, December 17, 2015). In the resulting power vacuum, the Tripoli-based Government of National Accord (GNA) has sparred with the Benghazi-based Libyan National Army (LNA) for control of the country and its resources. Recognized by the United Nations and the United States, the GNA also receives support from Turkey, Italy, and Qatar; supported by the Libyan House of Representatives (HoR) and led by General Khalifa Haftar, the LNA has backing from Egypt, France, Russia, and the UAE. Further complicating the conflict in Libya, local allegiances are more fragmented than these two efforts might indicate, with a smattering of militias aligning more locally and temporarily as dynamics shift (Jamestown Foundation, August 14).
The conflict in Libya has evolved to feature the use of UAVs on both sides of the battlefield. Between April 2018 and November 2019, more than 1000 strikes from UAVs took place in Libya—with over 800 conducted on behalf of the LNA, and over 240 on behalf of the GNA (United Nations, November 18, 2019). Turkey has provided the GNA with its Bayraktar TB2 system, while the UAE has provided the LNA with the Chinese-made Wing Loong II system (SCMP, September 29, 2019). Compared to the Bayraktar TB2, the Wing Loong II has advantages in cruising altitude, range, payload, and speed (Turkey Defence Industries, 2017; Army Recognition, April 14). Given its smaller size, range, and payload, the Bayraktar TB2 offers the GNA a limited UAV mission set, such as harassing supply lines; the LNA, however, can use the Wing Long II for a much more robust range of missions. Questions remain whether GNA or LNA personnel operate the UAVs themselves, or if foreign personnel accompany the equipment to operate from the ground. It is worth noting that these provisions of equipment and personnel violate the terms of a U.N. arms embargo, which has stood since Gaddafi's downfall in 2011 (UN Security Council Report, November 29, 2019).
The impact of UAVs on the political and security situation in Libya cannot be overstated. Most significantly, the proliferation of UAVs contributes to prolongation of the conflict. As observed by Chinese military analysts, UAVs provide low-cost, high-impact means to reduce casualties and generate effects, all while leaving the fighting will of the attacker intact (PRC Defense Ministry, July 17). Foreign interference has remained one of the main drivers of conflict in Libya, as external actors seek to gain influence and secure access to Libya's energy resources (United Nations, July 8). By arming both sides of the conflict with modern UAV capabilities, foreign powers perpetuate conflict and reduce friction that would otherwise serve to dampen violence and leave space for reconciliation.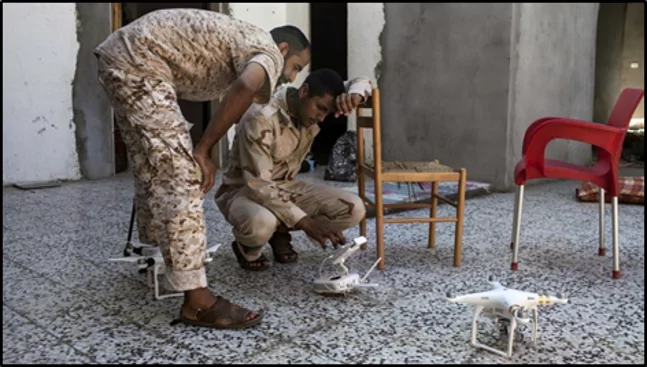 The Geopolitical Implications of China's Military UAV Sales
The lack of transparency surrounding the PRC's involvement in Libya creates obstacles in establishing the connections between Chinese actions and their outcomes. In its public statements, the Chinese government continues to push for a ceasefire and a political solution to the Libyan conflict (PRC Ministry of Foreign Affairs, July 8). A review of Chinese interests in Libya, however, may shed further light on how Beijing sees the situation in Libya, as well as how it views military arms sales more broadly.
First, whereas the PRC has exported a diverse range of products and services to Libya since reestablishing diplomatic relations in late 2000—reaching a peak volume of nearly $3 billion in 2013—Libyan exports to China have consisted exclusively of energy resources, surpassing $5 billion in 2012 (PRC Ministry of Foreign Affairs, November 7, 2000). The civil war underway in Libya appears to have disrupted Chinese-Libyan trade significantly since these high marks of nearly a decade ago. However, energy exports from Libya to China rebounded to nearly $4 billion in 2018 (Atlas of Economic Complexity, August 21). Also, Libya was approved to become a member of the China-based Asian Infrastructure Investment Bank (AIIB) in December 2018 (PRC Ministry of Foreign Affairs, May 2020). If the weapons provided to the LNA— including the Wing Loong II—prove decisive, Beijing could stand to benefit from Haftar's consolidated and stabilized control of the country's eastern and central oil fields.
Second, the cast of other foreign powers supporting Haftar's LNA allows Beijing an opportunity to deepen its alignment with the UAE, Egypt, and Russia. In 2018, the PRC and the UAE upgraded their bilateral relationship to a "comprehensive strategic partnership." According to China's Ambassador to the UAE Ni Jian, "The UAE is China's seventh-largest trading partner, and China has continued to maintain its position as the UAE's largest trading partner" (China Daily, December 2, 2019; The National, July 18). The PRC has supported Egypt's actions in Libya, recently praising the role that the latter has played in supporting regional peace and stability (PRC Ministry of Foreign Affairs, July 24).  Although Russia initially held off on revealing its precise alignment in Libya, Deputy Foreign Minister Gennady Gatilov made clear after the U.S. presidential election in 2016 that Haftar's LNA had Russian support (Bloomberg, December 26, 2016). By indirectly supporting the LNA, Beijing is able to support its partners and potentially build leverage in those relationships.
Third, military sales allow the PRC to test and refine its military hardware on contemporary battlefields without direct political risk. China's civil-military fusion campaign has emphasized the importance of its domestic defense industry, particularly in terms of how it might contribute to both economic vitality and success on the battlefield (China Brief, October 8, 2019; U.S. Department of State, May 2020). In contrast to the United States, which has been engaged in wars of its own for decades, the Chinese military has not had as many opportunities to gain combat experience; in this context, the PRC has become a leading contributor of troops to United Nations peacekeeping operations, and Chinese military sales have steadily risen—including becoming the largest exporter of combat UAVs in 2014-2018 (United Nations, June 30; SIPRI, March 2019). Particularly given the strategic significance that the PRC assigns to its UAV programs, improvements gleaned through vicarious battlefield experience are invaluable. Although the PRC has not provided UAVs directly to the factions engaged in the conflict in Libya, the employment of Chinese systems by third parties offers the benefit of battle-testing equipment without the risk of military or diplomatic repercussions.
Conclusion
The PRC is leveraging its UAV production to erode the United States' position as the partner of choice in the arena of international security. One military analyst has assessed that Chinese drones may possess advantages over those of the United States in terms of cost and transaction processing time—as well as providing potential further advantages in the lack of attribution or accountability (Defense News, May 2, 2019). In regions where U.S. military engagement efforts are not as robust or focused, the PRC is well-positioned to serve as an alternate vendor for UAVs. When coupled with a diminishing appetite in the United States for international engagement, this dynamic could create further opportunities for China to compete for the coveted status of security partner of choice that the United States has long enjoyed in many parts of the world.
Ryan Oliver is an officer in the U.S. Army National Guard.  His previous positions include working as a China specialist at U.S. Special Operations Command (J5 Strategy, Policy, and Plans), and at The Asia Group, a boutique consultancy in Washington, DC. He is a graduate of Georgetown University, the George Washington University, and the Defense Language Institute.  The views expressed in this article are his own, and are not intended to represent those of any U.S. government agency.