Tracking the Digital Component of the BRI in Central Asia, Part Two: Developments in Kazakhstan
Publication: China Brief Volume: 21 Issue: 9
By: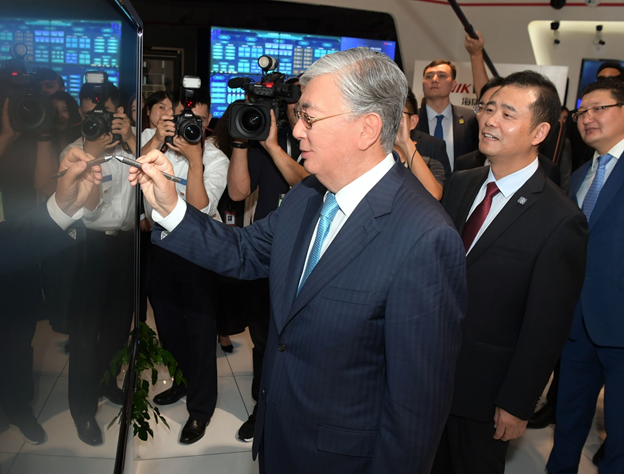 Introduction
This is the second of a three-part series describing the People's Republic of China's (PRC) growing digital presence in Central Asia—part of a larger project commonly referred to as the Digital Silk Road (DSR, 数字丝绸之路, shuzi sichou zhi lu) that supplements the wide-ranging geo-economic and foreign policy Belt and Road Initiative (BRI). Part One of this series focused on Central Asia's most populous country, Uzbekistan (China Brief, February 11). In this article, special emphasis will be put on the region's most affluent and resource endowed actor, Kazakhstan, which has had a particular importance for the BRI since the initiative was first launched by Chinese President Xi Jinping during his state visit to Kazakhstan in 2013 (PRC Ministry of Foreign Affairs, September 7, 2013).
Background: Deepening Sino-Kazakh Relations and Technology Cooperation
Kazakhstan's ties with Beijing have been boosted after the 2019 election of President Kassym-Jomart Kemeluly Tokayev, a professional sinologist who spent time studying in the PRC during the 1980s (Ru.sputnik.kz, June 17, 2019). Under Tokayev's leadership, the bilateral relationship was elevated to a "comprehensive strategic partnership" in 2019. Cooperation in the realm of new digital technologies has rapidly become yet another facet strengthening bilateral ties. Both sides have their own interests in boosting technological cooperation: for China "cooperation in the fields of digital economy, e-commerce and artificial intelligence" opens up a new and rapidly developing market for its domestic technology companies seeking to become competitive players in the global market (Xinhua, January 22) as well as being a means of boosting Chinese influence in Central Asia more generally. China has also relied on Kazakhstan to support a variety of international technology issues, including a global initiative on data security and "jointly combatting disinformation" following the COVID-19 pandemic (Xinhua, September 13, 2020), as well as promoting a concept of internet sovereignty that is friendly to authoritarian control of the Internet (CPO Magazine, August 1, 2019).
For Kazakhstan, access to inexpensive Chinese software and hardware—as well as operating expertise—serves as one of the main sources of technological modernization that will be indispensable for developing the country's heavily resource dependent economy. Increasing the government's capacity to survey and control its increasingly online population also aligns with larger efforts to boost cybersecurity; although previous efforts to intercept and control Internet traffic in 2015 and 2019 failed, the government tried again to force citizens in Nur-Sultan to install a digital certificate on their devices before accessing foreign internet services in 2020 (ZD Net, December 6, 2020).
Unravelling the Kazakhstani Agenda: Modernization From Above
Kazakhstan's technological modernization program is primarily guided by objectives outlined in the state-promoted program "Digital Kazakhstan" (2018-2022), which is viewed by the Kazakhstani government as the country's main path toward much needed economic diversification. The program sets forth goals such as accelerating economic growth, upgrading living standards and creating conditions for the nationwide transition to a digital economy (Digitalkz.kz, accessed March 17).
A key pilot project—and an essential stepping stone in realizing the national strategy—is the digitalization of the capital, Nur-Sultan (previously called Astana). But progress has been slow. During the convention of a meeting on the "Digital Kazakhstan" program last March, President Tokayev severely criticized the pace and tempo of digitalization, noting that, "being in demand among the population and business, digitalization is being implemented in areas that are most prone to corruption. This applies primarily to the issuance of land plots, services of natural monopolies, public transport fare systems and other areas," and specified the "need to create a unified monitoring system that unites all state bodies." (Akorda.kz, March 4, 2020).
In 2019, Tokayev visited the offices of Hangzhou Hikvision Digital Technology Company (杭州海康威视数字技术股份有限公司) during a trip to China (Office of the President of the Republic of Kazakhstan, September 12, 2019), and afterwards spoke glowingly of the company's surveillance capabilities. Tokayev instructed Kazakhstan's development planners to follow China's example and deepen the collection of citizens' personal identification information (Fergana Agency, October 8, 2019).[1] He especially noted Chinese progress in areas such facial recognition, the usage of biometric and medical data, and the collection of employment and credit history—information which, if systematically collected and stored, would allow the government to track its citizens at a granular level—and held up these advances as a model for Kazakhstan (Kursiv.kz, October 8, 2019).
During the sixth meeting of the Chinese-Kazakh business council, Tokayev said that Kazakhstan was strategically interested in "[the] establishment of joint innovation companies, techno[logy] parks and information technology (IT) centers. In our capital we have opened up an international techno[logy] park for IT start-ups, "Astana Hub" and highlighted work on "big data, Internet of Things (IoT), artificial intelligence (AI), cloud technologies and supercomputers" (Ru.sputnik.kz, September 11, 2019). In response to Tokayev's enthusiasm, Chinese Ambassador to Kazakhstan Zhang Xiao (张霄) said that China occupies a leading position in development of high technologies and is eager to share its experience with Kazakhstan. "President Kassym-Jomart Tokayev voiced his interest in development of our bilateral relations in telecommunications, artificial intelligence, big data, blockchain, the internet of things and digital transformation […] Kazakhstan is a priority for China and the development of relations with Kazakhstan is highlighted in the agenda" (Kazakh-tv.kz, October 1, 2019).
Achievements and Mounting Concerns in Digitalizing Kazakhstan
For now, digital technologies in Kazakhstan are mainly used for the realization of "Smart City" programs that prioritize increasing the accessibility of public services and improving traffic controls (Egov.kz, accessed May 4; Astana.gov.kz, accessed May 4). Intermediary results suggest positive findings. A report from 2020 quoted the Kazakh Minister of Digital Development, Innovations and Aerospace Development Aksar Zhumagaliyev as saying that by 2019, "most of the big work" of digitalization had been accomplished, and that "82 percent of all public services have been automated" (Astana Times, June 18, 2020). According to a municipal representative of the digitalization and public services department of Nur-Sultan, Aymira Muksulova, road traffic in the capital has become the safest in the country, largely owed to the integration of new technologies. Muksulova also noted that after adding 16,000 video surveillance cameras, the number of registered crimes in the capital decreased by 30 percent in 2020 (Inform.kz, February 25).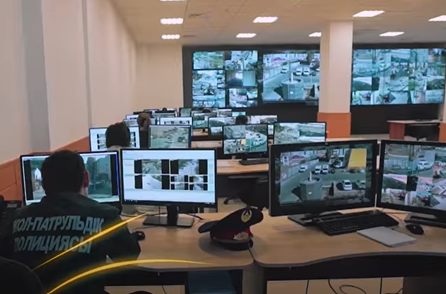 A major local provider of the "Sergek" surveillance systems undergirding these developments is Korkem Telecom, which partners with the Chinese company Zhejiang Dahua Technology (浙江大华技术, Zhejiang Dahua jishu). The aforementioned Hikvision has also maintained direct sales offices in Kazakhstan since 2015, although according to its 2020 Annual Report the company has invested relatively little in developing its subsidiary business there (Hikvision, accessed May 4). Although Kazakhstan's opaque government does not readily provide details about the sources of procurement for its new surveillance systems, media reports assert that Kazakhstan's video surveillance systems mainly use Chinese products (Central.asia-news.com, December 11, 2019). As in other countries, the pace of adopting smart technologies for public health surveillance was also sped up during the coronavirus pandemic (EDM, April 8, 2020).
Yet civil society advocates and local experts have raised their concerns both with China's increasing role in the domestic technology sector and with the real intentions behind Kazakh authorities' prioritization of cybersecurity and mass surveillance. The IT expert Rymbek Izghali has argued that Smart City and similar initiatives that extensively rely on placing surveillance cameras and other data-collection devices across Kazakh cities are less concerned with improving security, and more aimed at tracking (potential) protestors, given the growing protest movement in the country. Izghali's criticism was shrugged off by a member of the Mazhilis (the lower house of Kazakhstan's parliament), Nurlan Dulatbekov, who said that the president is chiefly concerned with security, not oppressing human rights in the country (Rus.azattyq.org, October 10, 2019). This opinion was repeated by the official representative of Hikvision in Kazakhstan, Leonid Tan, who assured a journalist that the only function of China-produced cameras used in Smart City project was improving traffic security (Central.asia-news.com, December 11, 2019).
Still, independent critics believe that China has a variety of ulterior motives for exporting its technologies to Kazakhstan, including gaining access to Kazakh citizens' personal data. Specifically, it was alleged that a hacking attempt on Kazakh telecommunication networks was due to Chinese efforts to collect information about the travels of Uyghur tourists across Central Asia and in Kazakhstan in particular (EA Daily, September 9, 2019). The representative of the Kazakhstan International Bureau for Human Rights and Rule of Law (KIBHR), Andrey Grishin, has said that following the 2019 anti-Chinese protests in Kazakhstan, China`s interest in Kazakhstan's internal affairs has grown exponentially. Serikzhan Bilash, head of the Atajurt Kazakh Human Rights Organization, argues, "China is eager to increase its surveillance capabilities in Kazakhstan primarily due to the fact that this is the historical motherland of many residents of Xinjiang Uygur Autonomous Region in China. The number of ethnic Kazakhs, who are trying to emigrate from China to Kazakhstan—as an attempt to escape suppression—has been rising, and Beijing is trying to confront this trend" (Central.asia-news.com, December 11, 2019).
China's Interests: Beyond the DSR
First and foremost, it needs to be underscored that Kazakhstan (alongside Pakistan) has been seen by Beijing as a keystone of the land-based dimension of the BRI initiative from the very beginning (Css.ethz.ch, September 4, 2019). To ensure Kazakhstan`s full commitment to participating in the BRI, China has used a variety of tools ranging from large foreign direct investments (FDI) in energy and infrastructure to technology cooperation initiatives and educational exchanges (China Brief, November 19, 2019; Asia Times, June 5, 2020). The practical results of China's efforts are already evident: Kazakhstan is the only state in Central Asia to have established an "all-around strategic partnership," also known as "a permanent comprehensive strategic partnership," with China (CGTN, September 11, 2019).
Beijing understands that reliance on a single tool will not yield the desired result of maintaining strong relations with Kazakhstan—instead, it uses a comprehensive approach based on the integrated employment of various political, social and economic levers. Given Kazakhstan's domestic drive toward modernization (prioritizing the digitalization of all major spheres of public life) technology-based cooperation may become China's greatest competitive advantage over neighboring Russia as it seeks to cement its influence in Kazakhstan.
At the same time, this emphasis on technology aligns well with China's development of "Smart Cities" and the DSR. Chinese media sources assert that "building regional ecology of digital economy has been a key part of infrastructure connectivity, and…a new engine for economic growth in Belt and Road regions" (Xinhua, May 4, 2018). Chinese state officials have tied the export of information technologies to long-standing strategic aims to become a "network great power" (网络强国, wangluo qiangguo) and build a "community with a shared future in cyberspace" (网络空间命运共同体, wangluo kongjian mingyun gongtong ti), aiming to leverage China's growing strengths in IT to build international network infrastructure systems and enhance China's ability to influence global digital governance and standard-setting (Cyberspace Administration of China, February 1). 
A 2015 article published by the official Xinhua News Agency defined the BRI as encompassing "five connectivities and three communities" (五通三同, wutong santong): connectivity in infrastructure, trade, finance, 'people's hearts' and policy; and the community of interest, destiny and responsibility (Xinhua, March 29, 2015). In 2020, a report by the Netherlands' Clingendael Institute of International Relations argued that "Smart cities [are also] an integral part of China's DSR," and that by focusing on the development of sustainable urbanization through the use of digital technologies including AI, 5G telecommunications networks and IoT, Chinese companies have been able to expand their market access to various parts of the world, including Central Asia and Russia, Africa, the Middle East, and even Europe (Clingendael, accessed March 17).
Conclusion
By extensively relying on Chinese technologies, including cutting-edge surveillance systems, Kazakhstan is becoming even more dependent on China. Compared to FDI and/or infrastructure investments, this "digital dependency" might have far-reaching consequences. According to Niva Yau, a researcher at the OSCE Academy in Bishkek, the increasing reliance on Chinese technologies is closely tied to long-standing elite ties and demonstrates an overarching and near complete dependency of Central Asian countries (Caa-network.org, March 16). She argues that this trend, if it continues to develop, will likely have several serious consequences for Central Asian countries. First, China's technological domination could result in local cyber laws becoming effectively subordinated to Chinese priorities. Second, given the close connections between technology and military, China will increase its security influence in the region as well. Finally, China could acquire direct access to incredibly detailed data on local populations, simultaneously improving its own development of data-centric technologies such as AI while also undermining the independent sovereignty of Central Asian states.
Dr. Sergey Sukhankin is a Fellow at the Jamestown Foundation and an Advisor at Gulf State Analytics (Washington, D.C.). He received his PhD in Contemporary Political and Social History from the Autonomous University of Barcelona. His areas of interest include Kaliningrad and the Baltic Sea region, Russian information and cyber security, A2/AD and its interpretation in Russia, the Arctic region, and the development of Russian private military companies since the outbreak of the Syrian Civil War. He has consulted or briefed with CSIS (Canada), DIA (USA), and the European Parliament. He is based in Edmonton, Alberta, Canada.
Notes
[1] Hikvision, along with other Chinese technology companies, has played a key role in the expansion of oppressive surveillance systems in the majority-Muslim Xinjiang Uyghur Autonomous Region (XUAR), and was sanctioned by the U.S. government for its involvement in the state perpetration of human rights abuses against Muslim minority groups in 2019 (Nikkei Asia, October 8, 2019). Norway and most recently the EU Parliament have also recognized Hikvision's involvement in human rights abuses (IPVM, April 29), while the company has doubled down on its massive surveillance projects and even boasted that foreign sanctions helped boost company sales in 2020 (IPVM, November 30, 2020).