Tunisia's Tense Political Situation and Consequences for Counterterrorism
Publication: Terrorism Monitor Volume: 19 Issue: 16
By: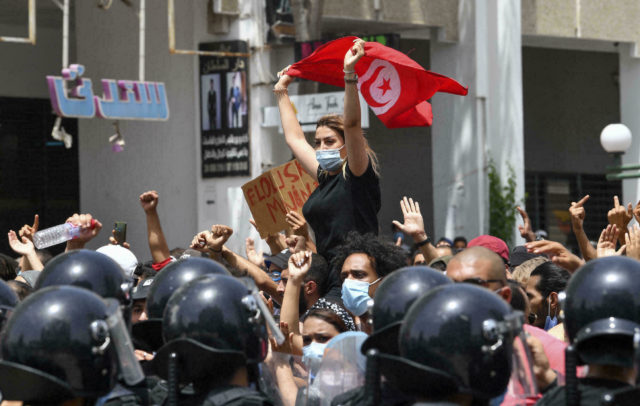 Introduction
Following Tunisian President Kais Saied's dismissal of Prime Minister Hichem Mechichi and the suspension of parliament on July 25, Islamic State (IS) published an article celebrating the alleged collapse of democracy in the country (Arabi 21, August 1). The rate of terrorist attacks in Tunisia has declined amid a considerable improvement in the capabilities of the country's security forces over recent years. However, sustained political instability could have negative longer-term security implications for the country.
Security Stable Despite Political Maneuvering 
Despite dramatic media reports in Western media claiming that Tunisia could be on the brink of civil war, the security environment has remained stable (The Daily Beast, August 4; Jadaliyya, August 1). No significant protest activity or arming of political dissidents has taken place since July. Moreover, there has been no spillover of violence from the militancy-plagued northwestern provinces, where IS and al-Qaeda in the Islamic Maghreb (AQIM)-linked groups have been waging an insurgency against the state since 2011. [1]
That Tunisia could be fast approaching armed conflict is a misconception, which stems from a false equivalency between Tunisia and events in other North African countries. Saied is not a military strongman intending to eliminate a popular Islamist political movement, akin to military crackdowns on Islamists in Algeria in 1992 or Egypt in 2013. Rather, Saied is a former university professor and political outsider with no prior links to the army or security forces before his inauguration in 2019.
As President of Tunisia, Saied is also Commander-in-Chief of the Tunisian Armed Forces (TAF), but unlike his Algerian or Egyptian counterparts, the military does not play a prominent role in the domestic political scene. [2] In addition, Tunisia's largest political party, the Islamist Ennahda Movement, is not the sole target of Saied's political maneuvering (Tunisie Numerique, July 28). Saied marketed the activation of Article 80 of the Tunisian constitution, which grants the President exceptional powers for 30 days, as a necessary response to widespread corruption by officials and businessmen who have stolen around $4.8 billion of public money, and not an attack on one particular political party or ideology (Présidence Tunisie, July 28). The fact that Ennahda failed to mobilize significant numbers of its supporters against Saied's move, and has now begun to label the political developments as an opportunity for reform, demonstrates how unrealistic a scenario of direct conflict is between Saied and the Islamists (The New Arab, August 5).
Tunisian Terrorism From 2011 to 2016
The period after the 2011 Jasmine Revolution in Tunisia was marked by an expansion in terrorist activity both in the form of an insurgency led by al-Qaeda and IS-linked groups in mountainous northwestern provinces, such as Kasserine province. In addition, a series of terrorist attacks hit major urban hubs of the country, including the Sousse beach attack in 2015, which killed 38 tourists. [3] This rise of terrorism resulted from a combination of instability in neighboring Libya and the failure of the Ennahda-dominated coalition government of 2011-2014 to take seriously the threat of the al-Qaeda-linked Ansar al-Sharia in Tunisia (AST).
A month after Tunisia's 2011 revolution, an amnesty led to the release of 1,200 Islamist extremists, of which 300 had fought in jihadist insurgencies abroad in countries such as Iraq, Afghanistan, Yemen and Somalia. One of the releases, Abu Ayyad al-Tunisi, subsequently formed Ansar al-Sharia Tunisia (AST), which was allowed to gain control of hundreds of mosques, incite a deadly attack on the U.S. embassy in Tunis, and assassinate two prominent secular politicians in 2013 before the government decided to designate it as a terrorist organization and ban it. [4]
However, once AST had built up thousands of followers, some joined militant groups either in northwestern Tunisia or Libya. Those in Libya, however, became a domestic security threat again after IS-linked terrorist cells in the country trained Tunisian fighters. Approximately 69 percent of Tunisian defendants in terrorism cases reviewed by the Tunisian Center for Research and Studies on Terrorism, for example, had received training in Libya, including the perpetrators of the 2015 Sousse beach and Bardo Museum attacks (al-Monitor, November 8, 2016). IS jihadists based in Libya failed in an attempt to carve out territory by assaulting the Tunisian city of Ben Guerdane on March 7, 2016 (al-Jazeera, March, 17 2016).
Counterterrorism Improvements and Setbacks
Since 2015, the Tunisian security forces have made several significant improvements in the country's security. In 2015, Tunisia created the National Commission for the Fight against Terrorism, which then developed a comprehensive counterterrorism strategy the following year based on the European model of prevention, protection, prosecution, and response to attacks. Training and security assistance from the United States and European Union allowed the army to improve counterterrorism capabilities within the military and intelligence apparatus and shore up Tunisia's border with Libya with over 200 kilometers of sand barriers, water trenches, and U.S. surveillance drones. [5] This has allowed the Tunisian authorities to reduce the rate of terrorist activity in the country significantly. While counterterrorism operations in Kasserine province have continued throughout 2021, a significant terrorist incident has not taken place in a major Tunisian urban hub since a knife attack on a National Guard patrol in Sousse in September 2020 (France 24, September 6, 2020).
While the conditions that led to increased terrorist activity in Tunisia in the post-2011 period are no longer present in 2021, Tunisia's counterterrorism success has also come at the cost of heavy-handed repressive tactics. Tunisia's now six-year security-related state of emergency has allowed the security forces to carry out raids and place suspects on de facto travel bans without judicial authorization. [6] In addition, human rights organizations have accused authorities of torture and ill-treating detainees in prisons and detention centers. [7] Thousands of these detainees are set to be released over the coming years, with successful rehabilitation and reintegration into Tunisian society in question. [8]
The Tunisian authorities have also made little progress in tackling economic marginalization and police brutality. This year has already seen two periods of large-scale protest activity in January and June, both sparked by incidents of police brutality and primarily concentrated in Tunisia's most deprived areas, such as Sidi Hassine, Kasserine and Sidi Bouzid [9] While neither economic marginalization nor police brutality directly cause radicalization, they do contribute to an environment favorable to it.
Longer-Term Security Implications
While Saied's political moves have not immediately affected the security environment in Tunisia, if he extends the parliamentary suspension beyond the 30-day limit, then Tunisia's political parties, civil society, and trade union groups are likely to call for protests to pressure him to return to the constitution. If Saied attempts to deal with demonstrations by ordering a substantial security crackdown, the increasingly authoritarian environment and continued political instability will be able to be exploited by al-Qaeda and IS. Counterterrorism improvements thus far mean that the rate of terrorist attacks is not likely to increase significantly, but state repression, police brutality, economic marginalization, and the release of thousands of detainees arrested in connection with terrorism are all factors that create increasingly favorable conditions for radicalization.
Notes 
[1] See Matt Herbert, "The Insurgency in Tunisia's Western Borderlands" (Carnegie Endowment for National Peace, June 2018)
[2] See Michael J. Willis, Politics and Power in the Maghreb, pg. 86, (Hurst, 2012).
[3] See Francisco Serrano, "Putting up a fight: Tunisia's Counterterrorism successes and failures" ( Middle East Institute, December 2020)
[4] See Aaron Y.Zelin, Your Sons Are at Your Service: Tunisia's Missionaries of Jihad, Chapter 4 (Columbia University Press, 2020).
[5] See Anthony Dworkin and Fatim-Zohra El Maliki, "The southern front line: EU counter-terrorism cooperation with Tunisia and Morocco" (EU Council on Foreign Relations, February 2018).
[6] Ibid.
[7] See "We Want An End To The Fear, Abuses Under Tunisia's State Of Emergency" (Amnesty International, February 2017).
[8] See "Jihadism in Tunisia: A Receding Threat?" (International Crisis Group, June 4).
[9] Large-scale demonstrations across the majority of Tunisia's urban hubs occurred in mid-January after a clip on social media appeared to show a member of the security forces assaulting a local shepherd. Similarly, the death of a teenager in police custody in the Sidi Hassine district of Tunis on 8th June set off sustained unruly protest activity in the capital. The first wave of protests in January saw widespread allegations of police abuse (Meshkal, January 25).