Turkey More Cooperative with Western Energy Companies than It Seems
Publication: Eurasia Daily Monitor Volume: 10 Issue: 59
By: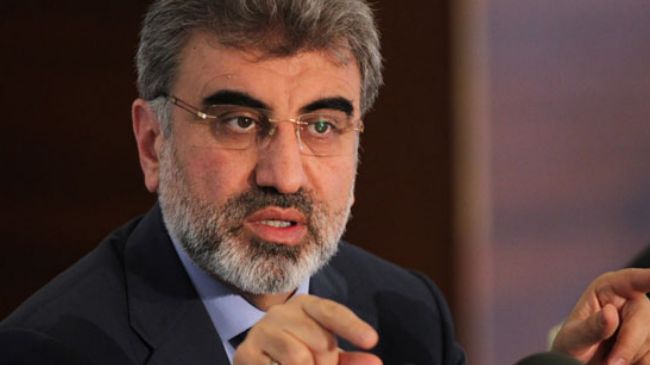 Turkey's Energy and Natural Resources Minister Taner Yildiz has seemingly threatened Italian ENI—and, implicitly, other foreign energy companies—with retaliation against their projects in Turkey, if they sign offshore gas development deals with the government of Greek Cyprus while ignoring Turkey's and the Cypriot Turks' interests in those same offshore areas. Yildiz issued those warnings in two separate statements on March 27, with international reverberations (Anatolia news agency, Dow Jones, Trend, March 27).
Yildiz was commenting specifically on Italian ENI's January 2013 agreement with the Nicosia government to develop three offshore gas blocs in areas with overlapping claims or unresolved status. Other Western companies are also lining up to negotiate offshore agreements with Greek Cyprus. In February, Total of France signed an agreement with the Nicosia government for two offshore gas blocs. The immediate trigger of Yildiz's warnings, however, seems to have been the discussion about bankrupt Greek Cyprus putting up offshore gas resources as collateral for bailout credits. On March 23, Turkey's foreign affairs ministry warned that such a move would "risk a fresh crisis in the region" and that Ankara would protect its interests and those of the Cypriot Turks (Anatolia news agency, March 24).
Ankara had also warned earlier that ENI or other companies that were signing offshore deals with Greek Cyprus while ignoring Turkey's position would risk being "excluded from Turkey's energy investment plans" (Dow Jones, November 2, 2012; January 24; Zaman, March 27).
Yet there is a seldom-noticed mitigating factor to Yildiz's stern warnings. First, they formulate possible countermeasures ambiguously, allowing for flexibility; and second, they focus the discussion of such countermeasures on one project, the Samsun-Ceyhan oil pipeline, which ENI CEO Paolo Scaroni accurately describes as "dormant" anyway (Dow Jones, March 27), without bringing other international projects specifically into the argument. Hedges include: "might decide"; "not continue working with"; and could go "up to suspending" projects of international companies in Turkey, if companies go in for agreements with Greek Cyprus disregarding Turkish positions. Obliquely, Yildiz warned Russia by expressing confidence that "Russian companies are aware of that and would not enter into cooperation with Nicosia" (Trend.az, March 27, citing CNN Turk, March 27).
Among major Western energy companies, the Italian state-controlled ENI has the most active involvement in and with Turkey, both in the oil and the natural gas sectors.
ENI holds 50 percent (with Gazprom holding the other 50 percent) ownership of the Blue Stream gas pipeline on the seabed of the Black Sea, from Russia to Turkey (Russian Gazprom and Turkish Botas fully own the respective overland sections). ENI's subsidiary Saipem laid the 390-kilometer offshore pipeline on the seabed. The submerged section alone cost $1.7 billion to build in 2000–2002. Operating since 2003, and attaining its full design capacity of 16 billion cubic meters (bcm) per year by 2010, Blue Stream has delivered nearly 80 bcm of gas to Turkey in 2003–2012 (www.gazprom.com, accessed March 27). Blue Stream usually operates below its 16-bcm design capacity, but it pumps to full capacity during seasonal cold-weather spells in Turkey, and also when necessary to offset shortfalls in Iranian gas deliveries to Turkey.
The Italian company also holds 20 percent (down from its initial 50 percent) ownership of the South Stream pipeline project on the seabed of the Black Sea, from Russia to Bulgaria, crossing Turkey's exclusive economic zone. ENI's Saipem is again expected to perform the most challenging task for this project by laying the 900-kilometer pipeline on the seabed, this time at the ultra-depth level. Gazprom holds a 50-percent interest in this project, with Electricite de France and the German Wintershall holding 15 percent each. The investment is officially estimated at $9 billion for the submerged section. The Turkish government granted permission for this project to proceed through Turkey's exclusive economic zone in December 2011, and Russian President Vladimir Putin personally launched the construction work on the Russian shore in December 2012.
In Turkey's oil sector, ENI holds a five-percent interest in the BP-led consortium of 11 companies that own the Baku-Tbilisi-Ceyhan oil pipeline. In petrochemicals, ENI's Snamprogetti subsidiary is involved with three other international companies in building key installations at the Star Refinery near Izmir, majority-owned by Azerbaijan's State Oil Company (SOCAR) (see EDM, March 25). Under its Versalis label, ENI is marketing a wide range of petrochemicals in Turkey (ANSA, March 27).
The Samsun-Ceyhan oil pipeline project (also designated as the Trans-Anatolia Oil Pipeline Company, TAPCO) has proven frustrating to all those involved until now. Initiated as a 50-50 venture by ENI and Calik Energy (subsidiary of the Turkish conglomerate Ahmed Calik) in 2005, and open to Russia's participation since 2009, this project could help perpetuate Russian control over growing exports of Kazakhstani oil. The pipeline, from Turkey's Black Sea coast near Samsun to its Mediterranean port of Ceyhan, forms part of a grand design for oil transportation stretching (in intent) from landlocked Kazakhstan to the open sea. The overall project envisages massive growth of oil production in Kazakhstan, a corresponding increase in the capacity of the Caspian Pipeline Consortium's (CPC) pipeline connecting Kazakhstan with the Russian Black Sea port of Novorossiysk, and onward shipment by sea tankers into the Samsun-Ceyhan pipeline. The 550-kilometer line has been planned to carry at least 50 million tons of oil annually, its construction cost projected at $3 billion to $4 billion (see EDM, August 14, 2009; October 23, 2009).
Bypassing the Turkish Straits, the pipeline north-south across Anatolia would provide a new outlet for Kazakhstani oil (with some inputs of Russian oil) to the open sea, enabling Russia to increase transshipments of Kazakhstani oil through Russian territory and be assured of this additional outlet from the Black Sea. This would defeat the option of a trans-Caspian oil transport system, from Kazakhstan to the South Caucasus and onward to Turkey (with the same ultimate destination of Ceyhan). Under the 2009 agreement of intent, Russia's state companies Rosneft, Transneft and Sovkomflot (maritime shipping) would join ENI and Calik Energy in the overall transportation project from Novorossiysk to Samsun-Ceyhan.
However, production growth in Kazakhstan and a corresponding capacity increase of the CPC pipeline are both trailing, which has in turn prevented the implementation of the Samsun-Ceyhan project. No investment decision has yet been made, although Putin had endorsed the project, and Yildiz had co-signed (with Igor Sechin for Russia) the 2009 agreement of intent. Russian Energy Minister Aleksandr Novak recently asked for lower transit tariffs than those offered by the Turkish side for the planned pipeline. In his March 27 public statements (see above), Yildiz has asked Calik Energy to find a partner other than ENI for the Samsun-Ceyhan project.
Publicly at least, Ankara has not criticized or warned Total of France for its recent agreement with Greek Cyprus on offshore gas. Total, like ENI, holds a five-percent stake in the Baku-Tbilisi-Ceyhan oil pipeline, alongside ten other companies led by BP. At present, Total is negotiating (in coordination with BP and Norway's Statoil) to acquire one of three minority stakes in the Trans-Anatolia Gas Pipeline (TANAP) from that project's majority owner, Azerbaijan.
All these projects are far too important for Turkey to subject either its energy supply security or its national ambition to become an energy transit country to even the slightest degree of risk. Minister Yildiz's statements seem to have been unduly overdramatized in the public perception. Ankara will probably remain fully cooperative, not linking the treatment of international energy companies in Turkey with possible agreements by the same companies with Greek Cyprus, although Ankara will undoubtedly continue to express its position on offshore areas with unresolved status or overlapping claims around the island of Cyprus.