Turkey Wants to Resume Talks on Iranian Nuclear Program
Publication: Eurasia Daily Monitor Volume: 9 Issue: 6
By: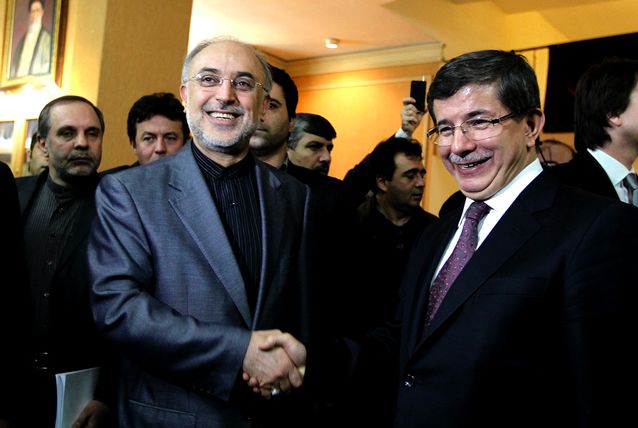 Turkish Foreign Minister, Ahmet Davutoglu, paid a crucial visit to Tehran on January 6, amidst the increasing confrontation between Iran and the West. The visit mainly provided an opportunity to address bilateral issues, as it followed a heated debate in recent months which questions whether Turkey and Iran were involved in an undeclared rivalry in the Arab Spring. The two countries' diverging positions on Syria, Turkey's decision to host NATO's early warning radar, as well as differences on the Palestinians' quest for recognition, arguably pitted the two against each other. The confrontational mood was further worsened by harsh statements against Turkey by Iranian politicians and high-ranking officials (EDM, October 11, 2011).
As such statements even led to direct threats voiced by some Iranian lawmakers and military officers, indicating that Iran might take military action against NATO facilities in Turkey, Davutoglu was prompted to convey his uneasiness and demand an explanation. Iranian Foreign Minister, Ali Akbar Salehi, visited Ankara in an effort to allay Ankara's growing concerns. Reiterating the two countries' friendship, Salehi sought to assure his Turkish counterpart that such remarks reflected personal opinions and did not represent official Iranian policy on Turkey (Anadolu Ajansi, December 14, 2011).
Ankara also downplayed such threatening remarks as personal opinions, in an effort to maintain channels for dialogue with Tehran. Though not hiding the differences of opinion on regional issues, Davutoglu and other Turkish officials prefer to focus on issues of converging views and continue to view Tehran as a major stakeholder in the region whose cooperation is essential. More importantly, Davutoglu is keen to reassure his Iranian counterparts that Turkey will not take part in any direct military action against Iran, which seems as a calculated move to comfort Tehran and convince it to steer away from the path of escalation.
With such considerations in mind, Davutoglu paid a working visit to Iran on January 6, to meet Salehi and other Iranian officials. Davutoglu worked hard to stress the defensive nature of the ballistic missile shield and reiterated that Turkey would not let its territory be used in any attack against Iran. The two ministers also agreed to continue to discuss regional issues, and meet at least twice each year (Anadolu Ajansi, January 5).
Beyond the immediate Turkish-Iranian frictions, Davutoglu addressed a number of regional issues with Iran. Foregoing the speculations of rivalry, Davutoglu invited his Iranian counterparts to work together in order to address the escalating tensions in the region, which some claim could lead to Sunni-Shiite sectarian divisions. In the last two days, because the uprising in Syria, the ongoing political crisis in Iraq, and the situation in Bahrain involve some sectarian elements, Davutoglu increasingly refers to an imminent danger of sectarian conflict and warns against a new Cold War in the Middle East (Dogan, January 8).
Moreover, the uncertain future of the dispute over the Iranian nuclear program, especially in view of US sanctions policy and the Iranian brinkmanship in the Strait of Hormuz is a growing concern for Turkey. Ankara recognizes Iran's right to develop peaceful nuclear technology, but also invites the country to be more transparent about its ongoing program and allay concerns on the part of Western powers.
Since the talks held between Iran and the P5+1 in Istanbul one year ago, diplomatic channels were largely closed. In order to push things forward on that front, Davutoglu seems to have attempted shuttle diplomacy. In the wake of his Tehran trip, he announced that he was in touch with Catherine Ashton, the EU's foreign policy chief, on this issue. Davutoglu raised expectations by maintaining that both parties were ready to resume nuclear talks in Turkey. Earlier, Salehi also expressed his readiness to return to nuclear talks in a suitable time and venue agreed upon by the parties, adding that Turkey would be the best option (Anadolu Ajansi, January 8). Commenting on this development, US State Department spokesperson, Victoria Nuland, said that the US remained in consultation with Turkey over Davutoglu's trip and agrees with Turkey's goal of bringing Iran back to the negotiating table and complying with its international obligations, though they might differ on tactics. She also emphasized Washington's readiness to resume discussions, though adding that Iran has yet to formally convey its decision to start the talks (Today's Zaman, January 7).
Adding urgency to the matter, the United States and its European allies are initiating a new wave of sanctions to pressure Iran on the economic front. The sanctions recently approved by President Barack Obama involve penalizing the financial institutions doing business with Iran as well as halting oil imports from Iran, by targeting its Central Bank. Turkey abides by the sanctions regime introduced by the UN Security Council in the summer of 2010, but refuses to implement the unilateral Western sanctions on the grounds that they are non-binding. However, there has been growing US expectation for Turkey to join the new sanctions, while Ankara seeks an exemption, given its oil and gas imports from Iran, requiring it to work with Iranian financial institutions.
A visit by a US delegation led by Deputy Secretary of State, William Burns, to Ankara on January 9, offered an opportunity to discuss these issues. During his talks with Turkish officials, the US delegation, among others, solicited Turkey's support for unilateral sanctions. Prior to the meeting, some senior US Congressmen and diplomats visited Turkish government officials and bureaucrats, underscoring the importance attached to this issue (Haberturk, January 9).

Commenting on the visit, Nuland dismissed the argument that Turkey opposes US policy on Iran. She emphasized that the US acknowledges Turkey's sensitivities given Ankara's trade ties, but the two sides will continue their dialogue on how to maximize the pressures on Iran to force it to comply with its international obligations (Haberturk, January 10). Turkish sources also reported that Ankara does not want to see a further escalation of the already heightened tensions in the region (Sabah, January 10).
Uneasy at the growing escalation, Ankara seeks to dampen tensions through a reassertion of its facilitator role and engaging the parties, without taking any side. Once again, Turkey is walking a diplomatic tightrope due to its difficult neighbor's relations with the West.