Turkey's Stalling on Nabucco Hurts Europe, Azerbaijan, and Itself: Part Two
Publication: Eurasia Daily Monitor Volume: 6 Issue: 43
By: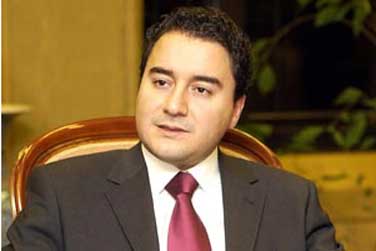 Ankara's stalling tactics in the negotiations on the Western-backed Nabucco project (see EDM, March 4) are partly inspired by the AKP government's vision of a strategic partnership with Russia.
Turkish officials have from time to time mooted the inclusion of Gazprom in the Nabucco project. They propose using Gazprom's existing Blue Stream One pipeline, from Russia to Turkey on the seabed of the Black Sea, to pump Russian gas into the Turkish section of the planned Nabucco pipeline for export to Europe. Completed in 2002 for a total capacity of 16 billion cubic meters per year, Blue Stream operates at half that capacity at present to supply Turkey. Full-capacity use of Blue Stream would enable Gazprom to enter the Nabucco pipeline to Europe, with a gas volume roughly equivalent to Azerbaijan's in the first phase of the Nabucco pipeline.
To be sure, Turkey opposes Gazprom's South Stream pipeline project, a rival to Nabucco, because South Stream would bypass Turkey, running instead on the seabed of the Black Sea, westward to Europe. Moreover, South Stream is meant to replace Gazprom's own earlier project, the overland Blue Stream Two, which was and remains Turkey's favorite option. Gazprom had planned Blue Stream Two as a continental prolongation of the Blue Stream One seabed pipeline. The overland prolongation would have followed approximately the same route as Nabucco, from Turkey to Austria. In 2007, however, the Kremlin and Gazprom came up with the South Stream project in place of Blue Stream Two.
Turkish officials who favor Gazprom's participation in Nabucco are in effect attempting to resurrect Blue Stream Two in a modified form. To these officials, a Nabucco with Gazprom's participation is the next best thing after Blue Stream Two. Minister of Foreign Affairs Ali Babacan has called publicly several times for Gazprom's participation in Nabucco. On February 20, during an official visit to Lithuania (a country that strongly supports non-Russian energy projects for Europe), Babacan argued at some length for the inclusion of Gazprom in the Nabucco project. Warning that Russia could hamper Nabucco unless included in the project (an argument that invalidates his thesis from the outset), Babacan also argued more broadly that it would be wrong to "exclude" Russia generally from regional projects (Anatolia News Agency, February 20).
Turkey's energy-hub ambitions are a significant factor in the AKP government's choice to pursue a Russo-Turkish strategic partnership. Turkish President Abdullah Gul's recent state visit to Russia included gas supply and transit projects on a wide-ranging strategic partnership agenda. The sides agreed to increase Russian gas deliveries to Turkey, from 24 billion cubic meters in 2008 to 25.5 billion cubic meters in 2009, accentuating Turkey's dependence. Russian President Dmitry Medvedev and Prime Minister Vladimir Putin, however, cold-shouldered the Turks' wish to revert to Blue Stream Two or to include Gazprom at this time in a reconfigured Nabucco (Interfax, Itar-Tass, February 13, 14).
Ankara links both of those options with its own ambition to turn Turkey into an energy "hub," not just a transit country. "Hub" implies far more than providing transit services on the national territory for an appropriate fee. The hub role involves buying a portion of the gas from the transit pipelines, storing it in the country, and re-exporting it at a higher price to third countries. Such arrangements would function at the expense of the producer country, Russia in this case. Moscow is not going along with this Turkish ambition, however. Russian leaders told Gul and his delegation that Russian policy precludes such arrangements (Sabah, February 15).
Turkey plays a weak hand in this bargaining, because Russia has multiple options in terms of export routes. The AKP government, however, can play a strong hand against Azerbaijan because Turkey is the unique westward outlet for Azerbaijani gas to Europe. Unable to fulfill its "hub" ambitions at Russia's expense, the AKP government is attempting to do so at least at the Azerbaijan's cost by seeking lift-off rights and high transit fees (see EDM, January 23; March 4).
During their Moscow visit, Gul and Energy Minister Hilmi Guler agreed in principle with the Russian proposal to use the Turkish liras and Russian ruble, instead of the dollar, as currencies of account and settlement in the bilateral trade, including Russian gas deliveries to Turkey. According to Guler, "This will make things easier in paying for natural gas! Even if problems deriving from convertibility should emerge in the implementation, the mere fact that a farewell to the dollar will be discussed in the region is an important development" (Sabah, February 15). "In the region," meanwhile, Armenia is also considering a switch from the dollar to ruble accounting and settlements in its trade with Russia.
During the same visit the Russian and Turkish governments agreed on multibillion dollar projects in nuclear energy (four nuclear reactors to be built in Turkey by a Russian-led group) and further projects worth billions of dollars for electricity generation in Turkey. Thus, Turkey's dependence on Russia for gas is becoming multi-sector energy dependence as part of the AKP government's vision of strategic partnership with Russia. That partnership concept is also rapidly developing on regional security issues. The Kremlin is catering to the AKP leaders' illusory notions of a Russo-Turkish condominium in the Black Sea and the South Caucasus. During the Moscow visit the two sides agreed to develop the Ankara-drafted South Caucasus Stability and Cooperation Platform, which excludes the West (the first Turkish proposal ever to sideline its Western allies in this region) and which has been welcomed only by Armenia and has aroused deep misgivings from Georgia and Azerbaijan. The leaders further agreed in Moscow to institutionalize Russo-Turkish joint naval activities in the Black Sea, reserving the role of providing security for the "littoral countries" (the usual code phrase for attempting to minimize a U.S. or NATO role). It is within this strategic context that Ankara is seeking the energy "hub" role for Turkey, piggybacking on Russia (without success thus far) and by stalling the negotiations on Nabucco at the expense of Azerbaijan. Meanwhile, Azerbaijan expects its gas production to increase massively, not only through phased development of the Shah-Deniz field but also through development of the Apsheron field. On February 27, Total of France and Azerbaijan's State Oil Company signed an exploration development and production sharing agreement on the Apsheron block, where large reserves are expected to be found. (APA, Trend Capital, February 27). The deep-water ACG field's gas reserves also await development. Azerbaijan's significance as a gas exporter to Europe will increase. If that flow can not reach Europe via Turkey on terms consistent with the European Energy Charter, other export routes from Azerbaijan will have to be found to circumvent Turkey. And if the AKP government overplays its hand, stalling on Nabucco for a "hub" role at another country's expense, Turkey may even end up losing the transit role. The clock is ticking not only on Nabucco but also on Ankara, in the run-up to the energy summits in May and June, when the intergovernmental agreement and project support agreements must be signed.