Turkish-Armenian Dialogue on the Verge of Collapse
Publication: Eurasia Daily Monitor Volume: 6 Issue: 71
By: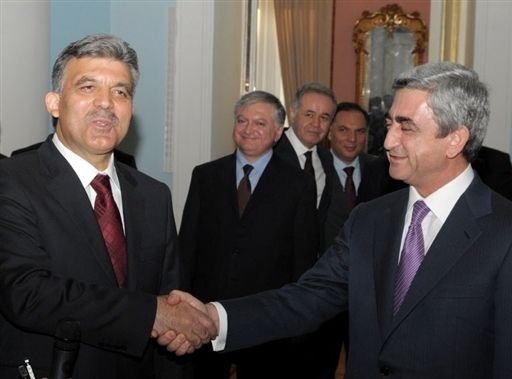 The nearly year-long negotiations between Armenia and Turkey look set to prove fruitless after Ankara has revived its long-standing linkage between the normalization of bilateral ties and a resolution of the Karabakh conflict. Turkish Prime Minister Recep Tayyip Erdogan has repeatedly made clear this month that his government will not establish diplomatic relations with Yerevan and re-open the Turkish-Armenian border without Azerbaijan's consent. In Armenia and especially amongst its worldwide diaspora, meanwhile, there are growing calls for President Serzh Sarkisian to abandon the Western-backed talks.
The success of those talks seemed a foregone conclusion in the weeks leading up to President Barack Obama's visit on April 6-7. According to reports in both the Turkish and Western media, Armenia and Turkey have finalized an agreement on gradually normalizing their strained relations and setting up inter-governmental commissions dealing with various issues of mutual interest. Some of those reports quoted unnamed Turkish officials as saying that the agreement could be signed during or shortly after Armenian Foreign Minister Edward Nalbandian's trip to Istanbul on April 6. The resulting outcry in Azerbaijan (EDM, April 10) suggested that Ankara and Yerevan were indeed very close to cutting a far-reaching deal.
Erdogan called into question the possibility of such a deal when he told a news conference in London on April 3 that Turkey cannot reach a "healthy solution concerning Armenia" as long as the Karabakh dispute remains unresolved (Today's Zaman, April 4). He reaffirmed the linkage on April 8, two days after Obama stated in Ankara that the Turkish-Armenian negotiations were "moving forward and could bear fruit very quickly, very soon." The Turkish premier went as far as demanding that the U.N. Security Council denounce Armenia as an "occupier" and called for Karabakh's return under Azeri rule (Hurriyet Daily News, April 9).
Any doubts about the practical implications of these statements were dispelled by Erdogan during his holiday in southern Turkey on April 10: "We will not sign a final deal with Armenia unless there is agreement between Azerbaijan and Armenia on Karabakh," he told journalists (Anatolia news agency, April 10). In an interview with the Azerbaijani newspaper Zerkalo published the following day, the deputy chairman of Erdogan's Justice and Development Party, Haluk Ipek, said the Turkish-Armenian border will remain closed for at least ten more years. Ipek dismissed speculation over its impending re-opening as "dishonest" Armenian propaganda aimed at driving a wedge between the two Turkic nations. Turkey's more dovish President Abdullah Gul likewise underscored the importance of Karabakh's peace when he commented on Turkish-Armenian reconciliation in an interview with The Financial Times on April 8.
That the Turkish-Armenian dialogue is reaching an impasse was effectively acknowledged by Sarkisian at an April 10 news conference: "Is it possible that we were mistaken in our calculations and that the Turks will now adopt a different position and try to set preconditions? Of course it is possible," he said (Armenian Public Television, April 10). The Armenian leader insisted that Karabakh has not been on the agenda of that dialogue. Indeed, Ankara was clearly ready to stop linking Turkish-Armenian relations with a Karabakh settlement acceptable to Baku when it embarked on a dramatic rapprochement with Yerevan last summer. The two countries' foreign ministers would have hardly held numerous face-to-face meetings since if it was not.
For his part, Sarkisian signaled his acceptance, in principle, of a Turkish proposal to form a joint commission of historians tasked with examining the 1915-1918 mass killings of Armenians in the Ottoman Empire. One of the Turkish-Armenian commissions which the governments reportedly agreed to form would conduct such a study. The idea was floated by Erdogan in 2005 and rejected by then Armenian President Robert Kocharian as a Turkish ploy designed to scuttle greater international recognition of what many historians consider the first genocide of the twentieth century. Turkish leaders have made no secret of using the fence-mending negotiations with the Sarkisian administration to discourage Obama from making good on his election campaign promise to describe the slaughter of more than one million Ottoman Armenians as genocide.
The almost certain collapse of the talks has left Armenian politicians and pundits questioning the wisdom of further Armenian overtures to the Turks. "If Turkey suddenly succumbs to Azerbaijan's threats and these negotiations yield no results soon, then I think the Armenian side will not carry on with them," said Giro Manoyan, a senior member of the Armenian Revolutionary Federation, a nationalist party represented in Sarkisian's coalition government (Hayots Ashkhar, April 10). Former Foreign Minister Vartan Oskanian likewise advocated, in an April 7 interview with RFE/RL, Yerevan's pullout from the reconciliation process if the sixteen year Turkish blockade of Armenia is not lifted.
Such views are indicative of the dominant mood in the Armenian diaspora and, in particular, the influential Armenian community within the United States. Harut Sassounian, a prominent community activist and commentator, criticized Armenia's policy on Turkey, effectively blaming it for Obama's failure to publicly use the word "genocide" during his visit to Turkey. "In view of these developments, it is imperative that the Armenian government terminates at once all negotiations with the Turkish leaders in order to limit the damage caused by the continued exploitation of the illusion of productive negotiations," Sassounian wrote in an April 9 editorial by his Los Angeles-based newspaper California Courier.
Sarkisian insisted on April 10 that the dialogue with Turkey can be deemed beneficial for the Armenian side even if it produces no tangible results. He said Armenia will "emerge from this process stronger" in any case because the international community will have no doubts that "we are really ready to establish relations [with Turkey] without preconditions."