Turkish Military Strikes PKK Targets in Northern Iraq
Publication: Terrorism Focus Volume: 4 Issue: 41
By: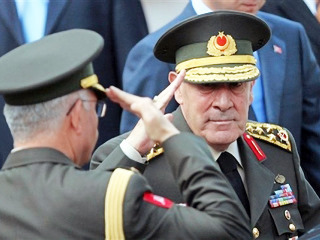 On April 12, Chief of the Turkish General Staff Yaşar Büyükanıt said that a cross-border operation into northern Iraq was necessary to better fight the rebels of the Kurdistan Workers' Party (PKK). It took eight months, over 200 Turkish casualties and several very important meetings in and outside of Turkey before the Turkish military fired its first shots across the border.
The Turkish General Staff announced on December 1 that it staged a cross-border raid into northern Iraq and inflicted "significant losses" on a group of 50 or 60 Kurdish guerrillas. The Turkish Armed Forces (TSK) have been massing commandos, artillery and missile units on the border, possibly for a larger offensive (Doğan News Agency, December 8). Turkish Defense Minister Vecdi Gönül announced in Brussels that the raid only involved air force strikes, not land forces (AP, December 7). The military did not reveal the site of the attack. The General Staff said in a statement posted on its official web site on December 1 that it could launch further strikes using different firepower when deemed necessary, an apparent reference to the use of ground troops and artillery units (www.tsk.mil.tr).
A 70-truck military convoy carrying commandos in white snow pullovers and some ground-to-ground missile units was seen traveling toward the border area near the town of Çukurca on December 8, according to Doğan News Agency. The deployment of troops comes despite warnings by the United States and Iraq against a large-scale attack on rebel bases in northern Iraq, warning that such an offensive could destabilize what has been Iraq's calmest region.
Prime Minister Recep Tayyip Erdoğan's government came under pressure to order a cross-border raid against the PKK after a string of rebel attacks killed dozens of Turkish soldiers and outraged the public. The December 1 attack against the rebel group was apparently carried out after the United States shared intelligence about the rebel positions in the rugged area. A government official, speaking on condition of anonymity, said on December 10 that U.S.-made Super Cobra helicopter gunships were used in the December 1 raid.
While the TSK is preparing for further incursions into northern Iraq—apparently based on the availability of real-time intelligence—ground troops are trying to seal paths used by the rebels to infiltrate into the country along the mountainous 205-mile-long border (Doğan News Agency, December 8). The troops killed 14 Kurdish rebels in a two-day clash on Mount Gabar, near the Iraqi border (Anatolia, December 8). The clash occurred as thousands of Turkish troops combed the rough terrain to find and destroy rebel bases, hideouts, ammunition caches and winter food stocks.
Erdoğan, meanwhile, announced a new plan to try to convince Kurdish rebels to lay down their arms and prevent the outlawed group from recruiting restive Kurdish youths in southeastern Turkey. Prime Minister Erdoğan said an existing amnesty under a Penal Code article—which promises no punishment for rebels who voluntarily surrender without having participated in any fighting, or who voluntarily lay down their arms and share critical information about the group—has failed to lure most of the rebels and that the government was working on a new amnesty plan together with the military (Hürriyet, December 9).
"With a new effort, we can minimize [and] stop recruits," said Erdoğan on December 9. Military helicopters have dropped thousands of leaflets on the Iraqi-Turkish border, calling on the rebels to benefit from an already existing amnesty and lay down their arms (Doğan News Agency, November 23). Erdoğan said he believed the time is ripe for a new amnesty and that it could convince many disaffected rebels to surrender. "We are telling those who are on the mountains and have not engaged in bloody terrorist acts: return to your mother and father," Erdoğan said in a speech to members of the ruling party (NTV, December 7).
The military has made it clear, however, that it is determined to destroy any infrastructure in remote mountain camps. Turkish Special Forces could stage pinpoint raids in an attempt to capture or kill rebel leaders. A ground incursion is also not ruled out, but the infantry could come under attacks by small bands of Kurdish rebels who are skillful in the use of improvised bombs—a technique which the rebels have developed in similar fashion to al-Qaeda-linked insurgents in Iraq (Hürriyet, November 21). The rebels are reported to have withdrawn deeper inside the more rugged areas in northern Iraq (Sabah, December 8).
Snowfall could limit the movements of both sides but could especially isolate the rebels in caves. The Turkish military has greater ability to move and operate under harsh weather conditions and with the help of real-time intelligence supplied by the United States, Turkish commandos could find and destroy small pockets of Kurdish rebels in their hideouts with superior fire power. "The operation should be carried out in two dimensions. The camps must be bombed with the help of intelligence reports and the infrastructure in evacuated camps must be destroyed," wrote Mehmet Özcan, an analyst with International Strategic Studies Institution. "The planes should also stage low-altitude flights to demoralize the rebels" (www.usak.org.uk, October 21).
The PKK has some Russian-made anti-aircraft weapons in their hands but they are not likely to pose a serious threat to Turkish aircraft. The PKK, however, could order its militants to stage bomb attacks in big cities to trouble the Turkish government and open another front deep inside the Turkish homeland.
The Turkish military is aggravated not only by the PKK's conventional and asymmetrical warfare tactics, but also by the foreign political support it alleges the organization receives. TSK General Ergin Saygun, deputy chief of the General Staff, complained on December 11 that several European countries were still being too tolerant of the PKK, although the European Union and the United States categorize the PKK as a terrorist organization. The "PKK activities in many European countries are being tolerated," Saygun told a press conference in Ankara. He singled out Denmark, saying that the Danish government still refused to close down Roj TV, a Denmark-based broadcaster seen by Turkey as a mouthpiece for the PKK.
The PKK has been fighting for autonomy in the largely Kurdish southeastern Turkey, bordering northern Iraq, since 1984 when it first launched an armed attack on a military outpost in the southeastern town of Eruh. The TSK is eager to bring the regional conflict to a conclusion in concert with political efforts from Ankara.