Twenty-Four Years of Lukashenka's Rule: What Awaits Belarus in the Future?
Publication: Eurasia Daily Monitor Volume: 15 Issue: 112
By: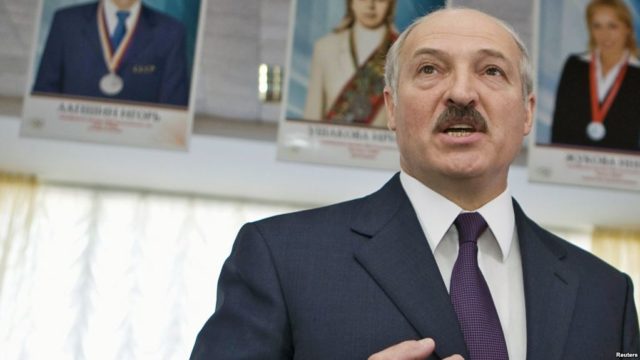 July 10 marked the 24th anniversary of Alyaksandr Lukashenka's tenure as the president of Belarus. Numerous publications reviewed the dynamics of the country's basic indicators over that period and reflected on putative past and possible future alternatives to authoritarian rule there. Interestingly, the term "dictatorship," long used to describe Lukashenka's government, is nowhere to be found even in the opposition-minded media.
From 1994 to 2018, Belarus's population shrank from 10,243,500 to 9,491,800, a pervasive trend found throughout Central-Eastern Europe. After a brief (2012–2016) interlude of modest growth, population decline resumed in 2017. Life expectancy at birth increased from 74.3 to 78.9 years for women and from 63.5 to 68.6 years for men. The annual per capita consumption of alcohol—having reached the all-time maximum of 12.2 liters per person (17.3 liters per person in excess of 15 years of age) in 2011—has since declined to 8.1 liters. The per capita residential space increased from 19.6 to 27 square meters. Crime fell by 28 percent, mostly driven by declines in robbery and theft—i.e., the most frequent criminal offenses—by a factor of 2.2. At the same time, however, drug-related crime increased 3.8 times and is now the second-most-frequent offense. The number of privately owned vehicles increased from 72 to 313 per 1,000 residents (Naviny, July 10).
Do Belarusians need a strong hand at the helm of the state? That was the topic of a July 19 tripartite debate on a talk show broadcast by the Belarusian Service of Radio Liberty. One of the guests was Sergei Nikolyuk, who previously worked for the polling firm Independent Institute for Socio-Economic and Political Studies (IISEPS), which the authorities terminated in 2016 (see EDM, September 7, 2016). According to Nikolyuk, 40 percent of Belarusians in 2009 identified with the opinion that concentration of power in the hands of Lukashenka was good for the country, whereas 36 percent believed it was not. By 2016, only 31 percent supported this notion. However, survey results closely correlated with the state of the economy at the time. Thus, during the financial crisis of 2011, as many as 60 percent of Belarusians believed Lukashenka's grip on power was not a good thing. Yet another underpinning of authoritarian rule is paternalism. In 1996, 82 percent of Belarusians believed the government should be responsible for people's wellbeing, whereas only 17 percent maintained this was something people themselves ought to be responsible for. By 2016, the former percentage had declined to 65, and the latter increased to 30—a positive change, Nikolyuk asserted, that may foreshadow Belarus's eventual gradual transition to a European-style liberal democracy, which has no viable alternative. The second guest, Andrei Dmitriev, who co-chairs the Tell the Truth civic campaign, shares that opinion but admits that "since every society has its own distinctions, there will never be Dutch-style liberalism in Belarus; and the bulk of Belarusian society will always seek protection by the authorities." In turn, Ryhor Kastusyou, who heads the Belarusian Popular Front, believes that Lukashenka's rule actually has not represented a strong hand at the helm of power. Were that the case, Kastusyou argued, Lukashenka would be able to ensure the enforcement of all laws and equality of all citizens before the law (Svaboda.org, July 20).
Concurrently with the above debate, the same and identically worded topic was discussed at the U-Gallery in downtown Minsk, a frequent place of opposition-minded gatherings, usually conducted in Belarusian. During this specific discussion, the pro-government analyst Piotr Piatrousky strongly advocated the view that "any de-concentration of power in Belarus is fraught with external actors increasing their influence on the situation in Belarus. A strong hand allows us to retain independence." Consequently, yet another strong leader will have to succeed Lukashenka, he suggested (Svaboda.org, July 20).
Although coming at this from an entirely different perspective, IISSEPS's founder and longtime head, Oleg Manaev, who now resides and works in Tennessee, seconded Piatrousky's opinion that authoritarianism in Belarus will actually outlive Lukashenka. "I think it is not worth entertaining the illusions that a change of president would necessarily bring about the much longed for […] true democracy, market economy, equal application of law and a path to Europe," Manaev observed. He added, "There is a chance of that happening but one must fight for that. Yes, millions are expecting [some sort of] change but one that is very different from what [I just referred to], so a new strong hand supported by Moscow is entirely possible" (Svaboda.org, July 21). The contrast between those two opinions is notable. Whereas Piatrousky sees an authoritarian in power as the custodian of independence, Manaev referred to an authoritarian leader supported by Moscow. Manaev also emphasized that though he became a political immigrant because of the Belarusian state's repressive attitude toward the IISEPS, he also experienced "a lack of acceptance by the opposition."
Meanwhile, the local Belarusian opposition is experiencing its own doldrums. Valer Karbalevich, a Minsk-based analyst at Radio Liberty, observes, perhaps for the umpteenth time, that while public trust in the "regime" is declining, trust in the opposition is not growing at all, although one would think that the proliferation of the Internet would have undermined the government's monopoly on information. Karbalevich proceeds to describe a vicious circle: A lack of public policy in Belarus translates into a lack of competition, so representative democracy does not work; and just like any athlete will lose muscle tone if not training or competing, so do opposition politicians. Consequently, "overcoming the crisis of the opposition cannot be achieved within the opposition itself… No new coalitions or changes in leadership will help… In order to alter the situation, political change must occur in the country, the regime must liberalize, and politics should return to public life. Without this, the opposition will remain in its ghetto… This vicious circle can only be broken by some unexpected possibly external events, some 'black swans,' " he concludes (Svaboda.org, July 11).
It remains to be seen whether Lukashenka-style rule in Belarus will gradually transform into something else or if, as Karbalevich proposes, it will be roughly jolted out of existence.