Two Crimean Tatar Mosques Torched in Crimea on the Eve of Major Muslim Holiday
Publication: Eurasia Daily Monitor Volume: 10 Issue: 189
By: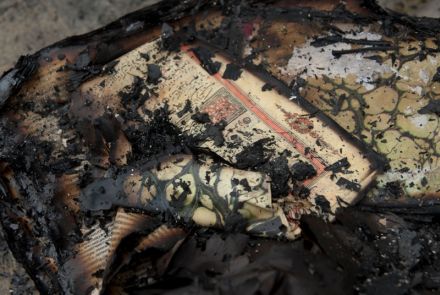 On the eve of the major Muslim holiday Eid al-Adha (Feast of the Sacrifice), two mosques were set on fire in different areas of Ukraine's autonomous region of Crimea. On October 13, the central Crimean Tatar mosque in the town of Saki was burned down by unknown assailants. According to Emirasan Umerov, the imam of the Saki mosque, all six Korans and all the prayer rugs were destroyed, and several rooms, the terrace and the barns were burned down (https://15minut.org/article/sakskim-musulmanam-pridetsja-molitsja-na-ulice-fotoreportazh-2013-10-14-20-16). This mosque was built in 1999. Yet, the construction of its first 32-meter minaret had only been completed in August 2013 (https://qha.com.ua/32meter-high-minaret-constructed-at-central-mosque-of-saki-129258). The estimated damage to the mosque is around 500,000 hryvnia ($61,000) (https://qtmm.org/ru, October 16).
The second arson took place just two days later, on October 15, in the village of Rovnoe (Krasnogvardeyskoe district). The fire started around 6 a.m., only an hour before the morning Eid prayers. Since nobody was there to extinguish it, the fire spread and destroyed all of the mosque's religious books, prayer rugs, as well as the building's internal façade (https://qha.com.ua/na-kurbanbairam-v-krimu-podojgli-esche-odnu-mechet-130821.html). No fire trucks arrived to the area, and Crimean Tatar residents of the village doused the fire on their own (https://qha.com.ua/iste-karasan-camisi-ndeki-yanginin-ayrintilari-129727tr.html). According to the deputy chairman of the Spiritual Administration of Crimean Muslims (DUMK, in Russian), Ayder Ismailov, both incidents were concluded as arson by the State Service of Ukraine for Emergency Situations, following a careful investigation (https://qha.tv/video.php?id=5480&dil=1).
After these incidents, Mufti Aci Emirali Ablaev addressed Crimean Muslims with a call to maintain calm, to show diligence, and not to allow these provocations to pave the way for inter-religious conflict in multi-ethnic Crimea (https://krymtatar.in.ua/index/article/id/11660).
In a press conference on October 16, Crimean parliamentary deputy Refat Chubarov labeled these arsons as terrorist acts and stated that "terrorism is not only defined by killings and hostage taking, but also by anonymous attacks that singlehandedly target one ethno-religious group." He requested that the authorities and the law enforcement agencies properly investigate these events and argued that reluctance to disclose the details of the investigation could only escalate the conflict in Crimea, bringing it to a dangerous stalemate (https://novoross.info/politiks/20755).
Although it is difficult to pinpoint the perpetrators in these two arsons, the chairperson of the Mejlis (de facto Crimean Tatar parliament), Mustafa Dzhemilev argued that the most likely suspects were pro-Russian chauvinist forces who are, in his opinion, working with Russia to destabilize the situation in Crimea. Similarly, the head of external relations of the Mejlis, Ali Khamzin, called these attacks "provocative scenarios with a distinct Russian trace" to further escalate the inter-ethnic, inter-religious conflict in Crimea. This strategy, he believes, is Moscow's attempt to prevent the signing of the Association Agreement between Ukraine and European Union at the upcoming summit in Vilnius on November 28–29 (https://novoross.info/politiks/20715-medzhlisovcy-schitayut-podzhog-dvuh-krymskih-mechetey-v-kanun-kurban-bayrama-chastyu-realizuemogo-v-krymu-provokacionnogo-scenariya-s-yavnym-rossiyskim-sledom.html). Indeed, over the past several months, Russia has been employing a wide variety of means—including by fabricating trade disputes—to pressure Ukraine into joining its Customs Union with Kazakhstan and Belarus at the expense of closer integration with the EU (see EDM, August 15; September 3, 6; October 8, 10, 11, 16).
On October 17, Gennadiy Moskal, the former chairman of the Security Services of Ukraine (SBU) and a former permanent representative of then-president Viktor Yushchenko, indicated that if a similar incident took place in Western Ukraine and if Orthodox Churches were set on fire, the local authorities, the Ministry of Internal Affairs and the Prosecutor's Office would have reacted immediately. Since neither the local Crimean authorities nor the Ukrainian interior ministry gave any official statements or held any special sessions in the parliament on this matter, Moskal argued that their silence could only indicate that the Crimean authorities may have known about the mosque attacks in advance. (https://qha.com.ua/krimskaya-vlast-mogla-znat-o-podjogah-mechetei-moskal-130862.html). Describing Crimea as the most vulnerable region in Ukraine, Moskal added that these arsons were a clear provocation to destabilize the situation in Crimea on the eve of a major Muslim holiday.
In fact, attacks on Muslim religious sites and mosques have been increasing in frequency within the last two years. On Christmas Eve 2010, an arsonist destroyed an unfinished mosque that was being constructed near the village of Mirnoe (ironically, the name of the village means "peaceful"). In September 2011, in the village of Izobilnoe (Korbekul) outside of Alusta, the grave of a Muslim saint, Baba Aziz Devletli, was destroyed (https://www.qirimmuftiyat.org.ua/). On December 1, 2012, the future site for the Cathedral Mosque, Buyuk Cuma Camii, on Yaltinskaya Street in Simferopol, was attacked by unknown assailants who threw Molotov cocktails at the premises. Since the mosque had not been built yet, only the trailer where the security guard was sleeping burned down (https://qtmm.org/qt/qt-haberler/2229-aqmescitte-b%C3%BCy%C3%BCk-cuma-cami-qurulacaq-yerde-patlavlar-y%C3%BCz-berdi). An hour after this attack, approximately 100 other unknown assailants attacked the Crimean Tatar settlement in Molodojnoe (a suburb of Simferopol) and tore down houses built by Crimean Tatars who had been squatting there for a decade. Although the attack in Molodojnoe was filmed and went viral on the Internet, to this date none of the perpetrators have been found (https://www.youtube.com/watch?feature=player_embedded&v=jNmJB8yv5UQ).
According to the Ukrainian Criminal Code under Part 2 of Article 194 (intentional destruction or damage to property committed by arson), if the assailants are caught, they face a prison sentence of three to ten years. However, as indicated by Mejlis head Dzhemilev, after the two recent arsons in Saki and Rovnoe, Crimean Tatars are not so hopeful that the perpetrators will ever be found or punished—no perpetrator who has vandalized a mosque or a Muslim cemetery has ever been caught in Crimea (qtmm.org, October 16).