U.S.-EU Green Steel Alliance Confronts China's Excess Steel Production
Publication: China Brief Volume: 21 Issue: 24
By: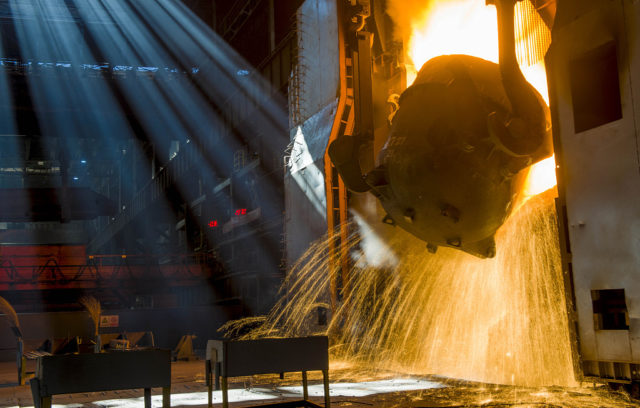 Introduction
After striking a deal to terminate the U.S.-European Union bilateral dispute over steel and aluminum tariffs, U.S. President Joseph Biden hailed the opportunity to curb imports of "dirty steel" from China (Straits Times, October 31). The U.S. and EU jointly agreed to support sustainable steel and aluminum manufacturing and encourage greener production. Under the arrangement, both sides pledged to collaborate to "restrict access to their markets for dirty steel and limit access to countries that dump steel in our markets, contributing to worldwide over-supply" (The White House, October 31).
The issue of China's subsidized overproduction of steel and its resultant environmental damage is not new, although resolving this challenge has often been easier said than done. While China has criticized the latest U.S.-EU arrangement and rejected its "groundless accusations," the central government itself has sought to lower annual steel production in pursuit of President Xi Jinping's pledge to become carbon neutral by 2060 (Xinhua, September 23, 2020). But plans to create a sort of transatlantic "green steel alliance" against China will likely conflict with the World Trade Organization's (WTO) international trade rules (POLITICO, November 15).
Background
China has the highest carbon emissions in the world, contributing 31 percent of the world's carbon dioxide (CO2) emissions in 2020. This year, Beijing's emissions are projected to rise by four percent compared with last year (South China Morning Post (SCMP), November 4). The U.S. ranks second with 14 percent, followed by the EU and India both at seven percent. Two primary sectors are driving China's high emissions levels: coal and steel. The latter has propelled both China's rise on the international stage and the rise in global temperatures.
To comprehend China's impact on the global steel industry, one must understand the sheer scale of its steel production. In 2020, China's output of crude steel reached a record high of 1.07 billion tons, more than all other nations in the world combined (SCMP, May 8). That year, China accounted for 57 percent of the global steel production and became the first country to produce over one billion tons in a single year (World Steel Association, January 26). India and Japan, the second and third largest steel producers, churned out 99.6 and 83.2 million tons, respectively. China's monthly output in May 2021 virtually matched India's annual level from last year, producing a record 99.5 million tons, although this number later fell as a result of Beijing's environment-related controls (National Bureau of Statistics of China, accessed December 15).
The Chinese government's industrial policies are largely responsible for this excess steel production. Despite regularly touting its commitment to market-driven policies, China has continued to heavily subsidize its domestic steel industry. The Chinese Ministry of Industry and Information Technology pledged to raise capacity utilization from 70 percent to 80 percent by 2020 and called for assistance from local governments to support the development of China's steel industry (American Iron and Steel Institute, September 16, 2020). A 2016 report from the American Iron and Steel Institute noted that Chinese steel firms receive loans "based on alignment with central or provincial governments' policy directives, rather than creditworthiness or other market-based factors" (Foreign Policy, May 19, 2020).
China's fragmented steel sector also previously contributed to this excess production, but the increased concentration of the industry has resulted in major improvements on this front. In 2010, most of China's 1,200 steelmakers were state-owned small mills that lacked the requisite technology to address environmental concerns (The Central People's Government of the People's Republic of China, March 21, 2009). This patchwork structure caused China's bigger steel manufacturers to expand production and outcompete smaller firms. By 2020, however, the bulk of China's production came from 25 companies (NetEase, October 31).
Chinese steel factories drove Beijing's air pollution surge in 2016, according to reports from the environmental non-profit, Greenpeace. While air quality in eastern China improved significantly in 2014 and 2015, increased steel and cement output reversed much of this progress, propelled by real estate construction and government infrastructure projects (Greenpeace, December 16, 2016). In 2016, ten Chinese provinces augmented their operating steel production capacity, with the greatest increases in Shanxi and Hebei, which boast some of the most toxic smog in the world.
In addition to environmental problems, the U.S. blames China for the economic woes caused by its steel industry. In a recently published op-ed, U.S. Trade Representative Katherine Tai and Secretary of Commerce Gina Raimondo argued that China's "dumping" of cheap steel and aluminum on the global market at artificially low prices has made it effectively impossible for American steel to compete. Dumping refers to the international trade practice in which a country exports a product abroad at a price lower than what it sells for at home, often to put competing products out of business. The Biden administration's criticisms echo those of its predecessor, which imposed tariffs on such steel and aluminum via Section 232 investigations (Congressional Research Service, May 18). Between January 2015 and October 2016, the U.S. lost 16,000 jobs in the steel industry. The biggest contributing factor to those losses was the excess of subsidized steel and aluminum from China, according to the American Iron and Steel Institute (Cleveland, January 11, 2019).
U.S.-EU Steel Pact
The U.S.-EU joint statement on combatting Chinese overproduction of steel was heavy on criticism but light on details. "There is a political commitment to try this," a European Commission official said, "but it will take a while to figure out what it will look like" (POLITICO EU, November 15). The move came after the U.S. and the EU ended a long-running dispute over steel and aluminum tariffs that dated back to the Trump administration in October. Under the deal, the U.S. will allow increased volumes of duty-free steel and aluminum from EU countries. In return, the EU removed its retaliatory tariffs on American whiskey, power boats and Harley-Davidson motorcycles (Nikkei Asia, October 31).
The U.S.-EU arrangement to limit Chinese steel imports was not without precedent. In 2017, the U.S., EU and Japan pledged to rein in excess steel production (Office of the US Trade Representative, December 12, 2017). In 2016, the U.S., Canada, EU, Japan, Mexico, South Korea, Switzerland and Turkey issued a joint statement that urged other nations to act "quickly" to reduce global steel output (NPR, April 20, 2016). Yet, both previous statements were mostly symbolic, as resolving the problem of steel overproduction is virtually impossible without buy-in and cooperation from China.
The Tai-Raimondo editorial sheds additional light on the new clean steel pact. Under the deal, the U.S. will allow a sustainable amount of steel and aluminum imports from the EU. In addition, both sides will initiate negotiations on the world's first "carbon-based sectoral agreement on steel and aluminum trade" (Pittsburgh Post-Gazette, November 28). In other words, the U.S. and EU will limit imports of steel from countries like China that is not produced using environmentally safe methods. The production of "dirty steel," which is widespread in China, relies on low-cost, highly carbon-intensive process that burns large volumes of coal, which spews CO2 into the atmosphere.
"The United States produces some of the cleanest steel in the world, while China produces some of the dirtiest," Tai and Raimondo observe (Pittsburgh Post-Gazette, November 28). Already, U.S. and EU steel producers tend to be more environmentally friendly than their Chinese counterparts, and are actively working to decarbonize the steel production process, partly by utilizing cleaner fuels like hydrogen and natural gas. While more environmentally sustainable, this technology is expensive. Discussions on the agreement will likely take several years to come to fruition.
U.S.-Japan Talks
As the EU and U.S. agreed to shelve their bilateral dispute over steel and aluminum tariffs to tackle the common challenge posed by China, the U.S. and Japan have also agreed to initiate discussions on the same subject. In a statement, Tai and Raimondo announced their intentions to discuss how to "hold countries like China that support trade-distorting non-market policies and practices to account" with their Japanese counterparts (Office of the US Trade Representative, November 12). Indeed, Tokyo shares similar concerns over Beijing's massive subsidization of strategic domestic industries like steel, which has led to allegations of dumping from Washington and Brussels. Japanese officials had planned to meet with their American and European counterparts on the sidelines of the WTO ministerial conference in Geneva, Switzerland, before it was postponed over concerns of the new Omicron coronavirus variant (The Japan Times, November 27). Nevertheless, Japan has also taken a more pragmatic, less combative approach than some of its Western counterparts and sought to work with China to resolve the issue of overproduction. In June, officials from the Beijing-based China Iron and Steel Association met with representatives from Nippon Steel, the world's third-largest steelmaker. Both sides discussed controlling production capacity and regulating pricing mechanisms, among other topics (Global Times, June 9).
To make progress on the China issue, both the U.S. and Japan will first need to set aside their own bilateral trade disputes. In 2018, the Trump Administration imposed duties of 25 percent on steel and ten percent on aluminum imports from Japan as part of an effort to revive U.S. domestic manufacturing in the industrial Midwest. The executive order was not limited to Japan, levying tariffs on every country except Canada and Mexico. While Tokyo did not adopt retaliatory tariffs like those of the EU, it has repeatedly asked for the situation to be resolved (Nikkei Asia, November 15).
Potential WTO Concerns
If the U.S., EU, and Japan successfully negotiate a historic first alliance against "dirty" steel by curtailing imports, the agreement will likely encounter resistance at the WTO where such import restriction practices will likely constitute discrimination. Others assert that this transatlantic pact could be construed as a global steel cartel that uses climate change as a pretext to disguise Washington's true ambitions of bringing back jobs to domestic steel workers left behind by globalization (POLITICO, November 15).
Reactions from Chinese media outlets and think tanks underscore such concerns. The nationalistic Global Times criticized America's use of "discriminatory barriers" and described the proposed alliance as a "pipe dream" (Global Times, November 3). Other state-backed news coverage of the announcement linked the green steel alliance to the Trump administration's Section 232 tariffs that drew "strong opposition domestically and abroad" (Xinhua News, October 31). A recent report from the Chongyang Institution for Financial Studies, a Beijing think tank, urged the Chinese government to pursue "all possible cooperation" with its global trading partners to combat initiatives like the U.S.-led pact (South China Morning Post, December 3).
The WTO provides a limited number of reasons under which nations can receive exemptions from its free trade rules. One eligible measure is if it relates to the "conservation of exhaustible natural resources" (WTO, accessed November 30). Under this line of reasoning, discriminatory tariffs against China's coal-based steel production to promote increased outputs of "clean" steel should qualify. Regardless, a successful agreement to limit imports of Chinese steel would certainly elicit vehement protests, a slew of WTO lawsuits, and potentially retaliatory tariffs from Beijing.
Conclusion
The success of a global alignment between the U.S., EU, and Japan against excess production of coal-based steel might come down to America's underlying intentions. If Washington wields such discriminatory tariffs as yet another battering ram in the escalating battle of great power competition against China, it will incur counterproductive scrutiny at the WTO and could decrease the appeal of the pact to other countries.
On this issue, the Biden Administration must navigate a delicate balancing act. The administration must emphasize the geostrategic importance of such a pact in countering China so as to increase the palatability of a green steel alliance to the domestic public. At the same time, Washington needs to highlight the ability of the alliance to reduce carbon emissions and restore economic parity to the strategic, although albeit distorted steel market to increase the deal's attractiveness on the international stage. Until then, the rest of the world can do little else but wait and see whether China will clamp down on its domestic steel manufacturers, restrict excess production to avoid flooding the global market and embrace cleaner technologies.
William Yuen Yee is a Research Assistant for the Columbia-Harvard China and the World Program. He has previously written for the Center for Strategic and International Studies, SupChina, the China Story, and the SOAS China Institute.