U.S. REVIEWING OPTIONS IN CENTRAL ASIA
Publication: Eurasia Daily Monitor Volume: 2 Issue: 153
By: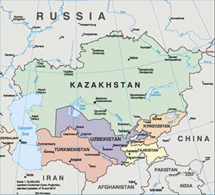 Faced with restrictions on the use of its air base in Uzbekistan and, now, an eviction notice (see EDM, August 4), the United States is looking for alternative or substitute basing options in the region. An active search had begun in the wake of the Andijan events, as the deepening political rift between Washington and Tashkent jeopardized the American military's use of the Karshi-Khanabad air base. Now that the United States has been given six months to close that base (or, hypothetically, to renegotiate arrangements with Uzbekistan), basing options in other Central Asian countries acquire growing importance, as does the need to reorder the political priorities in U.S. bilateral relations with some of those countries.
U..S. Secretary of Defense Donald Rumsfeld discussed a possible transfer of some operations from Karshi-Khanabad to Manas in Kyrgyzstan during his July 25-26 visit there. Rumsfeld succeeded in negotiating Kyrgyz consent in principle to an indefinite prolongation of American use of the Manas air base, despite Russian and Chinese pressures on Kyrgyzstan to set a deadline and suggestions that it be a short-term one. Bishkek proposes to Washington to revise the terms of the 2001 agreement on the Manas base, beginning with the financial terms, so as to increase significantly the compensation to Kyrgyzstan.
In that context, a transfer of some operations from Karshi-Khanabad to Manas seems acceptable to official Bishkek. Following Uzbekistan's request to the U.S. military to leave that country, Kyrgyz Security Council Secretary Miroslav Niyazov declared that Washington has not yet officially submitted a transfer proposal to Bishkek, but that Bishkek would consider such a proposal. Some leaders of U.S.-supported political parties openly call for a stable U.S. military presence as a matter of national interest for Kyrgyzstan. According to some local reports, the U.S. military is already moving some equipment from Uzbekistan to Kyrgyzstan (Interfax, August 4; Institute for War and Peace Reporting [London], report no. 399, July 27).
In Tajikistan, however, the Defense Ministry's chief spokesman hastened to discount the possibility of American use of the Ayni airfield, which is situated close to Dushanbe. According to the spokesman, the United States has not made an official request, Tajikistan is not considering the issue, the airstrip and installations are unable to service flights and are undergoing reconstruction, and — for a clinching argument — Russia's military intends itself to use the Ayni airfield At present, only Tajik Defense Ministry helicopters are stationed at Ayni. The United States used that airfield for refueling American planes that operated in Afghanistan in 2001-2002, but Russia reclaimed it for itself during President Vladimir Putin's 2004 visit to Tajikistan (Avesta, Interfax, August 4).
Moscow does not seem to object to the small French and German military presence in Uzbekistan and Tajikistan, respectively. A German contingent is stationed at the Termez airfield and military base in Uzbekistan, the key logistical point on the border with Afghanistan for German and NATO forces operating in the north of that country. In Germany, left-leaning and pacifist opinion calls for abandoning the Termez base to protest Uzbekistan's crushing of the Andijan rebellion. For their part, German mainstream-conservatives caution against such a self-defeating move (Die Tageszeitung, Frankfurter Allgemeine Zeitung, August 1).
A small French Air Force contingent is stationed at the Dushanbe airport. On August 4, six Mirage planes arrived there, carrying a 400-strong French unit en route to Afghanistan to strengthen coalition forces during the period of parliamentary elections there. An agreement signed during French Defense Minister Michèle Alliot-Marie's July 21-24 visit to Tajikistan authorizes a temporary increase in the French contingent at Dushanbe airport and additional servicing of French planes there. A small French contingent at the U.S.-led base Manas in Kyrgyzstan is also being slightly increased in order to support coalition operations in Afghanistan during the elections (Avesta, Interfax, August 4).
Facing a strategic loss in Uzbekistan, Washington on August 1 made an abrupt, if overdue, move to improve relations with Kazakhstan. In a long letter made public that day, and glowing in many passages with praise for Kazakh President Nursultan Nazarbayev's policies, President George W. Bush termed Kazakhstan a "strategic partner of the United States in Central Asia." Noting Kazakhstan's anti-terrorist efforts in Central Asia in cooperation with the United States, Bush's letter announces, "We want to expand that cooperation." Bush goes on to underscore Kazakhstan's troop contributions to U.S.-led operations in Afghanistan and Iraq, Kazakhstan's "impressive economic performance," and the country's internal political stability, by all of which "Kazakhstan has set an example for other states in the region." Further democratic reforms and a free and fair presidential election should give Nazarbayev a strong mandate for another presidential term, Bush concludes in his letter, delivered in Astana three days after Uzbekistan's "eviction notice" (Kazakhstan news agency, Khabar news agency, August 1).
Whether the strategic partnership with Uzbekistan is lost or — as still seems possible — retrieved, a reordering of Washington's policy priorities in Central Asia seems necessary.