UK Pressures Leading Jihadi Forum and Prominent Saudi Dissident
Publication: Terrorism Focus Volume: 2 Issue: 16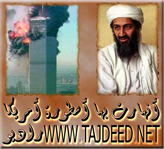 Fallout on the jihadi Internet forums from the London bombings continues. After the closure of the al-Qal'a forum (see Focus, Volume II, Issue 15) attention has moved to the prominent al-Tajdeed forum [www.tajdeed.org.uk] run by Saudi dissident Dr. Muhammad al-Massari.
Participants to the forum noted the comments by Patrick Mercer, the Conservative homeland security spokesman, in the UK Sunday Times article of August 14 that the activities of the Tajdeed forum put al-Massari "in the frame for deportation and to have his website closed." The article detailing the role of Tajdeed's founder Muhammad al-Massari in running an "urban warfare website," was translated into Arabic in full on the Tajdeed forum and the Syrian forum Minbar Suriya al-Islami. The article highlighted how the forum had posted videos of a Beginner's Guide for the Mujahid, and discussions on beheadings, as well as what is introduced as "a thunderclap for America," the top ten films of insurgents' attacks on Westerners in Iraq [www.tajdeed.org.uk and www.nnuu.org/vb].
Dr. al-Massari has been living in London since 1994, from where he has campaigned for the replacement of the Saudi royal family by an Islamic regime. However, he has also long courted controversy from his frequent statements declaring British troops in Iraq as "legitimate targets." Al-Massari narrowly survived an attempt to deport him in 1996. Since this failed attempt, his Tajdeed forum has continued to sail close to the wind with its loose attitudes to the material being posted on its site. Last year he described Tony Blair as a legitimate target for assassination and in November footage of a suicide attack on a UK Black Watch patrol in Iraq was posted to the forum. This set off an investigation by anti-terrorist police who seized computer equipment in a raid on properties linked to the Saudi dissident. But again the incident did not appear to affect the forum's policy. In June the forum encouraged its participants to share in a publicity campaign on its behalf. As a "gift to Tajdeed members," a member identifying himself as 'Abu Salih' presented a number of colour posters for use as 'signatures' or calling cards that fellow Tajdeed participants can use when writing to other chat forums, "in the hope that this will be a thorn in the throats of the infidel and their tyrant aides." The posters include images of famous mujahideen leaders, such as the imprisoned blind Shaykh Abd al-Rahman, the Chechen fighters Khattab and Abu al-Walid, the Algerian leader of the GSPC Abu Mus'ab Abd al-Wadud, the deceased Saudi al-Qaeda leaders Abd al-Aziz al-Muqrin and Amir al-Anazi and various images of Osama bin Laden, Ayman al-Zawahiri and Abu Mus'ab al-Zarqawi, all with the Tajdeed name printed on the base.
Most explicit of these calling cards was the illustrated advertisement for Tajdeed's radio channel, consisting of an image of the burning Twin Towers in New York adjacent a portrait of Bin Laden and the inscription: 'Thus crumbled the legend of America — Radio www.tajdeed.net.' The affiliated Radio al-Tajdeed has a colourful history of carrying broadcasts of terrorist leaders, such as Abu Mus'ab al-Zarqawi and propaganda material in support of Bin Laden and violent jihad. It has been raided on several occasions by the British authorities, once on May 6 this year in connection with an investigation of suspected ties with the kidnappers of an Australian national inside Iraq, and the last time three days after the first London bombings. On this occasion the Tajdeed forum also temporarily disappeared, following its posting of a claim for the bombings made by the Abu Hafs al-Masri Brigades (see Focus, Volume II, Issue 13). After this it bullishly announced that the interruption was due to a 'technical failure … and not because of the intervention of the authorities.' According to ClandestineRadio.com Radio al-Tajdeed is transmitted to the Middle East over the French Eutelsat Hotbird satellite from studios in London, and then sent to either France or Holland from where they are relayed by satellite for broadcast in Iraq and Saudi Arabia [www.clandestineradio.com].
UK politicians are stepping up their rhetoric to ban the radio site permanently. Labour MP Andrew Dismore has been seeking action against the Saudi dissident since 1998 and now his voice is joined by Patrick Mercer, who "strongly suspects that [al-Massari] would be a prime candidate to be deported." Al-Massari himself appears to remain unfazed by the fuss, insisting that since his station was not actually broadcast in Britain, then what he says on it has nothing to do with the UK government.
On August 18 an exchange of views underlined the problems the forum administrators are likely to face, even should they attempt to moderate its tone. One member, mindful of the Sunday Times article, advised the administrator Abu Majid that "the enemy lies in wait for us everywhere" and that it would be better for them to "remove as quickly as possible any subjects promoting violence to prevent any negative consequences" and to "avoid the fate of the al-Qal'a forum [which was shut down by the UK authorities]." But this was angrily reposted by other members, arguing that "it is not praiseworthy violence against the enemies of Faith" that closed al-Qal'a "but enlightened Islamic thought." A further angry comment asked: "What violence? Is blowing up Americans in Iraq violence? Or killing collaborators? Or mujahid declarations, or promotion of jihad? are they violence too? … If you don't like the sight of blood then stay at home … Are we to go soft on our Faith just so that the forum isn't closed down?"
But there was also a note of resignation. Muhammad al-Massari, it was argued, was not likely to be worried by this at all: "Given that he has chosen a path towards God's countenance, God will not forsake him. Know then that we will be with you in our hearts and shall not let up in offering ourselves for you with our bodies!" Nevertheless, despite the bluster the loss of this popular and prestigious forum will be keenly felt, even if there is little that could be done in return. "If this were to happen," one participant warned, "we would remind [the English] of the black history of Britain concerning our people in the Arabian Peninsula … after the English kept us in ignorance and enslaved us to the decadent al-Salul (the Saudi dynasty), and then to the Americans who wish us to remain under their dominion … We hold Britain fully responsible for what is happening to us today" [www.tajdeed.org.uk].