Ukraine and Azerbaijan Map Out LNG Project Via Georgia and Black Sea
Publication: Eurasia Daily Monitor Volume: 8 Issue: 179
By: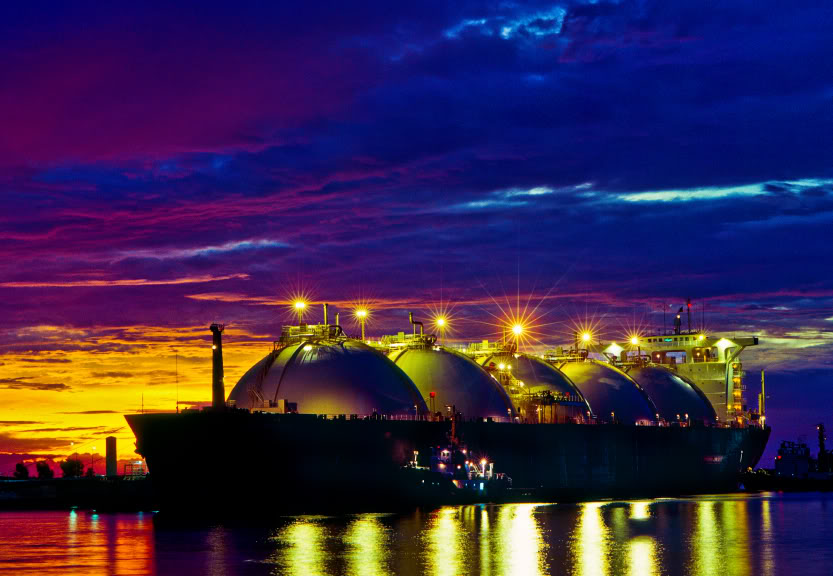 To reduce its dependence on expensive Russian natural gas, Ukraine proposes to import Azerbaijani liquefied natural gas (LNG) via Georgia and across the Black Sea to Ukraine. Recent gas discoveries in Azerbaijan, and the reactivation of the Turkmenistan-Azerbaijan gas pipeline project, encourage a growing number of consumer countries to turn to Azerbaijan as a gas producer and transit country. Kyiv's proposal to Baku underscores this trend.
Ukraine's State Agency for Investments and Management of National Projects and Azerbaijan's State Oil Company are creating a joint company to finance and carry out a feasibility study, based on Ukraine's proposal. Initialed during the international gas conference just held in Baku, the agreement envisages incorporating the joint company by November.
This project would involve building a pipeline from Azerbaijan to Georgia's Black Sea coast; constructing a gas liquefaction plant (as Azerbaijan plans already) on the Azerbaijani-owned site of the Kulevi oil export terminal on Georgia's coast; and shipping the LNG from Georgia to Ukraine in sea tankers that would have to be procured. All this presupposes shared investments in transportation and processing.
Ukraine expects such LNG shipments to start by 2014, in volumes corresponding with up to 2 billion cubic meters (bcm) of gas annually at first, rising up to 5 bcm annually from 2016 onward. This concept is largely a mirror image of the proposed AGRI (Azerbaijan-Georgia-Romania Interconnector), both upstream and for most of the export route. The destination point (likely Odessa/Pivdenny versus Constanta) is the main difference. Ultimately, it will be up to Azerbaijan to determine whether these two propositions are mutually exclusive or, on the contrary, susceptible to being merged into a single common project. This would depend on timely availability of gas volumes from Turkmenistan. Baku favors combining the two, with an aggregate volume of 10 bcm per year for liquefaction in Georgia and re-gasification in Ukraine and Romania.
The Ukrainian government plans to build an LNG reception terminal and re-gasification plant on its territory, as a national project (not bilaterally with Azerbaijan). The government proposes to put these capacities into operation by 2014, with plans to reprocess LNG into 5 bcm of gas annually in the first stage, rising to 10 bcm per year from 2016 onward. Ukrainian Energy Minister, Yuriy Boyko, had aired this idea earlier (even before returning to government in 2010), proposing to connect Ukraine via the Black Sea to global LNG producers, such as Qatar. More recently, Boyko visited Baku several times to promote an LNG project with Azerbaijan (the latest on September 1). Reception capacity on the scale just proposed seems intended to allow LNG imports from multiple sources.
Endorsed by President Viktor Yanukovych, the LNG project enjoys the status of a presidential project, implying priority in the allocation of investment resources. Five possible construction sites are currently being considered: two coastal sites in the Mykolayiv Region, two also onshore near Odessa/Pivdenny, and an offshore site located there. A new pipeline for re-gasified LNG will be built overland, to connect the terminal with the internal gas distribution network. Investments are projected at $2.5 billion for the construction costs overall, on preliminary estimates.
The Spanish consultancy, Soluziona Ingenieria y Construccion Industrial (part of the Union Fenosa conglomerate), has won the Ukrainian State Agency's open tender for a preliminary feasibility study of the LNG project. The consultancy is expected to deliver the study within four months of being declared the winner, i.e. by January 2012. At that point, Ukraine would announce a tender to select the project company. The State Agency's head, Vladyslav Kaskiv (the erstwhile revolutionary leader, who has since matured into a state-builder), supervises this project for the government. Kyiv is inviting top Western companies (apparently including ExxonMobil, Chevron, Halliburton) to consider this project and participate in the tender for selection of the project company (Trend, 1News.Az, Interfax-Ukraine, September 20, 21).
Ukrainian officials expect the price of Azerbaijani gas to be de-coupled from the oil price, thus less expensive than Russian gas for Ukraine. By their initial assumptions, the price of Azerbaijani LNG would translate into approximately $300 per one thousand cubic meters of the re-gasified product. Ukraine currently pays approximately $400 per one thousand cubic meters of Russian gas (FSU Oil and Gas Monitor, June 22).
The Ukrainian government is embarking on this project with both optimism and a compelling sense of urgency. Kyiv needs this project on the table at this juncture, for at least a degree of counter-leverage to Moscow in the decisive rounds of gas negotiations. Azerbaijani officials, however, sound more cautious. While clearly interested in the project, they emphasize the need for further analysis of investment costs and gas volume availability from both Azerbaijan and Turkmenistan. The only certainty is that this project adds to Azerbaijan's array of options, both as a gas producer and a transit country for European gas markets.