Ukraine and the European Union at the Vilnius Summit and in Its Aftermath (Part One)
Publication: Eurasia Daily Monitor Volume: 10 Issue: 216
By: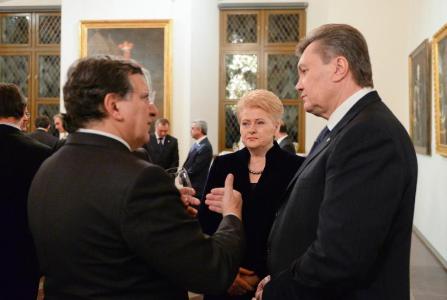 Ukraine failed to sign the Association Agreement (AA) and Deep and Comprehensive Free Trade Area (DCFTA) agreement with the European Union at the Vilnius summit (November 28–29) under the EU's Lithuanian presidency. The negotiations had been completed and the documents initialed in March 2012, ready for signing by President Viktor Yanukovych at Vilnius. By mid-November, however, it had become clear that the Ukrainian government would not, and perhaps could not, sign at this time. Russian economic pressures on Ukraine in the run-up to the Vilnius summit, Ukraine's own fiscal crisis, which exacerbated its vulnerability to Russian pressures, panicking interest groups within Ukraine itself, and the EU's oft-declared refusal to consider a "plan B" (or lack of means to implement one) were the main factors that derailed the signing at Vilnius.

Russia threatened to impose heavy economic sanctions on Ukraine if the latter proceeded with the signing. Moscow actually gave Kyiv a first taste of economic pressures from August onward, blocking certain Ukrainian products (rolling stock, steel pipes, confectioneries) from the Russian market (see EDM, August 15, September 3, October 10, 16). The Vilnius summit showed that the European Union had made no contingency plans to respond to such Russian actions. The EU has no resources readily available (if at all) to mitigate the impact of even the first phase (let alone the threatened follow-ups) of Russia's economic warfare against Ukraine.

Meanwhile, the Ukrainian government re-calculated the free trade agreement's early impact on Ukraine's own production capacities. It concluded that, in the short term at least, some of Ukraine's major industrial sectors could not survive in competition with European producers on the Ukrainian market (let alone on European ones), necessitating a transitional period for adaptation to European product quality standards. Either European competition in a DCFTA regime, or Russian retaliation to the signing of the DCFTA, could in the short term inflict trade losses, enterprise closures and massive job losses in Ukraine, the government concluded. These conclusions were inevitably influenced to some extent by political considerations, reflecting the concerns of industrialists from Ukraine's eastern regions (the governing party's power base). Industrialists' associations, enterprise directors, and trade union representatives asked Yanukovych and the government, in the run-up to Vilnius, to postpone the signing (Dzerkalo Tyzhnia, November 16; UNIAN, November 19).

Setting the stage for the Vilnius denouement, Russian President Vladimir Putin received Yanukovych in Sochi and Moscow on October 26 and November 9, and Russian Prime Minister Dmitry Medvedev received his Ukrainian counterpart, Mykola Azarov, in St. Petersburg on November 20. In those secret discussions, Russia's leaders apparently warned of punitive economic measures across the board. They also, apparently, intimidated Ukraine's leaders into asking the EU to re-negotiate the AA's and DCFTA's terms in a trilateral format that would include Russia (see below). As Azarov summed up Putin and Medvedev's message, if Ukraine signed the agreements at Vilnius, "it would then become impossible to discuss trade and economic relations [with Russia]" (Interfax-Ukraine, Kyiv Post, November 26).

On November 21 (one day after the St. Petersburg meeting) the Ukrainian government announced that it was suspending the preparations for signing the agreements with the EU at Vilnius, pending a reconsideration of the agreements (Interfax-Ukraine, November 21). Yanukovych telephoned President Dalia Grybauskaite of Lithuania (the EU summit's official host) to inform the EU that "Ukraine could not withstand the economic pressure and blackmail," as Grybauskaite's office summed up Yanukovych's call (BNS, November 22).

In his speech at the Vilnius summit's plenary session, Yanukovych reaffirmed that "the European choice remains Ukraine's strategic direction of civilizational development," and that Ukraine "intends to sign the Association Agreement [with the DCFTA] in the near future." He appealed for EU assistance to mitigate the impact, not only of Russian retaliatory measures, but also of the opening of Ukraine's market to European exports during a transitional period after the agreements' signing. However, Yanukovych blundered into presenting the EU with a list of costly programs (itemized and numbered) of urgent assistance to Ukraine, such as: sectoral budget support; resumption of International Monetary Fund (IMF) lending "on acceptable terms" (to Ukraine); improved access for certain Ukrainian export products to EU markets (in advance of the DCFTA's signing and irrespective of it); EU and international financial institutions' support for upgrading Ukraine's gas transit system in the EU's interest, as well as blocking Russia's South Stream pipeline project (not named directly, but by circumlocution in Yanukovych's speech); and joint work to complete the EU-Ukraine visa liberalization action plan (visa-free travel for Ukrainian citizens) as soon as possible (Ukrainian presidential office press release, November 29).

In the same speech, Yanukovych called for trilateral negotiations—EU-Ukraine-Russia—toward a coordinated plan of actions that would allow the signing of EU-Ukraine agreements without putting Ukraine-Russia trade and economic relations at grave risk.

Yanukovych's pleas for economic assistance were received coldly at the Vilnius summit. His government's U-turn had created a political atmosphere that made it hard for European leaders to consider even the defensible elements in those pleas. Moreover, the proposal to involve Russia in re-negotiating an association agreement between the EU and a partner country would allow a Russian veto on the EU's partnership policies in its Eastern neighborhood. This would be unacceptable to the European Commission and probably to almost all EU member countries.