Ukraine Claims Energy Losses for Crimean Annexation Reach $300 Billion
Publication: Eurasia Daily Monitor Volume: 11 Issue: 141
By: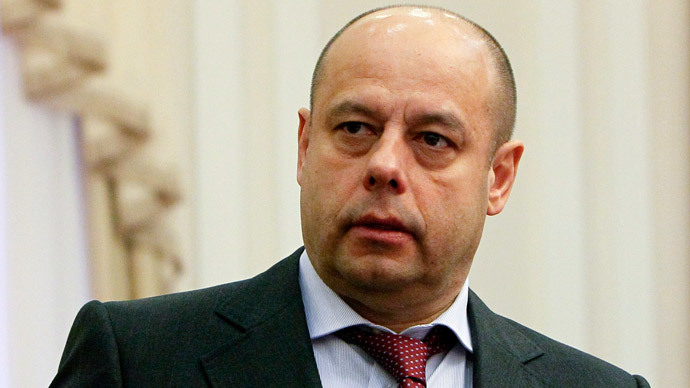 On July 28, Ukraine's Energy and Coal Industry Minister Yuriy Prodan remarked that Russia's March 18 unilateral annexation of Crimea has caused massive energy asset losses to Ukraine (uapress.info, July 28). Prodan said, "Taking into account all the energy facilities in Crimea, we are talking about the loss to Ukraine of billions of dollars in the energy sector. We estimated about $300 billion" (Birzhevoi Lider, July 28). According to the Ukrainian energy minister, the Black Sea shelf contains about 2.3 million tons of oil equivalent, which translates to two trillion cubic meters of natural gas, adding that when Ukraine's state-owned Chornomornaftogaz energy firm was seized by Russian authorities, "we immediately lost 2 billion cubic meters [bcm] of gas in storage."
When Russia annexed Crimea, it acquired not just the Crimean landmass but also a maritime zone more than three times its size, with the rights to subsea mineral reserves (see EDM, March 21). Ukraine had come to see development of its Crimean and Black Sea offshore hydrocarbon resources as a valuable financial asset that could attract foreign investment, generate revenue and lessen the country's dependence on natural gas imports from Russia. Ukraine's economy relies on natural gas for 40 percent of its energy.
In September 2013, a consortium of ExxonMobil, Shell, OMV Petrom and Nadra Ukrainy signed a production sharing agreement (PSA) for the 6,447-square-mile Crimean Skifska offshore block, pledging to invest $400 million in the initial exploration phase together with a signature bonus of $325 million in a deal worth more than $12 billion. Geologists predicted that the Skifska field contained up to 200–250 bcm and could produce up to 10 bcm of gas annually within 7–8 years (Interfax, September 26, 2013; GEOExPro, Vol. 10, No. 1, January 2013). And in November 2013, Ukraine signed an offshore oil and gas PSA with Italy's Eni and France's EDF, for a 540-square-mile western Crimean Black Sea offshore block (Kyiv Post, November 27, 2013). The deal included the Subbotina oil license and the Pry Kerch block where several oil and gas prospects have been identified and where Chornomornaftogaz produced 80,400 barrels per day (bpd) (EIA, March 2014; GEOExPro, Vol. 11, No. 3, May 2014).
At the time of Crimea's annexation, the identified oil and gas blocks in Ukraine's Black Sea territorial waters were Prikerchenska, Skifska, Pallace and Foros. (shalegas.in.ua, March 11, 2013). Crimea was third in Ukrainian natural gas production after the Kharkov and Poltava regions, and foreign companies interested in Crimea's offshore hydrocarbon assets included ExxonMobil, Royal Dutch Shell and Petrom (RBK-Ukraina, September 25, 2013).
The development of the Crimean offshore hydrocarbon assets was delayed by Ukraine's fiscal problems, which had brought the country close to economic collapse. Like a number of countries in the post-Soviet space, corruption is a major problem, where a handful of Ukrainian oligarchs reportedly control more than a fifth of Ukraine's GNP (Kommersant as cited in Bloomberg, December 19, 2013). The corruption also impacts the country's energy sector, as "gas smuggling" and profiteering from subsidized household fuel increasingly became a major source of funds (see EDM, January 20, 2009; ukrweekly.com, April 24, 2005; GEOExPro, Vol. 11, No. 3, May 2014). Energy also contributed to Ukraine's overall trade deficit. Over 60 percent of Ukraine's national gas consumption is imported from Russia at $485 per thousand cubic meters (tcm), a price that Ukraine feels is discriminatory, since Belarus paid $166 per tcm in 2013 and Germany—$379 per tcm (Gazprom, Izvestia, Eurostat, Eurogas, Swedish Foreign Ministry, Ukrainian Government, Zautra.by as cited by RFE/RL, July 4).
When Ukraine lost control of its Crimean offshore deposits, the local authorities transferred Chornomornaftogaz assets to Russian state-owned Gazprom. Houston-based energy analyst firm Douglas-Westwood predicts this will lead to Ukraine losing out on approximately 117 million barrels equivalent of gas production over the next seven years as 50 offshore wells would have been drilled and completed had Chornomornaftogaz's Crimean offshore PSA production not been halted (Douglas-Westwood, June 2).
The question is now whether Ukraine will seek international arbitration over its claims against Russia. If so, Moscow is looking at an ominous precedent. On July 28, the Permanent Court of Arbitration in The Hague ruled that when Moscow dismantled Yukos and auctioned off its main assets in 2004, which were bought by state-owned firm Rosneft, this violated the 1991 international Energy Charter. The international court ordered Russia to pay $50 billion to the plaintiffs, former Yukos shareholders Group Menatep Ltd (GML), who had sought damages of $114 billion (Kommersant, July 28.) Ukraine's $300 billion claim is exaggerated, especially as it includes estimates for lost future production. Moreover, at the time of Crimea's annexation, Chornomornaftogaz's sole Crimean offshore production had been just 80,400 barrels per day (EIA, March 2014). In all, the company produced only slightly more than five percent of Ukraine's overall natural gas production. Nevertheless, if Ukraine takes its Crimean energy case to the Permanent Court of Arbitration and wins, its settlement could dwarf the Yukos one.