Ukraine Enlists German Effort to Upgrade Gas Transit System
Publication: Eurasia Daily Monitor Volume: 9 Issue: 126
By: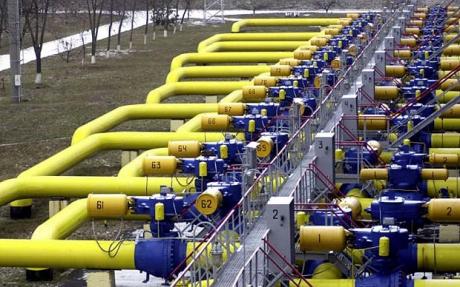 On July 2 in Kyiv, Naftohaz Ukrainy and Ferrostaal Industrieanlagen signed a memorandum of understanding (MOU) for a pilot project to upgrade Ukraine's gas transit system. That system carries more than 70 percent of Russia's gas exports to Europe at present. Germany's powerful lobby for business with Russia, the "German Economy's Eastern Commission" (Ostauschuss der Deutschen Wirtschaft), has promoted this upgrade project in Kyiv.
The Ostauschuss executive director, Rainer Lindner, as well as Bundestag deputies and Ferrostaal representatives, had presented this project in Kyiv during several visits in May and June. The German visitors discussed the project with President Viktor Yanukovych, Prime Minister Mykola Azarov, Energy Minister Yuriy Boyko and other Ukrainian officials. This paved the way for the July 2 signing of the MOU. The Ukrainian leaders offered assurances of state support to Ferrostaal and any German companies that would join it to upgrade Ukraine's gas transit system (www.ostauschuss.de; www.wellmann-berlin.de).
If successful (as seems likely), the pilot project would be extended to Ukraine's gas transit system as a whole. In this case, the Ostauschuss' initiative could save Ukraine's system from an outright takeover by Gazprom, eliminate the threat of Gazprom's South Stream bypass pipeline project (opposed by both sides), and potentially lead to the formation of a Ukrainian-Russian-"European" (or German) tripartite consortium to operate an upgraded Ukrainian transit system.
The overhaul is intended to proceed from compressor stations and turbines. It aims to extend these installations' operating life by another 15 to 20 years, raise their efficiency, substantially reduce the consumption of technical gas that powers these installations, and increase the overall gas volumes pumped through the pipelines. The German effort is starting with a pilot project to upgrade the compressor station with seven pumping units at Bar (Vynnytsya oblast) on the Soyuz gas pipeline. Built during the 1970s, running 1,570 kilometers on Ukrainian territory and equipped with 12 compressor stations, the Soyuz pipeline has a throughput capacity of 26 billion cubic meters (bcm) annually. Deutsche Bank is prepared to finance the test project at Bar (Interfax-Ukraine, Natfohaz Ukrainy press release, UBO, July 2).
Naftohaz vice-president Vadym Chuprun and Ferrostaal managing director Marc Neumann signed the MOU in Prime Minister Azarov's presence. As Ferrostaal's Neumann remarked, this is Ukraine's first serious practical step to cooperating with Western partners for overhauling its transit system. A group of German experts attending the event came up with a cost estimate of $5.3 billion for overhauling Ukraine's gas transit system as a whole. This assessment is broadly consistent with previous ones by Ukrainian and European authorities, whose estimates have ranged from $3.5 billion to $6 billion during the last three years.
At the July 2 signing event, the Germans strongly argued that Gazprom's South Stream project can be as much as ten times more expensive, compared with modernizing Ukraine's transit system. They also reckoned that investments in modernizing the Ukrainian system could be recouped within a few years, sooner than Gazprom could build the South Stream bypass around Ukraine. Both sides share the view that upgrading Ukraine's transit system is the most economic of all existing options, and far more economic than South Stream. Those remarks indicate that both sides (clearly not only Kyiv) regard South Stream as highly undesirable, and that Ukraine, with German support, must win a race against Gazprom's bypass project.
German views regarding South Stream are obviously not uniform. Wintershall, the main German ally of Gazprom, is a minority shareholder in the project to build South Stream's seabed section in the Black Sea. But others (Germans) are bound to regard the Ukrainian transit system and the implications of South Stream from a different perspective. As a prime consumer of Russian gas, Germany can only be interested in a Ukrainian transit route that is technologically reliable, and not vertically controlled by the gas supplier in a discretionary way; that would further strengthen Gazprom's leverage on Germany and other consumer countries. The South Stream bypass threat and the Ukrainian transit system's slow degradation expose that system to takeover by Gazprom. From a German perspective, it makes far more sense to upgrade the Ukrainian system, neutralize the destabilizing influence of South Stream, and seek an arrangement for shared control of the Ukrainian transit route as first proposed in 2002 through a tripartite consortium (the European side would have been German under that and some follow-up proposals).
If Ukraine's modernization project with Ferrostaal starts promptly and shows early promise, it would make it even more difficult for Moscow to justify spending at least $30 billion (the minimal cost estimate for South Stream overall) simply to circumvent Ukraine's transit system and bankrupt it. Gazprom's bypass threat stems not so much from diverting export volumes away from Ukrainian pipelines, but rather from the Ukrainian system's obsolescence, slow degradation, and Kyiv's incapacity to finance the upgrading. This situation considerably strengthens Gazprom's otherwise unconvincing leverage with the South Stream bypass. Whether Gazprom can provide gas volumes and funding for South Stream or not, the Ukrainian transit system itself may degrade to the point where a Russian takeover would become the default solution. Europeans would reluctantly consent to that, once they perceive the Ukrainian system as technologically unreliable while Moscow portrays Ukrainian transit as politically unreliable.
Ferrostaal Industrieanlagen specializes in the construction of gas compressors and turbines, as well as pipelines for the oil, gas and chemical industries. The company is a subsidiary of the Essen-based Ferrostaal AG, a diversified conglomerate with a global presence. This year (March 2012), the Hamburg-based heavy-industry conglomerate Münchmeyer Petersen & Co. (MPC Group) acquired full ownership in Ferrostaal (www.ferrostaal.com, www.mpc.de).