Ukraine's and Chechnya's Veteran Anti-Russian Movements Signal Mutual Support
Publication: Eurasia Daily Monitor Volume: 19 Issue: 162
By: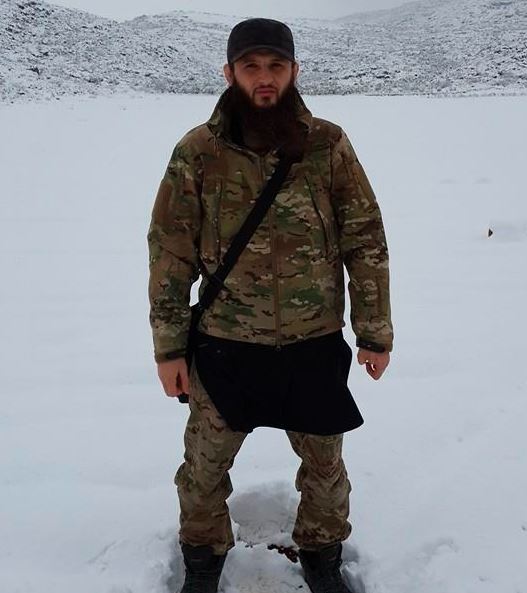 Two recent events—the Ukrainian parliament's October 18 declaration that Chechnya is a Russian-occupied territory and the arrival in Ukraine of a group of Chechen and Syrian war veterans led by Abdulhakim al-Shishani—reflect a significant shift in Kyiv's policy toward non-Russian minority groups, especially in the North Caucasus.
The Ukrainian media focused overwhelmingly on the Verkhovna Rada's (Ukrainian parliament) resolution recognizing the Chechen Republic of Ichkeria as temporarily occupied by the Russian Federation and condemning the genocide of the Chechen people, as well as whether President Volodymyr Zelenskyy will sign it into law (Rada.gov.ua, October 18). The harsh censure contained in the document lays the groundwork for closer cooperation between the Ukrainian authorities and anti-Kremlin Chechen factions, in addition to cementing Kyiv's role as a new stronghold for independence-focused North Caucasians.
True, the Ukrainian parliamentarians' initiative, irrespective of whether Zelenskyy signs off on it, stands out in view of its potentially far-reaching implications; but just three days earlier, another significant event quietly took place elsewhere in Ukraine (YouTube, October 15). A gathering of veteran pro-independence Chechen fighters presided over by Akhmed Zakayev, who heads the Chechen government-in-exile and who, incidentally, lobbied hard for the Rada's resolution, appointed Abdulhakim al-Shishani, former commander of the Latakia-based Ajnad al-Kavkaz (AK), as Zakayev's deputy, tasking him with overseeing the Chechen forces currently fighting alongside the Ukrainian army. It is not at all surprising that the parliamentary vote dominated media coverage, leaving the AK leader's new appointment as a curious footnote for those following the Chechen involvement in the Russo-Ukrainian war, but the development merits much closer examination.
Al-Shishani is a well-known figure in North Caucasian opposition circles. Born in 1981 as Ruslan Azhiyev in a small settlement just outside Grozny, he joined the Chechen resistance as a rank-and-file soldier shortly after the start of the Second Chechen War in 1999 and quickly rose through the ranks (Author's interview, October 22). At the end of 2007, he was promoted to oversee the central sector, a large chunk of Chechnya's territory that encompasses the capital.
Almost simultaneously, prominent Chechen commander Dokka Umarov, who had become Ichkeria's president in 2006 after the Russians killed his predecessor, declared the establishment of the Caucasus Emirate, a quasi-state organization that abandoned the fight for Chechnya's independence in favor of establishing a pan-Caucasian Islamic state. That declaration—issued without the authority and consent of the majority of Chechen field commanders, let alone real consideration of the risks that come with introducing a religious component into an ongoing military struggle—evoked a sense of deep indignation and precipitated a split in the ranks of the Chechen insurgents.
Two years later, after being seriously wounded, al-Shishani left Russia for Turkey and made a clean break with the Emirate's leadership and its ideologues, who believe to this day that the Emirate was not given a fair chance and regard al-Shishani as a traitor to the cause. At the end of 2012, with a group of like-minded Chechen war veterans, he headed for neighboring Syria where the popular uprising against the Bashar al-Assad regime was being drowned in blood.
By mid-2014, al-Shishani commanded his own fighting unit composed of 100–200 men, which, unlike some other foreign-led groups, made it a principle not to pledge allegiance to the Islamic State, various al-Qaeda offshoots or any other Arab-dominated militant organizations. However, since the AK operated mostly in the Idlib and Latakia provinces, where Hay'at Tahrir al-Sham (HTS)—the most powerful rebel group in northwestern Syria—has been pushing for domination since 2017, preserving the AK's autonomy became increasingly difficult (see EDM, August 2, 2021).
As pressure from the HTS mounted, other foreign volunteer groups were disbanded or absorbed into larger factions. The AK remained at least nominally independent, despite inter-rebel conflicts forcing some of its leaders, including al-Shishani, to relocate to Turkey. But the Chechen veteran was not safe there either. In 2021, the Turkish National Intelligence Organization (MİT) arrested a small hit squad that it said planned to assassinate at least two Chechen émigrés, allegedly on the orders of pro-Moscow Chechen head Ramzan Kadyrov. The MİT identified the assassins' prime target as "a Chechen dissident living in Turkey named 'Abdulhakim,' who had fought for the opposition in Syria against the Bashar [al-]Assad regime" (EDM, November 9, 2021).
Al-Shishani arrived in Ukraine with about a dozen of his closest lieutenants. They are not military lightweights, nor are they soldiers of fortune who seek to enter into a pact with the embattled Ukrainians in exchange for material gain. These relatively young men have over a hundred years of combat experience between them, and Ukraine's intention to put it to good use seems well thought out and capable of yielding significant benefits once full implementation of a new program is achieved. The recently created Separate Special-Purpose Battalion of the Chechen Republic's Armed Forces, or OBON, volunteer unit, for instance, whose commander took part in the October 15 ceremony, is already involved in reconnaissance, intelligence gathering, ground target tracking and undercover combat (see EDM, September 6).
Ukraine's top military chiefs have indicated they are bracing themselves for a protracted and bloody war in which they may have to resort to unconventional covert action and open-minded thinking. Here is where the Chechen experience in underground activities, sabotage operations, as well as urban and rural guerrilla warfare may prove invaluable.