Ukraine's Former Security Chief and Media Tycoon Khoroshkovsky Appointed as Finance Minister
Publication: Eurasia Daily Monitor Volume: 9 Issue: 20
By: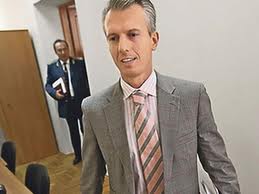 On January 18, Ukrainian President Viktor Yanukovych appointed Valery Khoroshkovsky as the Finance Minister and relieved him of his duties as chief of the Ukrainian Security Service (SBU). Khoroshkovsky replaced Fedir Yaroshenko who resigned earlier that day. Unlike his predecessor, who is a post-Soviet media-shy bureaucrat and a protégé of Prime Minister Mykola Azarov, Khoroshkovsky is an ambitious public politician who, despite his relatively young age (43) has a long and controversial record as an official and a businessman. He is reportedly linked to the gas lobby in the government and he is not from the industrial heartland of Donetsk, unlike most of the current government's top members. It is rumored that Khoroshkovsky may replace Azarov, who increasingly looks like a lame duck.
It had been rumored that Khoroshkovsky would replace Yaroshenko since last fall. Yanukovych on several occasions publicly expressed dissatisfaction with Yaroshenko, blaming him for slow reform. Azarov reportedly threatened to resign if Yaroshenko were dumped, so Yanukovych gave Yaroshenko several more months. Yaroshenko will apparently be made a scapegoat for Ukraine's failure to persuade the International Monetary Fund (IMF) to unfreeze its $15 billion credit line last year, which had been frozen due to the government's refusal to hike domestic gas prices in order to balance the fiscal budget. Azarov did not comment on Yaroshenko's dismissal in public, implying that he may have been very disappointed. The local media speculated that Azarov himself may be out soon, to be replaced by Khoroshkovsky (Ukrainska Pravda, January 18; Zerkalo Nedeli, January 21).
Khoroshkovsky has been prominent in Ukrainian politics since the late 1990s, when he was elected to parliament and joined the pro-government camp. In 2002, he became the deputy head of the administration of the then President Leonid Kuchma. The same year, he was appointed as minister for economy and European integration. In 2004, he left the cabinet, accusing the then First Deputy Prime Minister, Azarov, of derailing European integration plans and stifling liberal reforms. In 2007, he joined the cabinet of Prime Minister Yulia Tymoshenko as customs chief, a position from which he was fired in early 2009 for taking the side of the then President Viktor Yushchenko and Ukrainian billionaire, Dmytro Firtash, in a dispute with Tymoshenko over the ownership of gas in Ukrainian underground reservoirs. The gas would be returned to Firtash in 2010-2011. Ever since, Khoroshkovsky has been referred to in the media as a member of the gas lobby, together with Firtash; the current energy minister, Yury Boyko; and the chief of Yanukovych's administration, Serhy Levochkin. Yanukovych appointed Khoroshkovsky as SBU chief in 2010. In this capacity, Khoroshkovsky has been accused of stifling the free media and intimidating the opposition (see EDM, June 22, 24, 2010); he sparked an international scandal by detaining the Ukraine Director of the German Konrad Adenauer foundation, Nico Lange, in June 2010; and played a key role in the incarceration of Tymoshenko last year.
Khoroshkovsky has been no less prominent in business. In the late 1990s and early 2000s, he controlled one of Ukraine's largest banks, Ukrsotsbank, which was eventually sold to the Italian Banca Intesa. In 2006, he served a brief stint as president of the Russian metals giant Evraz. The weekly Korrespondent put his wealth at $600 million last year, estimating that he was the 19th richest Ukrainian (Korrespondent, June 10, 2011). Khoroshkovsky is one of Ukraine's most influential media tycoons. He controls several TV channels including the nation's arguably most popular one, Inter, which campaigned for Yanukovych and his Party of Regions in several recent elections. Firtash at some point had an option to buy 50 percent of Inter shares, which prompted speculation that the gas lobby influenced the channel's editorial policy.
Commenting on Khoroshkovsky's new appointment, Tymoshenko's right hand man Oleksandr Turchynov, who de facto runs the main opposition party Fatherland while Tymoshenko is in prison, predicted that Khoroshkovsky's independence from Azarov and the ruling Party of Regions could unbalance the government. He also predicted that Khoroshkovsky would stifle free enterprise through checks and tax pressure (Channel 5, January 18). Another former member of Tymoshenko's team, the former Economy Minister Bohdan Danylyshyn who obtained asylum in the Czech Republic last year, was more optimistic. He said Khoroshkovsky's appointment was a positive development as he is financially independent and has ample experience in both business and government (RFE via Ukrainska Pravda, January 23).
During his first media appearance as the finance minister last week, Khoroshkovsky said his goal would be to make the state budget transparent, eliminating "various hangers-on and dishonest moneymakers." He must have meant the administrative reform which was launched in late 2010, but has not been completed. Khoroshkovsky also pledged that his ministry would not only boost but also shape reforms. He dismissed the rumor that he could top the Party of Regions' list for the October 2012 parliamentary election, saying that he would neither join the party nor run in the election (Inter TV, January 20). Khoroshkovsky departed for Washington to discuss loans with the IMF on January 24.