Ukrainian Lawmakers Urge World to Reject Russo-German Nord Stream Two Gas Pipeline
Publication: Eurasia Daily Monitor Volume: 15 Issue: 55
By: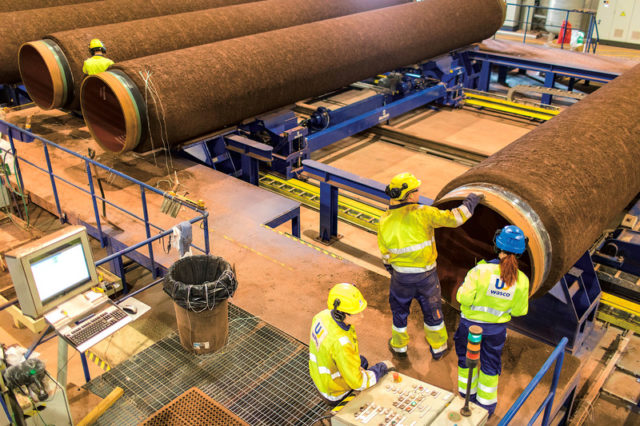 The Ukrainian legislature, on April 5, appealed to the international community to stop the construction of the Nord Stream Two natural gas pipeline, which is to carry Russian gas to Germany, bypassing Ukraine. The lawmakers said that the European Commission (EC) should consult with Ukraine on the matter, in line with the European Union–Ukraine association and free trade deal and the European Energy Community treaty. Ukrainian deputies also urged the West to expand the sanctions imposed on Moscow for its armed aggression against Ukraine to additionally cover Gazprom and affiliated persons, and to take regulatory and infrastructural measures to cut the influence of Russian firms on international markets. Nord Stream Two would lead to establishing a Russian monopoly on the European gas market and eventually destabilize Europe, the lawmakers warned (UNIAN, April 5).
Kyiv's concern was partially addressed last week (April 6) by the United States, which added Gazprom chief Alexei Miller to its list of sanctioned Russian officials, in line with the Countering America's Adversaries Through Sanctions Act (CAATSA). Also, in mid-March, 39 US senators called on the Department of Treasury and the Department of State to apply sanctions on Nord Stream Two (Naftogaz.com, March 20). But Ukraine clearly wants the West to toughen its response to Gazprom in particular.
Officials in Kyiv fear that with the launch of Nord Stream Two in the north and another pipeline, Turk Stream, which will circumvent Ukraine in the south, Ukraine's own gas pipelines could dry up. This would make it more difficult to secure gas imports: much of the gas Ukraine has been buying from the EU since 2015, when gas purchases from Gazprom were stopped, comes from intermediaries re-selling to Ukraine Gazprom's gas flowing to Europe via Ukraine's own pipelines. Also, a significant cut to Russian gas flows would deprive the national oil and gas company Naftogaz Ukrainy of the bulk of its profit. Gas transportation and distribution accounted for more than 90 percent of Naftogaz's profit in January–September 2017, which the Ukrainian energy company attributed to both growing transit to the EU and the national currency devaluation (Naftogaz.com, December 19, 2017).
Naftogaz CEO Andry Kobolev estimates his company's revenue from gas transit at $2–3 billion per annum. That is roughly 2.5 percent of Ukraine's overall GDP. Losing that after the expiry of the current ten-year gas transit contract with Gazprom after 2019 would be a "critically negative factor," he told a conference last October (UNIAN, October 24). Russian President Vladimir Putin said in Turkey, on April 3, that the Turk Stream project was being implemented successfully and that it would eventually bring Russian gas to Southeastern European countries, if they expressed interest (RIA Novosti, April 3). Meanwhile, Miller stated that Gazprom's gas transit via Ukraine would fall to 10–15 billion cubic meters (bcm) per annum after the contract expiry and with the launch of both Turk Stream and Nord Stream Two—down from 93 bcm of gas pumped through Ukraine last year. He also said Gazprom intended to negotiate the future of gas transit with Ukraine, but not on the conditions spelled out in the recent Stockholm arbitration court ruling (Riafan.ru, April 4).
Last February, Stockholm arbitration judges ruled that Gazprom must pay $4.7 billion in damages to Naftogaz for systematically violating the gas transit contract, and that Naftogaz should buy 4–5 bcm of gas from Gazprom this year. However, Gazprom refused to sell gas to Ukraine and appealed against the ruling (see EDM, March 5; Interfax, March 6). The European Commission, which in 2014–2015 successfully mediated gas talks between Ukraine and Russia, is ready to help Kyiv with implementing the Stockholm ruling, the head of the EC energy department, Dominique Ristori, told a briefing in the Ukrainian capital on April 6. He also said the EC would help Ukraine organize talks on gas transit after 2019. Gas transit through Ukraine is important for the EU in the context of supply diversification, Ristori noted (Interfax, April 6).
Ristori also said the EC would not back Nord Stream Two, as it violates the principles of transparency, non-discrimination and equal access, and would not facilitate the diversification of gas resources for the EU (UNIAN, April 6). The EC's position is shared by Poland and the three Baltic States. Last month, the parliamentary speakers of Poland, Lithuania, Latvia and Estonia warned other EU countries against supporting Nord Stream Two (Delfi.ee, March 12). However, some member states, including Germany and Finland, apparently do not see much harm in the new Gazprom pipeline. On April 5, Finland gave its preliminary consent for Nord Stream construction in its exclusive economic zone (EEZ), following Germany's consent in March. Gazprom is yet to secure consent from Denmark and Sweden, which may be harder, as these two countries have been more suspicious of Gazprom's plans and more critical of Moscow in general (Kommersant, April 5).
Ukrainian President Petro Poroshenko was outspoken on the German position in his most recent interview with the German newspaper Handelsblatt. He urged German politicians and businessmen to revise their attitude toward Nord Stream Two, saying that the pipeline would be "a bribe to the Russian Federation in exchange for loyalty" (President.gov.ua, April 9). But until Berlin stops seeing Nord Stream Two as in its national interest, such appeals are likely to fall on deaf ears.