Ukrainian President Poroshenko to Finally Close His Confectionery in Russia
Publication: Eurasia Daily Monitor Volume: 14 Issue: 8
By: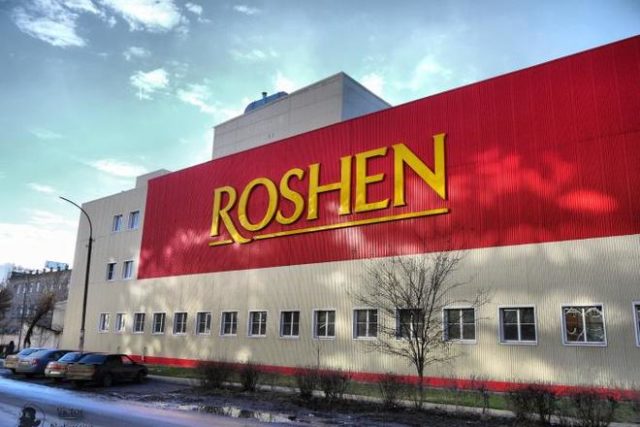 The Roshen confectionery plant in the Russian city of Lipetsk will close in April for political and economic reasons, Roshen's press service has announced. Production in Lipetsk has shrunk threefold since 2013 because of the sanctions imposed by Russia on imports from Ukraine, falling purchasing capacity, and smear campaigns in both Russian and Ukrainian media, according to the statement. Moreover, it has been impossible to sell the factory because its assets were frozen by Russian authorities, said Roshen (Roshen.ua, January 20).
Roshen confectioneries, scattered across Eastern Europe, are the backbone of Ukrainian President Petro Poroshenko's business empire. He promised to sell them ahead of his victorious presidential election campaign in spring 2014, but has thus far failed to do so. The inability to resolve the conflict of interest between his public office and his private business has been eroding popular trust in the president, especially following the Panama Papers data leak last spring, which exposed him to tax evasion accusations. Poroshenko's team defended the president by saying that his offshore company in the British Virgin Islands mentioned in those papers had been set up in order to transfer Roshen to a blind trust to be managed by Rothschild Group. The trust deal was signed in January 2016, Rothschild confirmed (Interfax-Ukraine, April 7, 2016).
Owning a factory in Russia—thus paying taxes in a country that invaded Ukraine and annexed a part of it in 2014—made Poroshenko vulnerable to domestic criticism. However, it has proved difficult to sell the plant. Makar Pasenyuk, the director of the investment company ICU, which Poroshenko tasked with selling Roshen, said in an interview last December that although potential buyers conducted due diligence, it would be impossible to close a deal to sell the Lipetsk confectionery because of the property arrest by Russian authorities (Biz.liga.net, December 5, 2016).
Russian President Vladimir Putin underscored Poroshenko's political vulnerability, announcing last fall, perhaps tongue in cheek, that Poroshenko's business in Russia was profitable and successful, while adding that courts "imposed certain restrictions" (Kremlin.ru, October 27, 2016). Ukrainian investigative journalist Dmytro Hnap suggested that recent trolling of Poroshenko by Russian delegates at the Davos Economic Forum (held on January 17–20) was the last straw for him. The Russians kept telling diplomats and politicians from Europe and the United States that Poroshenko's business in Russia fared well in spite of the war and sanctions, so he was not to be trusted, according to Hnap's sources (Gordonua.com, January 20).
As a politician, it would have made logical sense for Poroshenko to have given up his factory in Russia long ago; but as a businessman, he hesitated and kept looking for a buyer. Meanwhile, Roshen received $72 million in dividends from the Lipetsk business in 2014–2016 (Roshen.com, October 28). However, the business was not exactly prospering recently. Production plummeted to 3,000 tons of candies last year, from more than 10,000 tons in 2012; and the Lipetsk confectionery plant stopped exports to other Commonwealth of Independent States (CIS) countries (Interfax, January 20). The confectionery has complained of tax audits and searches, accusations of copyright violations, boycotts of its candies, and harassment of its workers by OMON riot police. Roshen has cut 1,000 jobs in Lipetsk thus far, and another 700 are to be cut this year (Vesti-ukr.com, January 22; Vedomosti.ru, January 20).
Just as Roshen said in the press release cited above, it was most probably a combination of economic and political factors that eventually prompted Poroshenko to close his business in Russia. The upcoming Ukrainian presidential elections in March 2019 are likely the most important domestic political factor, as Poroshenko will almost certainly be running for re-election. Poroshenko has not fared well in recent opinion polls, which show that only some 10 percent of Ukrainians are ready to vote for him. He is likely to run neck-and-neck with his arch-rival, Yulia Tymoshenko, who keeps saying that Poroshenko finances Russian aggression because his Lipetsk factory pays taxes in Russia (Ukraine-elections.com.ua, accessed on January 26; Pravda.com.ua, November 23). In this respect, the closure of the Lipetsk factory is a positive for Poroshenko. Now his rivals will approach the election without this important trump card in their hand.
But Poroshenko remains one of Ukraine's richest businessmen. His worth is estimated at almost $1 billion (Forbes.net.ua, accessed January 26). Even if he had sold all of his Roshen factories, Poroshenko would still own a bank and assets in agricultural, machine-building, insurance, entertainment, retail and media industries, according to his income declaration (Public.nazk.gov.ua, accessed January 26). Notably, Poroshenko insists that he will not sell 5 Kanal, one of Ukraine's most popular news TV channels, which he has not been shy to use as a canvassing tool in his election campaigns. Poroshenko's apparent inability to separate business from politics is likely to continue to hurt his public image, both internationally and at home, in the run-up to the next election.