UNITED RUSSIA "WINS" A CONSTITUTIONAL MAJORITY IN THE STATE DUMA
Publication: Eurasia Daily Monitor Volume: 4 Issue: 223
By: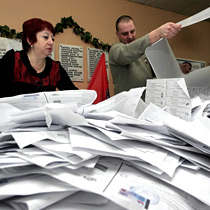 Preliminary results from Russia's December 2 parliamentary election show that four parties have won representation in the next State Duma, with the lion's share going – to no one's surprise – to the United Russia party. According to the Central Election Commission, as of 10 a.m., Moscow time, on December 3, with 98% of the ballots counted, United Russia had received 64.1% of the vote; the Communist Party of the Russian Federation, 11.6%; Vladimir Zhirinovsky's Liberal Democratic Party of Russia, 8.2%; the pro-Kremlin A Just Russia party, 7.8%. The turnout was 63%, seven% higher than in the 2003 parliamentary elections (Ekho Moskvy, December 3).
Central Election Commission Secretary Nikolai Konkin said that United Russia could end up with 310-315 out of the State Duma's 450 seats, which would be more than two-thirds of the seats needed to amend Russia's constitution. Another Central Election Commission member, Lyudmila Demyanchekova, later said that United Russia would end up with 315 seats. Boris Gryzlov, the head of United Russia and the current State Duma speaker, said United Russia does not intend to introduce constitutional amendments (Newsru.com, December 3). Gryzlov, however, did say on December 2, after exit polls were announced, that the vote had "affirmed the main idea: that Vladimir Putin is the national leader, that the people support his course, and this course will continue" (Associated Press, December 2). Putin topped United Russia's federal list of candidates.
Perhaps the most striking results were in Chechnya, where, according to the regional election commission, more than 99% of those who went to the polls voted for United Russia, almost duplicating the results that the Soviet Communist Party used to receive. In neighboring Ingushetia, the local election commission put turnout in the republic at 98%, even though, according to the independent Ingushetiya.ru website, local election observers estimated the turnout in Ingushetia at no more than 8%.
Reports of falsification were widespread around Russia. According to Golos, Russia's only independent monitoring group, which set up a hotline for complaints about vote rigging and other electoral violations, most of the complaints it received were from Bashkortostan, Vladimir and Moscow oblasts, Moscow, and St. Petersburg (Newsru.com, December 3). Golos director Liliya Shibanova told Britain's Guardian newspaper: "We have seen an unprecedented attempt to manipulate the vote. There has been mass forced voting and a raft of other violations" (Guardian, December 3).
The pro-democracy youth group Smena posted on its website (Smena.info) a video clip taken at polling station in Moscow showing a man in uniform, apparently from the Emergency Situations Ministry, and a woman, apparently stuffing a ballot box. Another website listed five methods of cheating in elections that it said have been used in Russia for some time. Among these is the "carousel," in which a group of people, often students or workers, are put on a bus with darkened windows and driven to a polling station, where they get off the bus, go in and vote, get back on the bus, and then repeat the process (Forum.msk.ru, December 2). This election reportedly saw large-scale cheating with the use of absentee ballots. Golos director Shibanova said many state workers and students had been forced to take absentee ballots and vote at their place of work or study, with bosses and teaching staff then hinting or telling voters that they would lose jobs, fail exams, or be kicked out of dormitories if they did not vote for United Russia. In some regions, she said, up to 54 times more absentee ballots were issued than during the 2003 Duma elections (Guardian, December 3).
Vladimir Ryzhkov, an independent deputy in the current State Duma, told Ekho Moskvy that the turnout for the December 2 vote was "artificially raised by 10%" and practically all the falsified additional turnout was added to United Russia's percentage of the vote. Evidence of this, he told the radio station, included the "enormous number of absentee ballots" used, the fact that practically all the inmates in remand prisons voted and the widespread use of mobile ballot boxes — which, according to Ryzhkov, were "brought to all and sundry." The upshot of all this is that people were "flogged" into voting for Putin, said Ryzhkov. "And that means, he will most likely remain in power after March [of 2008] – how, I don't know, but in any case it will be in violation of the constitution," he added (Ekho Moskvy, December 3).