UPROAR OVER ANDIJAN FADES AS EU WARMS TO TASHKENT
Publication: Eurasia Daily Monitor Volume: 4 Issue: 194
By: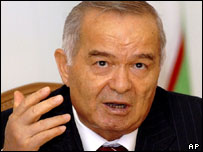 On October 17 European Union foreign ministers agreed to lift travel restrictions against Uzbek Defense Minister Ruslan Mirzayev, National Security chief Rustam Inoyatov, and six others, saying it was "with a view to encouraging the Uzbek authorities to take positive steps to improve the human rights situation."
The restrictions were imposed in the aftermath of the events in Andijan province on May 13, 2005. On that day, following a night of militant unrest, Uzbek government troops opened fire on a demonstration in the Fergana Valley town, killing hundreds of people and wounding many. International outrage immediately ran up against Uzbek government intransigence, which maintained that the incident was a deliberate provocation by militant Islamic forces determined to overthrow the government. There are now signs that Tashkent and Western governments are tentatively ready to overcome the passions and strident positions unleashed by the disputed events of that day and reassess their political and economic relations.
Nearly every aspect of what happened at Andijan is in dispute, from the actions of both protestors and government troops to the number of fatalities. Tashkent insists that the death toll was less than 200, mainly individuals involved in the uprising. However, the Uzbek government's version of events was immediately challenged and, in the absence of concrete information from the Fergana Valley media, versions of the event mutated and were magnified.
The militant Islamic organization Hizb-ut-Tahrir quickly moved to exploit the situation in Andijan, reporting on May 25 that "credible and trustworthy sources" insisted that 7,000 people had died. Another Hizb-ut-Tahrir website, the "1924 Organization," claimed that 10,000-20,000 were killed, while Hizb-ut-Tahrir's representative in Great Britain, Imran Waheed, crowed, "The genocide is evidence of the desperate and extreme measures that must now be taken in order to prevent the imminent return of the Islamic Khilafah." Western human rights groups, which have long criticized the regime of Uzbek President Islam Karimov, were also quick to condemn the incident.
On October 3, 2005, the European Union decided to prohibit travel by denying visas to leading Uzbek officials because of an "excessive, disproportionate, and indiscriminate use of force" combined with Tashkent's reluctance to allow an international investigation. The Uzbek government maintained that the uprising was the direct outcome of Islamic militant forces seeking to destabilize the country. In the media fervor that followed, information contrary to the media outcry was overlooked, including eyewitness reports by foreign specialists (Shirin Akiner, "Violence in Andijan, 13 May 2005: An Independent Assessment," at www.silkroadstudies.org). Tashkent insisted to the international community that its interpretation of events was accurate and belatedly released material supporting its position, including videos taken by the rebels themselves showing their comrades taking hostages and preparing Molotov cocktails. But because the fact materials were released more than a year after the events, the damage was already done.
The EU decision to impose sanctions placed Germany in a difficult situation, as it maintained an airbase presence at Termez, which supported its troops in Afghanistan serving under the International Security Assistance Force (Sueddeutsche Zeitung, October 5, 2005). Since then, Berlin has quietly led EU efforts to mitigate the restrictions.
The first sign of a bilateral thaw came in March, when German Foreign Minister Frank-Walter Steinmeier met with Uzbek Foreign Minister Vladimir Norov and subsequently informed his colleagues in Brussels that Tashkent was considering letting the International Committee of the Red Cross visit prisons in Uzbekistan, hold talks on the Andijan massacre with EU officials, and allow EU officials to evaluate human rights cases in return for an end to the sanctions (RFE/RL, March 5). Later that month Steinmeier led a high-level EU delegation to Tashkent for three days of talks, focusing not only on issues of human rights but also energy. These talks are now bearing fruit.
Since 2005 academic research has provided further insights into the Andijan events, further strengthening Berlin's position that the time is right to reassess EU relations with Central Asia's most populous nation (AbduMannob Polat, "Reassessing Andijan: The Road to Restoring U.S.-Uzbek Relations" (Jamestown.org/docs/Jamestown-Andijan.pdf).
Further supporting Tashkent's position, recent events indicate that Islamic militancy is far from a spent force in South Asia. On October 18, the return of former Pakistani prime minister Benazir Bhutto was greeted by several car bombs, reportedly set off by Islamic militants, which killed at least 120 people. In such an environment, Germany's pragmatic approach to Uzbekistan may well represent a conciliatory gesture designed to uncover the truth of those tragic events 30 months ago. A salutary reward for Berlin's pragmatism may well also be first access to Uzbekistan's hydrocarbon riches, a not insignificant consideration in a world where oil prices have now topped $90 a barrel.