US, Armenia Agree on First-Ever Joint Military Exercises
Publication: Eurasia Daily Monitor Volume: 9 Issue: 42
By: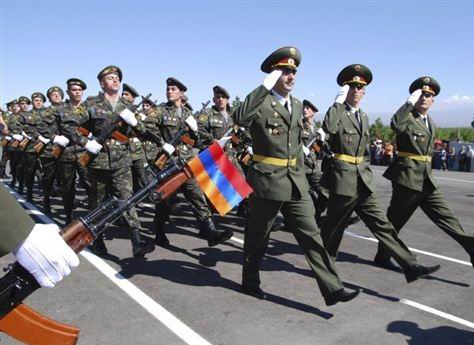 Armenia plans to hold first-ever joint military exercises with the United States just months after agreeing to a more ambitious cooperation framework with NATO. Highlighting its "complementary" foreign and security policy, Yerevan at the same time seems intent on deepening its already close military ties with Russia through a new defense treaty to be negotiated soon. Remarkably, there have been no indications yet that Moscow is annoyed by this increasingly delicate balancing act.
The Armenian Defense Ministry announced a "tentative agreement" on the exercises during a February 14-15 visit to Yerevan by Rear Admiral Mark Montgomery, the deputy director for strategic planning at the US European Command headquartered in Stuttgart, Germany. A ministry statement said Montgomery discussed "issues related to organizing joint Armenian-American exercises" during separate talks with Defense Minister Seyran Ohanian and a top Armenian army general.
The ministry spokesman, Davit Karapetian, said separately that the two sides plan to hold the weeklong drills in Romania in April with the aim of boosting the interoperability of their forces deployed in Afghanistan. Karapetian said the "exchange of experience" will involve more than 100 Armenian troops and be "useful" for further US-Armenian military interaction (www.armenialiberty.org, February 15).
US and Armenian soldiers have until now trained together only in multinational exercises organized by NATO. The possibility of their first-ever bilateral exercises was discussed during Armenian Deputy Defense Minister Davit Tonoyan's July 2011 visit to Washington. Tonoyan held what official Yerevan described as "defense consultations" with US Assistant Secretary of Defense Alexander Vershbow and other senior Pentagon officials. The Washington talks came one month after Yerevan sent an additional 81 soldiers to Afghanistan, almost tripling its participation in the NATO-led multinational force deployed there. US officials have since repeatedly praised the move.
President Barack Obama spoke of "strong partnership" between the two nations while Secretary of State Hillary Clinton reaffirmed Washington's desire to "strengthen the cooperation between our two countries" in September 2011 statements on the 20th anniversary of Armenia's declaration of independence (www.armenialiberty.org, September 20). For his part, Armenian President Serzh Sargsyan declared in August that US-Armenian ties are now "stronger than ever before." "We would like to continuously expand Armenian-American relations in all fields," Sargsyan told Eric Rubin, a US deputy assistant secretary of state, in Yerevan on January 27 (Statement by the presidential press office).
Admiral Montgomery met Ohanian two days after a visit to Yerevan by James Appathurai, NATO's special representative for the South Caucasus and Central Asia. Appathurai's talks with Ohanian and Sargsyan reportedly focused on the Armenian participation in NATO's International Security Assistance Force (ISAF) in Afghanistan and Armenia's Individual Partnership Action Plan (IPAP) with the Western alliance. Signed in 2005, the IPAP commits Armenia to implementing defense reforms aimed at bringing its armed forces into greater conformity with NATO standards and practices. It also envisages greater Armenian involvement in NATO-led operations and military exercises.
The cooperation framework has been repeatedly modified by the two sides, most recently in November. Sargsyan stressed the importance of the latest version of the IPAP at the meeting with Appathurai (Statement by the presidential press office, February 13). Armenian sources familiar with the still unpublicized document say it carries more far-reaching objectives and commitments for Yerevan. Ohanian announced his government's intention to adopt a new five-year plan of defense reforms when he addressed NATO's North Atlantic Council in Brussels in July (EDM, August 9, 2011).
Whether the Sargsyan government's deepening security engagement with the West (something which it regards as an additional guarantee of Armenia's security) is raising eyebrows in Moscow is not clear. As much as they are incensed by perceived Western inroads into what Russia regards as its exclusive zone of influence, Russian officials have made no public statements disapproving of that engagement. This may well stem from the realization that Armenia will remain heavily (and primarily) reliant on its military alliance with Russia at least until the conflict with Azerbaijan over Nagorno-Karabakh is resolved and Turkish-Armenian relations are normalized.
The signing in August 2010 of a new Russian-Armenian defense agreement underscored this reality. The deal prolonged the presence of a Russian military base in Armenia by 25 years – until 2044 – and committed the Russians to supplying the Armenian military with more modern weaponry. Ohanian told journalists on February 8 that his forces received new "long-range and precise weapons" last year. But he did not elaborate (Armenian Public Television).
A February trip to Armenia by Nikolay Patrushev, secretary of Russia's Security Council, suggested that the Russian-Armenian military cooperation does not stop there. Artur Baghdasarian, Patrushev's Armenian opposite number, said after their talks that the two sides plan to sign a new defense deal in the future and agreed to set up a joint "working group" for that purpose. Baghdasarian said Yerevan and Moscow are committed to "deepening cooperation in the military-technical field and establishing joint defense ventures in Armenia" (Azg, February 10).
The joint ventures are to be mostly set up within the framework of the Russian-dominated Collective Security Treaty Organization (CSTO). Its secretary general, Nikolay Bordyuzha, said last week that four such entities will start operating in the South Caucasus state soon. He said they will specialize in the maintenance, repair and modernization of Armenian military hardware. In remarks that prompted criticism from Baku, Bordyuzha also made clear that Armenia will receive "all the necessary assistance" from the CSTO in case of renewed war with Azerbaijan (Regnum, February 21).
Incidentally, this autumn Armenia will host exercises of the CSTO's the Collective Operational Reaction Forces (CORF). It has already committed troops to the supposedly NATO-style rapid-reaction force formed at Moscow's initiative in 2009. Bordyuzha said in Yerevan last November that the Armenian and other contingents of the CORF will be supplied with Russian weapons