US Foreign Aid To Central Asia Reveals Washington's Regional Priorities
Publication: Eurasia Daily Monitor Volume: 8 Issue: 65
By: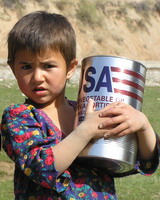 As with other great powers, today or in history, the United States has been pressured to balance ends and means to retain its influence in the world, currently marked by power shifts away from the West. The government's proposed budget of $3.73 trillion for 2012 is designed to do just that. It would cut expenditures considerably in the effort to reduce the budget deficit by $1.1 trillion in the next decade (www.inforos.ru, February 17). These cuts would affect US foreign aid to Central Asia, where US policies have been heavily associated with the war in Afghanistan. While not substantial, these cuts reflect Washington's enduring and shifting regional priorities.
The region, along with the South Caucasus, would see a cumulative decline in US foreign aid by 4 percent, from $241 million to $232 million (www.24kg.org, February 17). The aid for Central Asia alone would be reduced by 6 percent compared to 2010. US Assistant Secretary for Central and South Asia, Robert Blake, stressed the importance of the new budget in his testimony before the House Foreign Affairs Committee on March 10. "This decrease reflects our commitment to a lean, strategically targeted budget that will advance our interests in Central Asia. The most important of these is the support of Central Asian states for international efforts in Afghanistan," Blake said. Blake insisted that the relationship with Central Asia is "not limited to cooperation on Afghanistan" and includes collaboration on counterterrorism, counternarcotics, democracy promotion, human rights, and economic development (www.america.gov, March 10).
Kazakhstan would be the only country to see a relatively big increase in foreign aid, although it would still receive less in overall aid compared to other regional countries (www.pravda.kg, February 21). Blake stated that US relations with Kazakhstan are "perhaps our deepest and broadest" in the region. Both countries cooperate on nuclear non-proliferation, Afghanistan, and energy security, among other issues. Kazakhstan gave up the world's fourth largest nuclear arsenal in the 1990's. It also provides logistical support to the International Security Assistance Force operating in Afghanistan and $50 million in scholarships for Afghan students. It further aims to double the country's oil production by 2020, contributing to global energy security. The United States encourages Kazakhstan to strengthen the rule of law. According to Blake, Washington considers the country's early presidential election on April 3 "as an important opportunity to strengthen the electoral process" (www.america.gov, March 10).
Uzbekistan would see a modest increase in military aid. It would receive $100,000 for the purchase of arms for the first time since the uprising in Andijan in 2005, which was followed by the removal of the US military base from the country later in the year (www.pravda.kg, February 21). High-ranking representatives of NATO and the European Union have recently received Uzbek President Islam Karimov, drawing criticism from human rights groups. In 2009, the EU lifted the arms embargo imposed on Uzbekistan in response to the events in Andijan (www.ifex.org, October 29, 2009; www.ng.ru, January 26). Uzbekistan is now seen as an important geopolitical partner for the West. It has provided its territory for the Northern Distribution Network (NDN) that facilitates supplies to coalition forces in Afghanistan, supplied electricity to the war-torn country, and built a road linking Afghanistan with Central Asia (www.bbc.co.uk, February 18). Blake said the US seeks to encourage Uzbekistan to improve its human rights record by ending "forced child labor…opening up the media environment, curtailing abuses by security forces, and ending harassment of civil society and international NGOs" (www.america.gov, March 10).
"Turkmenistan is a country of growing importance to the United States," Blake said in his testimony. He pointed to the country's vast energy resources and geopolitically significant cross-regional Turkmenistan-Afghanistan-Pakistan-India gas pipeline project which could link Central Asia with South Asia "by sending energy resources where they are most needed," while promoting regional development (www.america.gov, March 10). Turkmenistan's energy export diversification strategy alone is a key driver of the shifting energy geopolitics in Eurasia. It is breaking Russia's long-standing grip on the region's exports and resources, which are contested by Moscow, Washington, Brussels, Beijing, and New Delhi (EDM, November 30, 2010). Turkmenistan also helps with reconstruction efforts in Afghanistan, providing the country with discounted electricity and other humanitarian assistance. Blake noted that the US encourages Turkmenistan to "fulfill its international obligations on human rights," saying the US offered to help "Turkmenistan's stated goals of developing a democracy" (www.america.gov, March 10).
But it is Kyrgyzstan and Tajikistan that will receive the largest US foreign assistance in the region: $40.8 million and $38.8 million, respectively. The US government has announced its strong support for the democratic course of Kyrgyzstan after the country adopted the first parliamentary system of government in the entire region (www.america.gov, March 10; www.24kg.org; February 17). The democratic developments in Kyrgyzstan may yet facilitate international and local democratization efforts in Central Asia and beyond. Kyrgyzstan is also home to a US transit center –a key logistics point for coalition forces operating in Afghanistan– on which NATO relies heavily to accomplish its military mission in Afghanistan by 2014.
Amidst the reports suggesting Moscow's pressure on Kyrgyzstan to close the US military base in 2010, Washington has actively sought to secure other possible locations for its military base if needed (www.newsru.com, June 17, 2010). Tajikistan may be one of those back-up options. Yet, this country faced a series of terrorist acts last year, raising fears of domestic and regional destabilization (EDM, October 28, 2010). The Tajikistan's territory and other regional states are also used to transport narcotics to Russia and beyond (www.newsland.ru, December 16, 2009). This year, the country has further struggled to improve its dire food security situation, observed across the region (EDM, March 15). US foreign aid to Tajikistan could not be more critical.
As Washington recalibrates its ends and means in the context of global power transitions, its assessment of the importance of Central Asia for its overall strategy will continue to hinge on security trends unfolding in Afghanistan and Pakistan. Whether Central Asia remains an important pillar of the US larger foreign aid policy after the planned withdrawal of coalition forces from Afghanistan is unclear. But the US goals of continuing to strengthen sovereignty, democratization, and inter-regional links in Central and South Asia offers some hope.