US-Iran Rapprochement and the Immediate Consequences for Azerbaijan
Publication: Eurasia Daily Monitor Volume: 10 Issue: 222
By: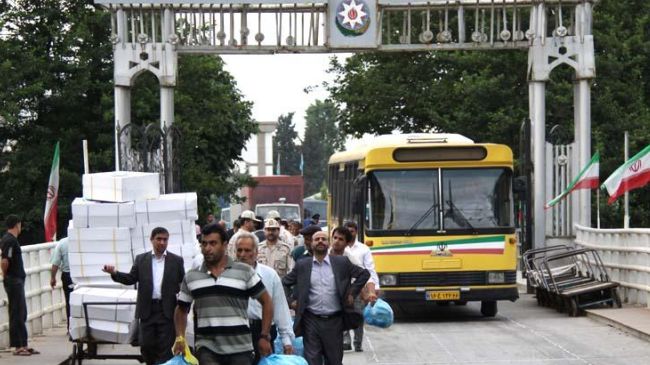 The interim agreement, concluded on November 24 with Iran and six world powers led by the United States, will see Tehran cap its nuclear program at a reduced capacity in exchange for relaxed international sanctions. The deal has met with strong resistance from some quarters, notably Israel, Saudi Arabia and parts of the US Congress. Tehran's neighbors in the South Caucasus have a distinct perspective on the potential rewards and risks of the deal, while generally agreeing that doing nothing would be a gamble.
Azerbaijan's relations with Iran have deteriorated over the past two years, and the newly elected president of the Islamic Republic of Iran, Hassan Rouhani—who bills himself as a pragmatist—has not yet clarified whether his term will revitalize Baku-Tehran ties. Skeptics in Azerbaijan have long argued that the bilateral tensions are not generated at the presidential level, but rather from the two seats of power in Iran: Qom, the country's holiest city and the home to some of the Islamic Republic's most influential clerics who allege that Baku is neglecting the rights of Muslims; and the Revolutionary Guard, which sees Azerbaijan's cooperation with Israel as a security threat. To negotiate with Qom's senior clerics, Baku has made use of their relationship with Sheikh-ul-Islam Haji Allahshukur Pashazadeh, the chairman of the Caucasian Muslim Board (CMB) who is based in the capital of Azerbaijan. However the Azerbaijani government lacks a similar "back door channel" with the Revolutionary Guard and has relied mainly on presidential-level relations to that end. Azerbaijan's political elite—ruling and opposition alike—generally believe that the source of tension is not situational, but systemic, based on Tehran's increasing cooperation with Armenia.
However, the November 24 interim nuclear deal is likely to change the geopolitical map not only for the Caucasus, but the entire Middle East. Azerbaijan could lose out in this transition, and, like Israel, it remains hawkish. The deal represents both risks and rewards for Azerbaijan. The risks are as follows:
First, despite Washington's reduced interest in the South Caucasus, Baku sees the Iranian threat as a platform for bilateral engagement with the United States. Although Israel has declared itself a security guarantor for Azerbaijan, the significant security threats against Baku that originate from Tehran (supporting radical Islamists, or jailing well-known Azerbaijanis while they are in Iran—see EDM, July 23, 2012) has led Azerbaijan to look for a more powerful ally: the US. But US interests in the region will decrease following the 2014 troop withdrawal from Afghanistan; during the conflict Azerbaijan played an important role in providing a transport route into and out of Afghanistan and supported the country's stability. It was in this context that the Iranian threat became a major working issue. Not coincidentally, before and after the nuclear deal, there were incidents at the Azerbaijan-Iran border, with attempted illegal crossings at the beginning of November. In response, Iran temporarily shut the checkpoints at Bilasuvar and Julfa, and the route from Iran into Nakhchivan was completely closed (Contact.az, November 11). Azerbaijan's only land bridge to this exclave is via Iran, due to the conflict with Armenia. Then on December 2, an Azerbaijani border officer was killed during a shootout along the Azerbaijani-Iranian frontier (RFE/RL, December 2).
Second, the Israeli factor could raise political and military stakes in the region. Azerbaijan has deepened its relations with Israel, having purchased a large volume of Israeli military equipment. But the Azerbaijani leadership fears that, in the absence of US engagement, these increased political ties with Israel may turn Azerbaijan into a "battleground" between Israel and Iran. Baku worries that since the US government's priority appears to be obtaining an enduring nuclear deal, Tehran's aggressive regional posturing may not prompt any reaction from Washington. The recent arrest by security forces in Azerbaijan of an Iranian national accused of planning an attack on the Israeli Embassy in Baku highlights how the South Caucasus country could become embroiled in an Iranian-Israeli conflict (Arutz Sheva 7, November 21).
Third, from Azerbaijan's perspective, there is a risk that Armenia will now be able to reap new benefits from its increasingly close relationship with Iran. Baku fears that following the November 24 interim agreement, Washington will accept ever higher levels of Iranian-Armenian cooperation, which previously were seen as a potential security risk. Energy projects with financial support from Tehran are already being realized; and in a recent discussion of Iran's relations with the West, Iranian Energy Minister Hamid Chitchian declared the continuation of energy projects in Armenia (Panaroma.am, November 23). Iran also declared that it is working to lift barriers to bilateral banking cooperation worth $500 million (Largir.am, December 6). Consequently, among the three South Caucasus countries, only the Armenian president immediately praised the US-Iran deal (Farsnews, December 3). And although Russia still retains the strongest hold over Armenia, including in the energy sphere, in the long term, this new environment in which Iran is increasingly free to conduct business with its neighbors will economically benefit Armenia—a fact that makes Azerbaijan anxious.
Fourth, Azerbaijan believes that if Iran reaches a long-term deal with world powers, its huge energy infrastructure will be opened up to international markets. This would probably cause oil prices to drop, negatively impacting Azerbaijan, which relies on the high price of oil to boost state revenues. Some experts suggest, however, that Azerbaijan will play a different role in the international energy markets than Iran. In particular, the West has never viewed Azerbaijan as a large-scale natural gas storage site, unlike Russia and Iran (Caspianbarrel.org, November 6).
One major benefit of the deal for Azerbaijan is the removal of the threat of international military intervention in Iran. Whether further opportunities arise depends on the Baku-Tehran dialogue, and whether the United States will support Azerbaijan in the event of increased bilateral tensions between the two neighbors. Another opportunity for political dialogue is in the trilateral format, among the foreign ministers of Azerbaijan, Turkey and Iran; their next meeting is set for mid-December (APA, November 29)
Meanwhile, Baku-Washington relations still suffer from the United States maintaining Section 907 of the Freedom Support Act, which has banned US government financial aid to Azerbaijan since 1992; as of 2001, the ban has been subject to an annually renewable presidential waiver. Revoking it would send a signal that the US is interested in cultivating its partnership with Azerbaijan as well as a message to Iran that Washington will not sacrifice its regional alliances for a deal with Tehran.