Uzbekistan and Kazakhstan's Divergent Responses to Regional Border Conflict
Publication: Eurasia Daily Monitor Volume: 18 Issue: 84
By: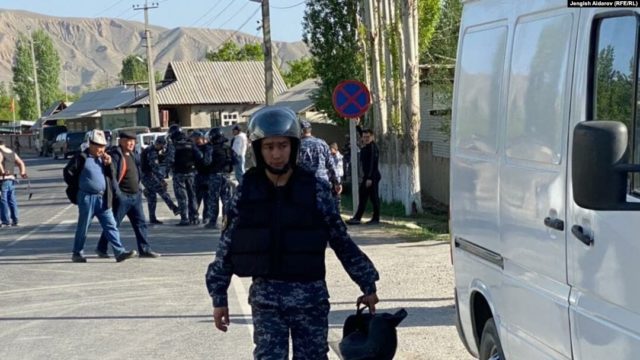 Border conflicts of various levels of intensity occur regularly in Central Asia, but the latest clashes between nationals of Tajikistan and Kyrgyzstan that broke out at the end of April was the deadliest such incident in a long time, with 55 killed and 266 injured on both sides over a period of three days (Current Time, May 6; Azattyq, May 4). As an increasingly active regional player, Uzbekistan was the first country to react, on April 29, calling on the two sides to deescalate (Mfa.uz of Uzbekistan, April 29). Reactions from Kazakhstan and Russia followed on May 1 (Mid.ru, Akorda, May 1). Russia—usually the first to respond to events in Central Asia and routinely offering quick help—notably played a minimal role this time, compared to Uzbekistan and Kazakhstan (see EDM, May 19). Nevertheless, the incident revealed how Kazakhstan and Uzbekistan themselves view the events differently; each would have tolerated varying levels of instability if the fighting between Kyrgyzstanis and Tajikistanis had continued to spiral out of control.
The border conflict broke out on April 28; and as in any similar situation, it ultimately matters little which side started the shooting. What is important is that both countries are starkly divided over the events on their frontier and remain locked in a stalemate (TASS, May 8). The two Central Asian neighbors allowed brewing issues around their shared border to escalate to the point of heavy shooting.
Tashkent reacted to the situation the following day, calling on both sides to calm down and enter into negotiations in the "spirit of Central Asian brotherhood" (Mfa.uz, April 29). The involved countries agreed to deescalate the situation, and so Uzbekistani President Shavkat Mirziyoyev telephoned both leaders separately to congratulate them on reaching a peace agreement. Moreover, he reiterated the importance of resorting to a peaceful resolution of such incidents (Mfa.uz [1][2], April 30). It is not clear whether the calls in and of themselves contributed to mollifying the tensions, but obviously Tashkent was concerned about the developments and used impartial language toward both countries, avoiding any indication that Uzbekistan favored either side in the conflict.
Kazakhstan, on the other hand, did not hide which belligerent it supported. President Kassym-Jomart Tokayev spoke with the leaders of both Kyrgyzstan and Tajikistan on May 1; however, he noticeably appeared to show more empathy toward his Kyrgyzstani counterpart, Sadyr Japarov, expressing condolences and offering humanitarian assistance to the affected villagers in the Kyrgyz Republic (Akorda.kz, May 1). His subsequent call with Tajikistan's Emomali Rahmon, in contrast, resembled more of a fact-finding conversation. President Rahmon recounted the developments of the previous days. Notably, according to the official readout of their talk, Tokayev did not express any condolences or offers of humanitarian assistance to the Tajikistani leader (Akorda.kz, May 1).
Tashkent's careful effort to maintain neutrality and friendliness toward both sides stems from multiple considerations. First, had the Tajikistani-Kyrgyzstani conflagration turned into a protracted conflict, Uzbekistan would likely have been the region's most affected third country, despite not being directly involved. Uzbekistan shares a border with both Tajikistan and Kyrgyzstan, while Kazakhstan only abuts Kyrgyzstan. Furthermore, the growing uncertain security situation in Afghanistan, as the United States proceeds with its military pullout, would have added another layer of potential hazard to the regional situation.
Second, if left unchecked, the clashes involving Kyrgyzstan would likely have derailed the momentum in resolving Uzbekistan's own outstanding border disputes with this small Central Asian state. Talks on delimiting their shared state boundaries had reached a final stage following Kyrgyzstani President Japarov's official visit to Tashkent on March 11, where the two sides boasted that their "border issues were resolved 100 percent" (Kun.uz, Mar 26). Although Uzbekistan has not finalized border delimitation negotiations with any of its neighbors except Afghanistan, the most delicate disagreements continue to exist with Kyrgyzstan—official rhetoric to the contrary notwithstanding. Indeed, new "minor" border clashes broke out on May 14, between neighboring Kyrgyz and Uzbek villages (RFE/RL, May 14). Last year, the same Uzbekistani village of Chashma was involved in more serious fighting with a different nearby Kyrgyzstani community that resulted in 187 injured from Uzbekistan and 25 from Kyrgyzstan (Podrobno.uz, June 2, 2020).
And third, a number of key infrastructure projects crucial to bolstering Uzbekistan's economic development, such as the China–Kyrgyzstan–Uzbekistan railroad, all depend on stability in the region (see EDM, March 21, 2019 and July 6, 2020).
Kazakhstan, as one of the Kyrgyz Republic's largest investors and trade partners, historically has had closer relations with Kyrgyzstan than with Tajikistan (Chathamhouse.org, 2019; Fes.de, 2004). Hence, Nur-Sultan's markedly warmer rapport with Bishkek certainly shone through in the tone of Tokayev and Japarov's conversation. In contrast, Tashkent is trying to cultivate good relations with all of its neighbors and seeking to appease both countries.
Under Mirziyoyev's rule, Uzbekistan has committed itself to building a regional "belt of stability"—a strategic project that would be imperiled by a military conflict involving its two neighbors (Mfa.uz, August 2020). Tashkent's early intervention, thus, ensured that the border incident—as deadly as it became—nonetheless remained a regional matter, without any outside countries becoming involved in mediations. Kazakhstan's reaction followed two days later, but the tone differed from Uzbekistan's neutral stance: offering assistance to Kyrgyzstan while conspicuously not extending the same aid to Tajikistan. Had the conflict not been quickly halted, Uzbekistan (beyond the participants themselves) stood to lose the most from its further escalation, thus explaining Tashkent's swift, active but outwardly neutral efforts at conflict resolution.