Uzbekistan Could Seek Foreign Assistance Against Islamic State
Publication: Eurasia Daily Monitor Volume: 12 Issue: 74
By: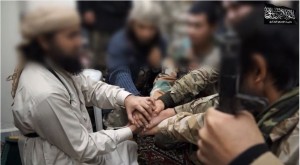 The increasing presence of Islamic State (IS) militants in Afghanistan has raised fears in neighboring Uzbekistan. It is no longer a question of whether IS has a presence in Afghanistan, only its scope and intentions. Addressing a joint session of the United States Congress, on March 25, Afghan President Ashraf Ghani noted, the Islamic State "is already sending advance guards to southern and western Afghanistan to look for vulnerabilities. It is critical that the world understands the terrible threat that Daish [Daesh; another name sometimes used for IS] and its allied forces pose to the states of Western and Central Asia" (Nato.int, March 25)
Uzbekistan's National Security Service (NSS) and its Ministry of Internal Affairs have established departments that work closely together on terrorism analysis and fighting militant groups. NSS anti-terrorism subdivision officer Mirzohid Sodiqov said, "It is necessary to keep a close watch on the situation in Afghanistan. IS emissaries are active in several districts there… Our cooperation with counterparts in neighboring countries and information exchanges are yielding results" (12news.uz, April 17). Accordingly, Uzbekistan is broadening its options by renewing its multilateral ties with nations and organizations that might provide assistance, from Russia to the North Atlantic Treaty Organization (NATO).
On April 18, a suicide bomber attacked a crowd in front of a branch of the New Kabul Bank in Jalalabad, killing 35 and wounding more than 100 (Khaama Press, April 18). The Taliban denied involvement, while IS spokesman Shahidullah Shahid claimed responsibility for the attack (Afghan Channel One TV, April 18). A statement issued by IS's Wilayat Khurasan (literally Khurasan Province, a reference to a historical region broadly centering on Afghanistan and Pakistan) identified the bomber as IS member Abu Mohammad. The same bank branch, which is well-known for issuing soldiers' salaries, was stormed by Taliban suicide bombers on February 19, 2011, leaving at least 42 killed and dozens wounded (Xinhua, February 19, 2011). Ghani said that the most recent attack, if verified, would be the first major IS operation in Afghanistan, adding, "Who claimed responsibility for horrific attack in Nangarhar today? The Taliban did not claim responsibility for the attack, Daish claimed responsibility for the attack" (Agence France Presse, April 18).
Even before the Jalalabad bombing, Uzbekistani analysts concluded that IS had established a significant presence in Afghanistan. NSS analyst Bakhtiyer Sharafov said, "The presence of IS on the Central Asian doorstep means that the potential threat has gone beyond terrorist attacks and hostilities" (Interfax, March 23).
Uzbekistan's concerns about the threat posed by jihadis to Eurasia are shared by other post-Soviet states. On April 16, at the Fourth International Security Conference in Moscow, Russian Armed Forces General Staff Main Intelligence Directorate (GRU) head, Colonel General Igor Sergun, said that the situation in Central Asia remains explosive as the combat potential of jihadist organizations, including the Taliban, Hizb ut-Tahrir (HuT), and the Islamic Movement of Uzbekistan (IMU), remains high. He asserted, "As many as 50,000 militants are currently fighting in Afghanistan alone. The territory of Afghanistan and Pakistan houses a network of training camps for terrorists, including suicide bombers" (Interfax, April 17).
The rise of IS in Afghanistan has come at the cost of the Taliban, where there have been reports of growing frustration over the lack of leadership by Mullah Omar (The Regional Times of Sindh, April 6). On March 31, longtime Taliban ally the IMU, which is based in some northern regions of Afghanistan, released a video that it would join IS. The video shows Sadullah Ugenji, who describes himself as the IMU's leader in Afghanistan, stating that his organization would no longer support and follow Mullah Omar as, based on Sharia, the leader of Muslims of the world was now IS leader Abu Bakr al-Baghdadi—the self-declared "Caliph Ibrahim" (Tolo News TV, April 1). In contrast, Ugenji noted that his militant group had neither seen nor heard from Mullah Omar for 13 years, even though the IMU, like the Pakistani Taliban and al-Qaeda, had previously considered Mullah Omar as Amir al-Mu'minin (leader of the faithful) (Right Vision News, April 6).
One option that Uzbekistan has for international assistance against IS militants if they enter the country are programs being developed by the Shanghai Cooperation Organization (SCO). On April 11, the SCO's Regional Anti-Terrorist Structure board met in Tashkent to discuss an agenda covering combating extremism and developing joint operations against IS threats. The Eurasian inter-state body also drew up a program of cooperation for 2016–2018 for SCO member states to combat terrorism, separatism and extremism (Trend News Agency, April 11). The Regional Anti-Terrorist Structure is a permanent SCO structure, established to promote coordination and cooperation among the relevant government agencies of the SCO member states. The SCO Regional Anti-Terrorist Structure includes the representatives of special services and law enforcement agencies of Kazakhstan, China, Kyrgyzstan, Russia, Tajikistan and Uzbekistan.
Uzbekistan, despite no longer being a member of the Moscow-led Collective Security Treaty Organization (CSTO), might also turn to Russia. Tashkent-based political analyst Rafik Saifullin said that Uzbekistan would cooperate with Russia in the event of any mobilization by IS in Uzbekistan itself (Interfax, April 13). Another possibility could be the North Atlantic Alliance, as Tashkent hosts a NATO Liaison Officer for Central Asia in Tashkent, and Germany maintains a presence at the Termez airbase on Uzbekistan's border with Afghanistan.
While many Western governments believe that Uzbekistan in the past used the threat of terrorism to crack down on domestic dissent, the transnational nature of the Islamic State organization represents a qualitatively different threat. Quite aside from IS's presence in Afghanistan, according to Uzbekistan Muslims Board Deputy Chairman Abdulaziz Mansurov, about 200 Uzbeks who worked in Russia, travelled to Syria to join IS (AKI Press News Agency, March 27). Russian media reported, in late January, that IS intends to spend up to $70 million to open a second front in Central Asia.
If the April 2015 Jalalabad attacks prove to be the work of IS and its militants, and if newly allied IMU jihadist fighters from Afghanistan concurrently attempt to open a "second front" in Uzbekistan, the government in Tashkent will need all the friends it can get.