Violent Extreme-Right Movement Attracts New Generation of Russian Youth
Publication: Eurasia Daily Monitor Volume: 17 Issue: 29
By: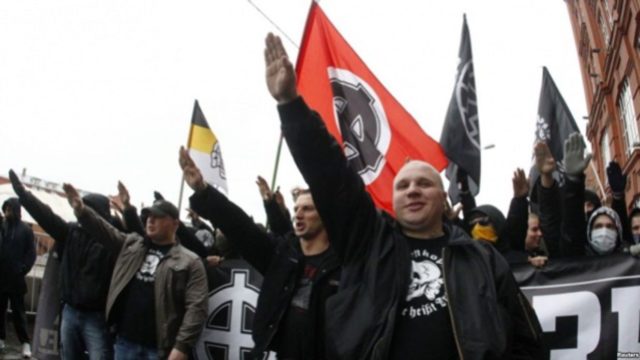 Hate crimes in Russia have decreased significantly since 2009–2010, reaching levels similar to Western countries in the later part of the 2010s (Sova-center.ru, accessed February 9). However, a recent report from the SOVA Center for Information and Analysis—a non-governmental monitor of extreme nationalism and racism trends in Russia—suggests that extreme-right movements remain active in the country and resistant to authorities' efforts to further push down instances of criminal behavior specifically targeting minorities or foreigners. The December 2019 SOVA report notes that "no fewer than 6 people were killed and another 39 injured in 19 regions of Russia" in hate-based incidents during 2019 (Sova-center.ru, January 20, 2020). SOVA combines numbers of victims beaten with the number killed to tabulate how many people were affected by violent hate crime in a given year. While the total number of victims for 2019 was virtually identical to 2018—45 and 44, respectively—the perpetrators' extreme youth stands out as an indicator that the social conditions making racist violence attractive have not changed and are now drawing in the next generation of Russians.
As with previous years, most victims of racially or xenophobically motivated violence in Russia come from Central Asia. For instance, on November 11, a 38-year old Uzbekistani national was taken to a hospital in Leningrad Region after being attacked by four youths, ranging from ages 12 to 19 (Fontanka.ru, November 14, 2019). Other non-white foreigners, many of them students studying at Russian universities, were also singled out for racist attacks. On December 14, in Barnaul (Altai Krai), two young teenagers—one 13, the other 14—attacked a 20-year-old medical student from India using brass knuckles. The attackers ran off without taking anything, and the victim staggered to his dormitory where concerned residents called for an ambulance. The attackers were later caught, and it was discovered that both came from prosperous families and attended good schools. The law will prove toothless due to their age, even though one is already in preventive care in the local Juvenile Affairs Department (Komsomolskaya Pravda, December 24, 2019). Similarly, on November 4, a group of six teenagers in St. Petersburg aged between 15 and 17 beat a migrant who was either from Tajikistan or Uzbekistan (accounts differ) sending him to the hospital (Abkhor-rus, November 15, 2019). Once again, the attackers were marked by their extreme youth but also by the date of the attack—corresponding to the annual "Russian March" on the Day of National Unity. Racial minorities were not the only victims of bias violence in Russia in 2019.
The second-largest group of victims came from Russia's embattled LGBTQ minority. For example, St. Petersburg resident Ekaterina Lysych was attacked on December 9 due to her "outward appearance." According to eyewitnesses, seven young men asked Lysych if she and her friends were lesbians and then proceeded to beat the women. Lysych was hospitalized as a result of the incident (Paper.ru, December 10, 2019). The fact that all such recorded attacks involved Russian adolescents, some quite young, suggests the inability of government repression alone to drive this subculture out of existence. Russian youth remain attracted to extremist ideas (Jordanrussiacenter.org, November 7, 2019), a trend that shows no sign of decreasing.
Some structural drivers of Russian hate crime are well known and have received attention in recent times. The country's dire demographic outlook and the concern it promotes among ordinary Russians, for instance, has been the subject of various top-down initiatives from the Kremlin (see EDM, January 16, 2020). Similarly, the relative shortage of young ethnic Russians in the labor force drives immigration from Central Asia—even though economic growth in Russia has slowed post-2014, it is still an attractive location for guest workers. One possible cause which has hitherto been overlooked, however, is the conditions in Russian prisons, highlighted by the recent trial of former guard Roman Lazarov. Lazarov was sued by the federal penitentiary service for breach of contract after he quit one year into a five-year contract. Lazarov claims he filed for dismissal from his job after realizing the pointless nature of the offered educational activities ostensibly designed to aid prisoners' reentry into society. Apparently, Lazarov's case was not unique: in fact, many Russian prison guards reportedly feel trapped and ineffectual in their jobs and then abusively take their frustration out on the inmates (Novaya Gazeta, February 5, 2020).
The brutalization of inmates and their violent deaths in prisons—which are rarely covered by the Russian media, so data is patchy at best—cause further radicalization among detainees. The recent case of seven young men falsely accused of being part of a "terrorist" organization allegedly called "Network" ("Set") was a particularly notable example of this situation. And evidence of their torture while in jail brought thousands into the streets in protest (Ezhednevny Zhurnal, February 21). Whereas, several years earlier, Alexeia Shangina, who was arrested for robbery, ended up murdered by his fellow prisoners (Meduza, July 15, 2015). By failing to treat inmates fairly or providing them with some minimum level of safety, Russian prisons are driving many, both inside and outside their walls, toward extremism and/or anti-Kremlin political agitation.
This issue takes on additional significant when one considers the rising rates of political prisoners in today's Russia. According to the Memorial human rights group, at the time of writing there were 64 political prisoners, 248 religious prisoners, 216 improperly persecuted people, and 94 others (Memohrc.org, February 11, 2020). A concern for the Kremlin as it seeks to address the spread of extremism to the next generation will thus be whether such people might become further radicalized and/or connect with serious criminal groups while serving sentences behind bars (whether on trumped up charges or related to their political activism—see EDM, July 18, 2017, October 11, 2017, August 8, 2019). Russia's own history shows that when criminal links and political ideas start to mix, they can make for a highly volatile combination.