VORONIN-PUTIN NEGOTIATIONS IN END GAME AHEAD OF PUTIN-BUSH SUMMIT
Publication: Eurasia Daily Monitor Volume: 4 Issue: 124
By: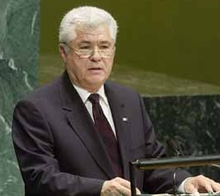 Presidents Vladimir Putin of Russia and Vladimir Voronin of Moldova held a non-transparent meeting on June 22 in Moscow and are scheduled to meet again on June 30 (Moldpres, Basapres, June 22, 23). Voronin and his entourage are hoping for an imminent breakthrough on resolving the Transnistria conflict with Putin's "help," although the price of such help is still unclear even to the Moldovan leaders.
Adding to Voronin's sense of urgency is Putin's scheduled visit with U.S. President George W. Bush at Kennebunkport, Maine, on July 1-2. Putin could score an international public relations coup if he arrives at Kennebunkport with an agreement in hand that would cast him as the bringer of peace in a longstanding "frozen conflict." Such a coup de theatre could significantly affect the Kennebunkport summit politically, well before the fine print of the document can be analyzed for what it may actually be worth.
Non-transparent, back-channel Moscow-Chisinau negotiations have gained an unprecedented tempo and intensity in recent weeks, apparently reflecting an effort on Chisinau's side to reach a quick closure and on Moscow's side to maximize the price for any closure or semblance of one.
Russia's Security Council Secretary Yuri Zubakov (in charge of the back channel's Russian side) visited with Voronin in Chisinau on March 2-3. Voronin sent written proposals to Putin on March 27. Moldovan Minister of Foreign Affairs Andrei Stratan visited Moscow on April 6. Voronin unveiled a set of proposals and an implementation scenario for agreement with Russia to a few leading politicians in early and mid-April. Russian Ministry of Foreign Affairs special negotiator Valery Nesterushkin visited Chisinau on April 23-24. After a time-out necessitated by an information leak, Zubakov returned to Chisinau for talks with Voronin on May 23. On May 31 and June 10, Voronin visited St. Petersburg, delivering supplicatory public statements and meeting with Putin the second time. On June 15, Zubakov again returned to Chisinau. On June 22, Voronin met with Putin in Moscow again and scheduled what may turn out to be a concluding meeting for June 30.
The Moldovan president has made a strong political investment in this negotiating process. Official Chisinau seeks a bilateral agreement with Russia, because it has lost confidence in the capacity of the 5+2 format (Russia, Ukraine, OSCE, the United States, the European Union, Chisinau, and Tiraspol) to resolve the conflict during Voronin's remaining time in office (until early 2009). Moldovan policymakers seek Putin's goodwill on the terms of settlement by helping him earn the peacemaker's laurels at the end of his presidency.
However, Chisinau also wants U.S. and EU acceptance of any bilateral Russia-Moldova agreement. Thus, Chisinau reckons to agree with Russia first, seek Western blessing afterward, and formalize the settlement through the 5+2 format.
Chisinau is visibly in a hurry to settle the Transnistria conflict through reconciliation with Russia. The punitive Russian embargo on Moldovan wine and other products is hurting badly. Voronin's final presidential term is running its course without notable achievements or legacy, particularly on the president's top priority, which is reintegration of the state. The ruling Communist Party (communist and ruling in name only), steadily losing electoral support, suffered a 10% setback to barely one-third of the votes cast countrywide in the June 2-June 16 local elections and seems headed for defeat in next year's parliamentary election campaign — unless Voronin can somehow retrieve Transnistria soon. Finally, the presidential team assumes that only a Russian president as unassailable internally as Putin can make a deal with which Chisinau can live on Transnistria. Putin's successor would probably not possess that political strength; and even the presumed (or illusory) window of opportunity with Putin may close in July as the Russian presidential election campaign gathers steam.
Thus, Chisinau is negotiating under multiple political and time pressures, some of them Kremlin-generated and some self-generated. For its part, the Kremlin is well placed to postpone a bilateral deal as long as necessary to wear the Moldovans down, then to choose the suitable moment from Russia's perspective.
Moldova's presidential institution has pursued the bilateral, back-channel negotiations with Russia's Security Council since September 2006. The negotiations bypassed both the respective Ministries of Foreign Affairs and the international 5+2 format. Initially disclosed at least selectively to its Western partners by Chisinau, the negotiations then lost all transparency, were temporarily derailed by an unauthorized disclosure in mid-April, and then resumed in complete obscurity.
The negotiations were based until January on a "Package" prepared by presidential adviser Mark Tkachuk with great ability and sophistication, for a settlement consistent with Moldovan interests as well as Western interests in the region, though in a form superficially flattering to Moscow. The Kremlin neither accepted nor rejected that package, but played for time. In March, the Moldovans felt that they were beginning to run out of time and began discussing additional proposals, weighted in Russia and Tiraspol's favor. These additional proposals are, in effect, a price for Russia's acceptance of the initial Moldovan package, possibly nullifying its value (see EDM, April 13, June 1).
The deep obscurity of this negotiating process is cause for concern. Voronin can fully and candidly brief Western ambassadors in Chisinau prior to his June 30 visit with Putin and Putin's July 1-2 visit with Bush.