Wagner in Serbia: A Fire Bell in the Night
Publication: Eurasia Daily Monitor Volume: 20 Issue: 38
By: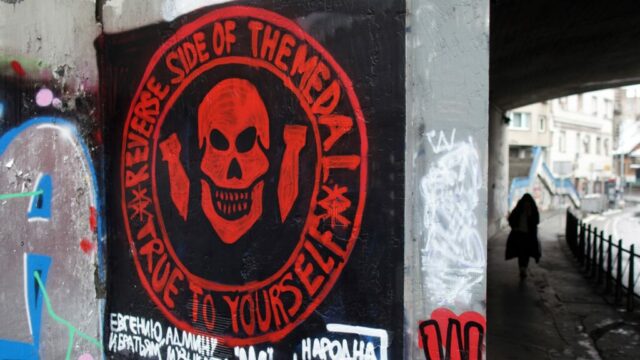 One Russian mercenary paramilitary force, the Wagner private military company (PMC), has long earned itself the grisly reputation as a vicious, brutal predatory armed force. It carries out operations in Ukraine, Libya, Syria, Mali, Sudan, Mozambique and the Central African Republic, among others. Recently, Russian President Vladimir Putin has even acknowledged that Wagner operates on behalf of, if not at the direction, of the Russian government (Al Jazeera, August 10, 2022).
However, more recently, it became clear that Wagner and other shadowy Russian organizations clearly affiliated with the state are recruiting Serbian "volunteers" and mercenaries to fight in Ukraine. According to Serbian media, these groups are providing the new recruits with combat training in a similar style to the Sudoplatov (a notorious Stalin-era KGB assassin and agent) battalion now fighting in Zaporizhzhia.
Startling as this may seem, it is by no means unprecedented. Slobodan Milosevic's forces, in 1999, offered to send a company of 500 soldiers to protect "the motherland." Furthermore, dozens of Serbian volunteers fought with pro-Russian separatists in Ukraine in 2014–2015 (Dw.com, August 14, 2014). Likewise, if not more importantly, Russian oligarchs, including Konstantin Malofeev, acting at the behest of the state, eagerly sought to recruit Balkan volunteers and media to lead or participate in coups against pro-Western Balkan governments in 2014–2016 (b92.net, February 3, 2016; see War by Other Means, September 3, 2019). According to some sources, Malofeev, one of the initial ideologues and organizers of the annexation of Crimea, had recruited, financed and supervised at least two key on-the-ground Russian mercenaries and leaders of the separatist insurgency in Eastern Ukraine—Colonel Igor Girkin and Alexander Boroday (The Insider, February 21). Clearly, the Kremlin used Malofeev as the initiator and proxy-funder of active measures—including special operations missions—in Ukraine, providing full deniability to Moscow in case the operations failed. In cases when operations succeed—as happened with Crimea—the Kremlin ultimately takes credit.
Malofeev was then also seeking to recruit agents of disruption across Europe for analogous missions there. Similarly, Leonid Reshetnikov, a former high-ranking foreign intelligence official; Ivan Savvidis, the Russo-Greek oligarch and former parliamentarian in Putin's United Russia party; and Malofeev were all linked to attempted coups in Montenegro and Greece (Riddle Russia, May 27, 2019; Balkan Insight, November 22, 2019).
Since Wagner was founded by Prigozhin in 2014—that is, around that time—it is likely that the PMC was part of the scheme to organize pro-Muscovite insurrections and movements abroad on behalf of Moscow while allowing the Kremlin to retain plausible deniability. Thus, its operations are very much a long-standing Russian and Soviet tradition.
In this context, what makes Wagner's presence in Serbia so disturbing is the fact that it is the latest manifestation of this heritage. It is a grave mistake to perceive Wagner as exclusively or primarily a military force seeking mining concessions and state rents abroad in Syria and Africa, or power in Ukraine. As one report on Wagner's activities in Africa observed, this particular PMC's agenda now comprises "government-in-a-box" contract services for politicians and states throughout the developing world (4freerussia.org, September 29, 2020). It negotiates arms sales and military repair work for the Russian government while obtaining mining concessions for Prigozhin, if not Putin and other Russian officials. Additionally, the group builds or revives national media enterprises across Africa. It also hires European neo-Nazis and white supremacists to "monitor" (i.e., sway) elections on the continent, instructing them to employ Moscow's habitual pretext of accusing the United States of colonialism while trumpeting its own supposed anti-imperialist heritage. Lastly, Wagner provides security details, drawn from the ranks of past or present intelligence cadres, for its foreign clients.
But in Serbia, Wagner has evidently taken operations a step further. It has created and supported right-wing extremist groups—"The People's Patrol" and the "Russian-Serbian Center Orlovi"—to destabilize Serbian politics (Radio Free Europe/Radio Liberty, December 6, 2022). Damjan Knezevic and Alexander Lisov, both notorious ultraconservatives, are closely tied to Wagner and disseminate Russian propaganda while working to destabilize Serbia. According to US diplomats, Wagner is also threatening local forces and officials in Serbia (Euractiv, February 21). Indeed, Serbian President Aleksandar Vucic characterized The People's Patrol as a "fascist" group. He added that Wagner has no business being in Serbia (b92.net, December 30, 2022).
When we take into account the broad scope of Moscow's extensive influence over Serbia's energy, military and media sectors, the danger inherent in Wagner's recruiting efforts becomes clear (4freerussia.org, accessed March 1). Therefore, it is no surprise that Vucic promptly requested that Wagner stop its recruitment efforts in Serbia; denounced Wagner's proxies, including The People's Patrol; and asserted his government's opposition to Russia's war against Ukraine (Vk.com, December 31, 2022). The Serbian president also condemned rumors that Wagner had active offices in Serbia as "notorious lies" (The Geopost, January 23). Yet, while Vucic is playing his usual balancing game between Moscow and the West, Belgrade remains diplomatically dependent on Russia over Kosovo.
More recently, and emulating the pattern of earlier Russian-led attempted coups in Montenegro, Greece and the Republic of North Macedonia, Knezevic and Lisov have now mobilized pro-Russian Serbs to launch major demonstrations if Serbia tries to improve ties with Kosovo (Euractiv, February 16). In addition, Serbian police have now arrested several armed demonstrators who were advocating for the violent overthrow of the government.
When these facts are considered within the contexts of the attempted coups in both Moldova and Bulgaria using analogous tactics, it becomes clear that these attempts are being orchestrated from Moscow with the support of local proxies such as Knezevic and Lisov. Furthermore, this is clearly an element of Moscow's overall strategy, apparently to open up a "second front" in Europe.
All this enhances the importance for Washington and Brussels in not allowing Serbia to become a second front in Russia's war against Ukraine, where Moscow can undermine Western interests. US President Joe Biden's extensive experience here should lead Washington to adopt a more proactive and vigorous effort to bring about a solution to both the Kosovo issue, which has long served the Kremlin as an entry point in its ongoing war against Balkan integration with the West. Wagner's presence in Serbia is a "fire bell in the night" to spread the present war into the Balkans and thereby create a second theater that could serve to disrupt, distract and divide the Western allies. Consequently, the West's political and material support for Ukraine must be expanded with greater expediency to account for both the challenges and opportunities in Serbia and throughout the Balkans.