Wang Yi's European Tour: China Seeks a Trans-Atlantic Wedge
Publication: China Brief Volume: 23 Issue: 6
By: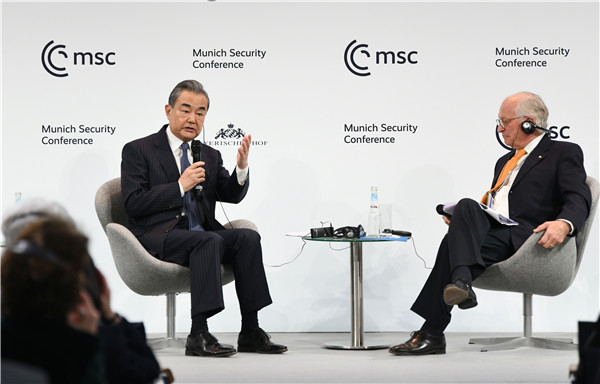 Introduction
On February 14, China's senior-most diplomat, Politburo member and Director of the Office of the Central Foreign Affairs Commission Wang Yi embarked on a week-long tour of Europe, which culminated with a stop in Russia that paved the way for General Secretary Xi Jinping's recently completed visit to Moscow. On his way to Russia, Wang Yi visited three of the EU's founding members, namely, France, Italy, Germany, where he attended the Munich Security Conference, as well as Hungary, which opposes EU sanctions against Russia (Mingpao, February 18). Wang Yi's tour indicates that China is currently pursuing two main objectives in its European diplomacy: restore economic and trade contacts negatively affected by the COVID-19 pandemic and drive a wedge in trans-Atlantic unity with regards to Russian aggression against Ukraine.
Mending Economic Fences, Playing to European Desires for "Strategic Autonomy"
In his conversation with French President Emmanuel Macron, Wang Yi said that China and France wanted to breathe new life into Sino-European relations and pledged to jointly work with his European counterparts to solve global problems. When discussing the "Ukraine problem," the term persistently used by Chinese officials for Russia's all-out war against Ukraine, Wang played on Paris's attachment to the idea of strategic autonomy and its aspiration to play a key role in resolving Moscow's conflict with Kyiv. Having noted the "mantra" of China's impartiality as an advocate for negotiations and peace, Wang stated that "China attaches great importance to France's role as a "major independent country" (独立自主的大国) and is willing to work with the international community, including France, to reach a political solution to achieve a truce as soon as possible" in the Russia-Ukraine war (Foreign Ministry of the People's Republic of China [FMPRC], February 16).
In the same vein, Wang Yi spoke with President Macron's foreign policy advisor Emmanuel Bonn, assuring him that China is ready to re-establish institutional dialogue with France in three areas (strategic, financial and people-to-people), strengthen cooperation in the civil use of nuclear technology, aerospace, health care, tourism and agriculture as well as to deepen cooperation in third-country markets. These Chinese efforts to re-engage with Europe have seemingly found fertile ground, as France declared that it would actively participate in the upcoming high-level Belt and Road Forum in Beijing. The "Ukraine crisis" (乌克兰危机) was also discussed along with a range of other global issues, with China and France reaching a "broad consensus" (FMPRC, February 17).
Wang Yi's next destination was Rome, where he held talks with Italian Deputy Prime Minister and Foreign Minister Antonio Tajani on strengthening bilateral relations and restoring economic cooperation disrupted by the pandemic. Wang Yi also stated the importance of Italy's participation in the Belt and Road Initiative (BRI). In 2019, Italy was the first (and so far only) G7 country to sign a memorandum to participate in China's global infrastructure development initiative and also assured Tajani that China wanted to cooperate with Italy on green and digital technologies, as well as develop cooperation in third-country markets (China Brief, April 24, 2019). Addressing concerns raised by Prime Minister Giorgia Meloni at last year's G20 summit, Wang Yi declared China's willingness to increase imports of Italian goods and facilitate the expansion of Italian companies in the domestic Chinese market (China Brief, December 8, 2022). Largely repeating the arguments he made in France, Wang Yi stressed that China appreciated Italy's "international status and influence," and presented China as an advocate for peace and a negotiated solution to the "Ukraine problem" (FMPRC, February 17). The Chinese side's efforts were apparently favorably received once again. According to the Italian Foreign Ministry, Minister Tajani urged China to pressure Russia into reaching a "just peace" and did not doubt China's commitment to playing "a fundamental role in achieving peace" (Ministry of Foreign Affairs of Italy, February 16).
Interestingly, when Wang Yi was courting France and Italy, the People's Daily published an article by French economist Jean-Marc Daniel, criticizing U.S. protectionism against European industries under the Inflation Reduction Act (IRA), and pointed to the "decreasing trust between the US and the EU" (People's Daily, February 17).
In Munich, Wang Yi met with German Chancellor Olaf Scholz to discuss reinvigorating China-Germany economic ties and addressing the "Ukraine crisis." Regarding the latter, Wang Yi said that "both China and Germany are independent major countries" and should jointly work for peace. On the same day, Wang Yi met with German Foreign Minister Annalena Baerbock, explaining that China understands European concerns over "the Ukraine crisis," and warning that a prolonged crisis would subject Europe to more negative consequences, with the bombing of the Nord Stream pipeline being an illustration of this (FMPRC, February 18). In fact, three days later, the Chinese Ambassador to the United Nations, Zhang Jun, backed Russia's draft resolution at the Security Council over the investigation into the sabotage of Nord Stream pipelines, citing what China viewed as the impact on the environment and energy shortages for European consumers during the winter season (China Mission to the UN, February 21).
Wang Yi's remarks at the Munich Security Conference touched on similar themes. Reiterating Beijing's assertion of its commitment to peace talks, the senior Chinese diplomat made it clear that some forces (ergo, the U.S.) are not interested in ending hostilities through successful peace negotiations. He stressed, "they "care nothing for the lives of Ukrainian people and the destruction of Europe," pursuing only their own "greater strategic goals" (FMPRC, February 18). Days later, Beijing released a twelve-point document calling for a "political settlement" to the "Ukraine crisis," beginning with a call for all parties to respect national sovereignty and territorial integrity. This was immediately followed in the document, however, by a point contending that all parties must abandon the "Cold War mentality" and avert "bloc confrontation," thereby assigning primary culpability for hostilities to the U.S. and NATO (FMPRC, February 24), which was also a recurring theme of the Xi-Putin talks in Moscow in the following month (FMPRC, March 21). This builds on the Wang's repeated references at Munich and elsewhere to "European strategic autonomy" and the need to create a new security architecture in Europe to achieve lasting peace, which marks a return to the Chinese narrative from the beginning of the war. Echoing the Kremlin's rhetoric, Beijing at the time regularly pointed to NATO enlargement as the main cause for the outbreak of conflict and the indispensability of developing a new security formula that took Russia's interests into account (People's Daily, April 19, 2022). In other words, China wants the war to end without Russia's defeat.
A Friendly Stop in Hungary
Prior to arriving in Moscow, Wang Yi stopped over in Hungary, the EU's most China-friendly regime and a leading pro-Russian voice in the EU. Hungary is also one of the key proponents of the BRI and the first European country to join the Chinese initiative ([FMPRC], June 6, 2015). Relations between the two countries grew even closer recently with the establishment of the Sino-Hungarian Council for the Belt and Road Cooperation (Chinese Embassy to Hungary, December 13, 2022).
At his meeting with Prime Minister Viktor Orbán, Wang Yi asserted that, together with Hungary, China wanted to actively "promote the democratization of international relations and multipolarization of the world," thus replicating the Sino-Russian narratives against the U.S.-led liberal international order (People's Daily, February 21). Regarding the Russia-Ukraine war, China and Hungary agreed that Europe's long-term interests should guide the resolution of the crisis and that peace should be reached as soon as possible. The following day, Wang met with Foreign Minister Péter Szijjártó and said that Hungary is China's closest friend in Europe. Wang Yi assured the Hungarian administration that Beijing will continue its friendly policy towards Budapest, which, he stated, conducts its domestic and foreign policy based on its own national interests. He also said that, together with Hungary and other "peace-loving countries," China would strive to achieve a ceasefire and long-lasting peace (FMPRC, February 21).
Laying the Groundwork for Xi's Mission to Moscow  
During his meeting with Vladimir Putin, Wang Yi said that China-Russia relations are rock solid and that the strategic partnership between Beijing and Moscow has never targeted any third country and would not be interfered with by other countries (FMPRC, February 22). On the same day, Wang Yi spoke with Foreign Minister Sergei Lavrov, assuring the Russian official that regardless of the development of the international situation, Beijing would like to maintain with Moscow "the positive dynamics of the development of a new type of great power relationship" (FMPRC, February 22).  Wang also met with the head of the Russian Security Council and one of the main architects of the invasion of Ukraine, Nikolai Patrushev, putting forward the usual elements of the Sino-Russian narrative, including "opposing bloc rivalry" and "working on the democratization of international relations and multipolarization of the world" (FMPRC, February 22).
Some Chinese observers speculated that placing Russia at the end of Wang Yi's itinerary was not driven by any intention to shun the Kremlin, as the two countries are brothers in arms (zhanyou, 战友) and strategic partners. Rather, the timing was to avoid attracting additional scrutiny from the EU and the US in the context of the conflict between Russia and Ukraine. Although China does not have the capabilities to persuade Europe to abandon the U.S. and to reverse Europe's policy toward Russia, it does want the EU to be open to cooperating with China and not allow the EU to be what it sees as being overly dependent on the U.S. ("not hang itself on Uncle Sam's tree", 别吊死在山姆大叔一棵树上) (Sohu, February 16). In fact, putting Russia as the last stop on Wang Yi's diplomatic tour may well suggest that the Chinese diplomat shared some of the insights he gained in Western Europe with Kremlin officials, especially regarding Ukraine. Apparently, for the same reason, Poland and any other Central and Eastern European country actively involved in helping Ukraine were omitted from Wang's itinerary. Suffice it to say, while Wang Yi was visiting Western European capitals on his way to Moscow, Xi Jinping hosted the Iranian President Raisi in Beijing, with U.S. President Biden visiting Ukraine and Poland.
In retrospect, Wang's February stopover in Moscow can be seen as laying the groundwork for Xi's visit to Russia in March, during which both parties agreed to deepen their "comprehensive strategic partnership of coordination for a new era", a decision which Xi justified as "China's strategic choice based on its own fundamental interests and the general trend of world's development" (FMPRC, March 21). Furthermore, Sino-Russian top-level talks in Moscow confirmed that the basic denominator of the two countries' deepening cooperation is to build a a counterweight to the United States, the Western alliance system and the liberal international order. This is reflected in the Sino-Russian joint statement, which overtly expressed both countries' opposition against the U.S.-led security alliances in Europe and Indo-Pacific. China and Russia had also reserved their rights to define "democracy" and "human rights" on their own terms, and deemed  purported U.S. efforts "to replace generally accepted principles and norms of international law with a 'rules-based order'" unacceptable (FMPRC, March 22).
China Seeks to Disrupt Europe-U.S. relations
Evaluating the impact of the Ukraine crisis on European security, Nanjing University scholar Zheng Chunrong pointed out that it was mainly due to Germany and France's economic considerations vis-à-vis China that the language in the document regarding China adopted at the NATO Madrid summit in 2022 was softened. This was despite attempts by the U.S. and the UK to employ more aggressive rhetoric against Beijing (Aisixiang, January 30). Fang Zhongping, an expert from the Chinese Academy of Social Sciences, noted the differences between Hungary, the US and most of the EU countries over Ukraine. Although NATO seized the escalation of the conflict in Ukraine to reinstate its role in Europe, the idea of European strategic autonomy has not been abandoned, as was reflected in the pronouncements of President Macron and Chancellor Scholz (Aisixiang, February 24).
The same logic was reflected in Wang Yi's interview with Chinese media upon the conclusion of his European diplomatic tour. Wang posited that China, the EU and its national leaders should work together on the political settlement of "the Ukraine problem" while eliminating "external interference" (FMPRC, February 23). A China Daily editorial on Macron's forthcoming April visit to China was far more unequivocal in insisting that the EU should coordinate peace mediation efforts with China while preserving the European bloc's "strategic independence" from the U.S. (China Daily, February 26). To this end, it cited President Biden's dismissive reaction to Chinese proposals as the best illustration of how accurately the Chinese document addressed the solution to the conflict. Indeed, Wang Yi's recent efforts have tried to placate European concerns over China's diplomatic, political and economic support for Russia. Positioning itself as a supposed impartial arbiter of European affairs, China attempts to lay the groundwork for a peaceful settlement of the conflict in Ukraine primarily in line with China's (and Russia's) interests. The aim of these actions is to fracture (or at least weaken) the transatlantic security architecture while maintaining robust economic cooperation with the EU.
Bartosz Kowalski is an assistant professor at the Department of Asian Studies of the University of Łódź, Poland, and researcher of its Center for Asian Affairs. His research focuses on China's foreign policy, including relations between China and Central-Eastern Europe.