War Crimes Trials in Bangladesh Create Opening for Islamist Militants
Publication: Terrorism Monitor Volume: 11 Issue: 9
By: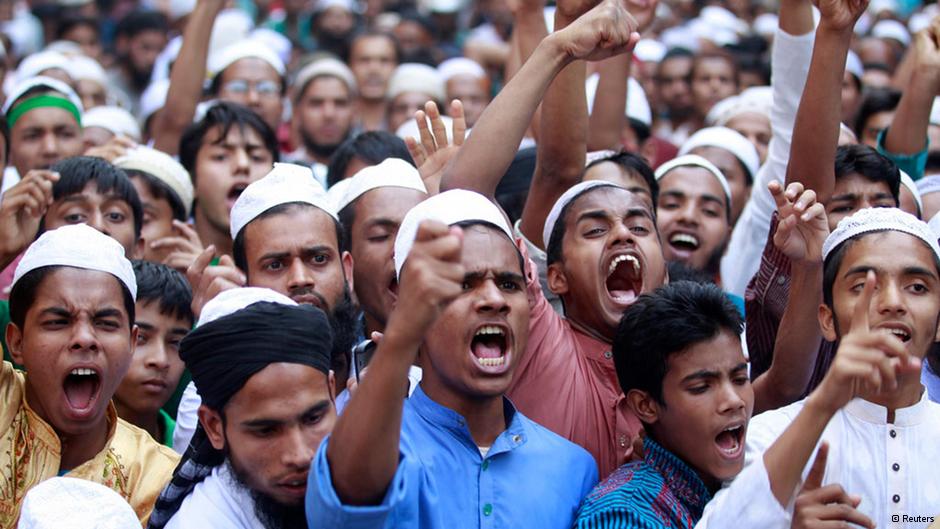 Bangladesh, the world's fourth largest Muslim country, has recently experienced an intense cycle of massive protest rallies marked by violent confrontations between moderate secularists and Islamic radical forces. The spark for these religious and political confrontations has been the ongoing trials for war-crimes committed by Islamist groups during and just after 1971's Operation Searchlight, the Pakistani campaign that preceded the Bangladesh Liberation War. At the time, Bangladesh was known as East Pakistan and was part of a larger but geographically-divided Muslim state that included the more developed territory of West Pakistan (now the Islamic Republic of Pakistan). Dissatisfaction in East Pakistan with the leadership of Pakistani President Yahya Khan over the united territories led to a 1971 revolt that was brutally suppressed by the Pakistani military and local militias through the killing of hundreds of thousands of Bengalis and Hindus (exact figures are disputed). These events led to a general war between Pakistan and India (which supported the Bengali separatist movement) and the eventual independence of Bangladesh.
On February 5, a popular protest in the capital of Dhaka against verdicts issued in the ongoing war crimes trials and growing Islamic extremism in Bangladesh was led by a few online social media activists and bloggers under the banner of the Gano-Jagarana Mancha (Mass-Awakening Forum). The main impetus was the sentencing of senior Jamaat leader Abdul Kadeer Mollah (accused of killing 344 people) to life imprisonment rather than the widely-expected death penalty. Two other senior Jamaat leaders, Abul Kalam Azad (tried in absentia) and Muhammad Delwar Hossain Sayeedi, had already been sentenced to death for wartime atrocities committed during the 1971 Bangladesh Liberation War.
Since then, thousands of people from almost all walks of life have regularly poured into Dhaka's Shahabag Square in protest to demand the death penalty for 1971 war criminals and call for proscriptions on the Islamist Jamaat-e-Islami (JI) political party and its more violent student wing, Islami Chhatra Shibir (ICS), collectively known as Jamaat-Shibir. Though the movement opposed independence in 1971 and was banned for a time, it now forms the largest political party in Bangladesh. The trials of suspected war criminals are being conducted by the International Crimes Tribunal (ICT), a special panel created to investigate and prosecute those believed to have committed war crimes during the events of 1971.
During the Bangladesh Liberation War, many Jamaat-e-Islami members acted under the banner of shadowy paramilitaries such as al-Badr, al-Shams and Razakar that were in league with the Pakistan army and Pakistani intelligence agencies. Since then, the movement has sided with groups such as the Islamist Bangladesh Nationalist Party (BNP).
In retaliation for the protests, radical elements led by Jamaat-Shibir activists and the pro-Islamic Hefajat-e-Islam carried out a "Long March" on April 6 to demand the death of "atheist bloggers," as the Shahabag protesters are termed by their Islamist opponents. The Islamists have threatened to besiege Dhaka in early May if their 13-point demands are not addressed by the Shaykh Hasina-led Awami League (AL) government. Their demands call for prohibitions against blasphemy and foreign cultural practices, such as candlelight vigils and free speech in social media, which the Islamists claim are responsible for the protests in Dhaka.
The Islamists have also urged the present government to abolish all laws in conflict with the values of the Quran and Sunnah and to reinstate a 1977 constitutional clause calling for "Absolute trust and faith in Allah" that was removed earlier this year in what the Islamists viewed as an attempt to secularize the state. Stressing that Islam is endangered by the Shahabag protesters, whom they accuse of denigrating Islam and the Prophet, the Islamists accuse the government of taking sides with the "atheists and apostates" of Shahabag Square.
In deference to the Islamists, Prime Minister Shaykh Hasina ordered the arrest of a number of bloggers and reiterated that the country's existing laws were sufficient to prosecute those who choose to insult Islam or the Prophet Muhammad. At least three known bloggers who are in the forefront of the Shahabag movement have been arrested by the security forces over their allegedly blasphemous postings (Priyo News, April 3).
The ICT verdict and rival protest rallies have triggered widespread violence in the country since mid- February. On February 15, Rajib Haider, a political blogger who was part of the Shahabag demonstrations, was killed outside his home by Jamaat-Shibir activists, allegedly for his "anti-Islamic" and anti-Jamaat postings (Bdnews24.com, February 16). On February 28, at least 40 people, including civilians, cadres of Jamaat-Shibir and security personnel, died in clashes that broke out in Rangpur, Gaibandha Satkhira, Thakurgaon and Chittagong. More than a thousand people sustained injuries in these clashes, which continued for several days. The Jamaat-Shibir cadres have also vented their anger on minority communities across the country, attacking Hindu and Buddhist houses of worship and torching Hindu and Buddhist-owned homes and businesses in numerous places. One estimate suggests 524 Hindu families were affected in targeted attacks between Feb 28 and April 1 (Bangladesh Sangbad Sangstha [National News Agency of Bangladesh], April 1).
A series of violent incidents occurred on March 31 following the arrest of ICS president Muhammad Delwar Hossain Sayeedi, who was named as a suspect in almost all the recent acts of violence against secular Awami League members and Shahabag protesters (Daily Star [Dhaka], April 1; Daily Sun [Dhaka], March 31). On April 11, four people were killed and a hundred others injured in clashes between Islamists and Awami League cadres in Khulna and Chittagong during a countrywide dawn-to-dusk shutdown (Daily Star [Dhaka], April 12, 2013). Nearly 60 crude bombs went off on April 24 at 20 locations in Dhaka during a strike called by the BNP-led 18-party alliance to protest the denial of bail to seven top BNP leaders (Daily Star [Dhaka], April 24).
These incidents are evidence of the continuing sectarian divide in Bangladesh, where disputes over the Liberation War of 1971 threaten to lead the country into a civil war.
Amidst this standoff, intelligence agencies fear that the existing volatility could be exploited by clandestine militant groups aligned with mainstream Islamist organizations. However, even a cursory look at the leadership profiles of the Hefajat-e-Islam-led movement shows that leaders of militant groups have already infiltrated the "Defend Islam" movement and are trying to revive dormant militant groups in the country, such as Harakat ul-Jihad-i-Islami/Bangladesh (HUJI-B), a militant group formed in 1992 to pursue Islamic rule in Bangladesh. Police have recently taken custody of Afghan war veteran and HuJI-B leader Farid Uddin Masud and 12 others, including Pakistan nationals who were reported to be trying to revive militancy in Bangladesh in coordination with former Afghan war veterans and Jamaat Shibir operatives. They are also alleged to be recruiting members to carry out subversive activities in Bangladesh, including political assassinations (Daily Star [Dhaka], March 31; The Hindu, April 2).
Bangladesh is not new to Islamist terrorism. International and local jihadi groups have operated with impunity and the active patronage of political and religious parties like the BNP, Jamaat-e-Islami and the Islami Okiyo Jote (IOJ – Islamic Unity Front), a conglomerate of smaller religious parties. There are at least two proscribed terrorist groups active in Bangladesh, including al-Qaeda/Taliban inspired Deobandi militant groups like HuJI-B and the Jamaat-ul-Mujahideen Bangladesh (JMB), both of which can trace their lineage to Jamaat-e-Islami. Even legal but lesser-known groups like the Chittagong based Hefajat –e-Islam have controversial origins, with suspicious ties to outlawed militant groups like HuJi and JMB. One of the movement's leaders, Mufti Fayezullah, indicated recently that the group has suicide squads who are prepared to face any situation to uphold Islam (The Hindu, April 2).
The existence of a new group, the Islamist militant Ansarullah Bangla Team (ABT), came to light in early March during the interrogation of five students enrolled at a prestigious university in Dhaka. All five were arrested in connection with the brutal murder of prominent blogger Ahmed Rajib Haider, who played a key role in organizing the Shahbagh movement by demanding the execution of Islamists on trial for alleged atrocities committed during the 1971 Liberation War. In early April, the detective branch arrested four more ABT members for attempting to murder another blogger, Asif Mohiuddin. (Daily Star, April 2). Police got their first clue of ABT's existence from the Ansar al-Mujahideen English language forum, an al Qaeda-affiliated website that posted news of the arrested students under the heading "Five Lions of the Ummah." A deeper probe into the website revealed the existence of another extremist site, bab-ul-islam.net, founded last year to target young people in English-language colleges and universities for recruitment to Islamist militant groups (Khabar South Asia, April 3).
Another Hefajat leader, Maulana Habibur Rahman, is a proponent of Taliban-style rule and has connections to militant movements in Afghanistan and Pakistan. The Maulana has admitted in the past that he and eight other Muslim leaders visited the HuJI offices in Karachi and Peshawar in 1998 and met with HuJI-Pakistan chief Saifullah Akhtar and late al-Qaeda leader Osama bin Laden in Afghanistan (Daily Star [Dhaka], April 7).
While mainstream political parties like the Awami League and the BNP take this opportunity to play vendetta politics ahead of general elections this year, religious parties like Jamaat-e-Islami and Hefajat -e-Islam are attempting to carry out mass mobilization against the government with the support of fringe Islamist groups and formerly subdued militant proxies. The anti-government "Defend Islam" movement is directed at diverting the nation's attention away from past war crimes and to possibly pave the way for an expansion of religion-based politics and the spread of Islamist militancy in Bangladesh.